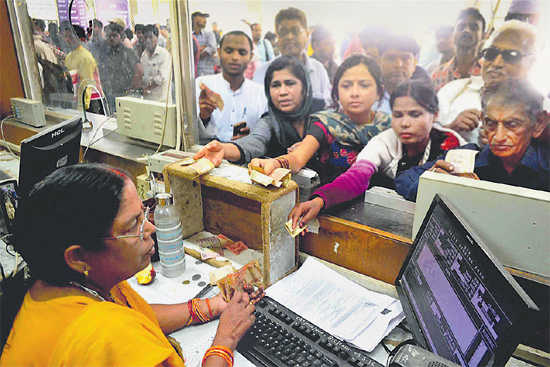 THOSE who do not learn from history are condemned to repeat it.' Spanish philosopher, essayist and poet, George Santayana, could have been speaking about successive Indian governments and their penchant to use the banking system, particularly public sector banks (PSBs), to suit their own ends; as an extended arm of government to achieve social objectives that lie squarely within the domain of the government. Not banks!
Consider the spate of sops announced by Prime Minister Narendra Modi in his speech on December 31. Interest subvention for low cost housing: 'Loans of up to Rs 9 lakh taken in 2017 will receive interest subvention of 4 per cent, loans of up to Rs 12 lakh taken in 2017, will receive interest subvention of 3 per cent, loans of up to Rs 2 lakh taken in 2017 for new housing, or extension of housing in rural areas, will receive an interest subvention of 3 per cent.'
Higher interest rates on deposits of senior citizens: 'Banks often reduce their deposit rates, when they receive a large volume of money. This should not adversely impact senior citizens. Under the scheme, senior citizens will receive a fixed interest rate of 8 per cent for a period of 10 years, on deposits of up to Rs 7.5 lakh. The interest will be paid monthly.'
Increase in working capital limits for enterprises that transact digitally from 20 per cent of turnover to 30 per cent: 'Many people connected with this sector have made cash deposits in the last few weeks. Banks have been asked to take this into account when deciding on working capital.'
Waiver of interest on farm loans: Farmers who have taken loans for the rabi crop from District Cooperative Central Banks and Primary Societies will not have to pay interest on such loans for a period of 60 days. Farmers who have paid interest during the last two months, will receive these amounts back, directly into their bank accounts.'
The problem is each of these — whether it is interest subvention for low-cost housing or higher interest for senior citizens or extending higher working capital loans — comes at a cost. It could be argued that the cost in the case of interest subvention is borne by the government, so banks have no reason to complain; never mind that reimbursement typically comes after a long time lag, with the result that banks are out of pocket in the interim.
But cost is only one part of it. What is far worse is that each of these measures ignores the ground reality that governments and banks function on completely different principles. As the sovereign, government levies tax and spends according to its socio-political-economic priorities. It is not in the business of making 'profits'. Terms like return on assets or return on equity have no meaning in the context of the government. Rather, governments, especially elected governments, are about providing succor to sectors/citizens who, for a variety of reasons, need state support and they are funded by taxpayers in this effort.
Banks, in contrast, are commercial entities. The money they lend does not belong to them in the sense that tax money belongs to the government. The money they lend belongs to depositors who entrust their money to the bank in the belief that it will be returned to them on demand. And fully. Consequently, their lending decisions cannot, and must not, be based on sentiment but on hard-headed commercial sense about whether the loan will be serviced and the principal repaid on the due date.
Bleeding hearts have no place in banking. Senior citizens deserve our sympathy; but banks are not in the business of charity. When market interest rates fall, there is no way banks can offer senior citizens higher-than-market interest rates. Unless the government makes good the difference.
In the context of interest subvention, for instance, it would be far better if banks are allowed to charge the rate of interest applicable on the loan in question. Then if the government wishes to ease the burden on the borrower it could transfer the subsidy amount directly to the account of the borrower. In the case of senior citizen accounts, banks should be allowed to pay the (lower) market rate of interest and the government can top up the difference directly. This way the functioning of banks is not distorted; at the same time those in need of support get it directly from the government. Likewise, working capital loans cannot be increased arbitrarily; rather the quantum of the loan must be related to the borrower's capacity to repay. Income support is the government's domain, not the banks.
Unfortunately, PM Modi's sops ignore this fine distinction. Ironically, this is not the first time! In the post-nationalisation days, a complicated system of directed lending mandated who should get how much bank credit at what rate of interest and did enormous damage to the health of the financial system. Thanks to financial sector reforms, some of the more pernicious aspects of that system have since been scrapped. Today, priority sector targets are much less onerous than before. But old habits die hard. When caught in a bind, successive governments have turned to the banking sector to bail them out, regardless of the longer-term damage.
Thus, in the aftermath of the 2008 crisis, banks were directed by the UPA government to lend to infrastructure in a bid to shore up the economy. The result is that banks today are saddled with non-performing assets to the tune of close to Rs 6.70 lakh crore.
Today, deposits in the banking system have increased enormously. Most of the Rs 15.44 lakh crore held in Rs 500 and Rs 1,000 denomination is reportedly back with banks. But this money does not belong to banks for them to do as they wish. Moreover, these deposits are mostly short-term. However, housing loans are long-term; they greatly skew the maturity mis-match between banks' assets and liabilities. And though they are, admittedly, less prone to turning non-performing, it is also not entirely out of the realm of possibility that if the slowdown in the real estate sector continues, housing loans could turn NPA. In which case, banks will find their NPAs mount, necessitating an even more expensive bailout later.
Turning the clock back on financial sector reforms could prove costly in more ways than one.
The writer is a senior consultant at the National Council of Applied Economic Research
Top News
The agency on Saturday had arrested a radicalised and active...
The incident took place on Friday night near Jhalamand circl...
Wants to observe Saka Panja Sahib at historic gurdwara in Ra...