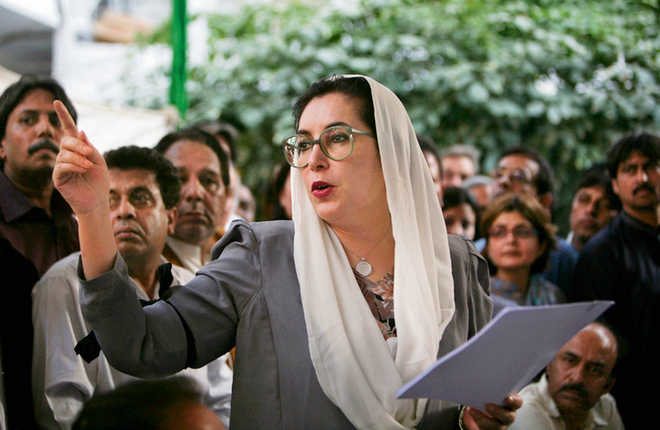 Shyam Bhatia
Senior journalist
When l flew into Lahore, officials at the Immigration welcomed me cordially and returned my documents duly stamped without any problem. Although my British passport did not have an entry defining my religion, curious Pakistani Immigration officers wanted to know whether l was Hindu or Muslim and appeared to inform their intelligence colleagues accordingly.
Much to my misery, the ISI never left me alone. Whether it was the man at Faletti's Hotel in Lahore or the motorcyclist following me all the way to Rawalpindi and Peshawar, they were never more than a few yards away.
My aim at the time was to use Pakistan as a jumping-off ground to report from Afghanistan and this particular trip, l was trying to make contact with Afghan mujahiddin groups based in Peshawar to see if they would help me cross into their country. They were a different cut from the militant Taliban, later supporters of the Lashkar-e-Taiba, who had started experimenting with suicide bombings, with which they later became synonymous.
In the morning, l would visit one of the many mujahiddin offices, introduce myself as a Fleet Street reporter and win their backing to take me over the border. In the evening, the phone would ring in my room at Green's Hotel and a rough voice would tell me that my planned trip was not possible after all, almost shooing me away like an unwanted alien from a different planet.
The mystery finally got solved, thanks to a friendly waiter serving me breakfast. One morning, he asked, "Do you speak Urdu?" When l responded positively, he took the courageous step of pointing out (in courteous Urdu) that l was being tracked by a spook on a motor cycle.
The next morning, from my auto, l looked back to see a large balding man dressed in a white shalwar kameez following me wherever we went, sabotaging any effort to make contact with the mujahiddin.
Fortunately, l had the presence of mind to take his photograph so that when l met and interviewed President Zia Ul Haq the following week in Rawalpindi, l could show him the identity of my shadow. Zia was apologetic. "No no, Mr Bhatia, we here in Pakistan consider you a very objective journalist. This should never have happened." That same evening, his military secretary telephoned me to say, "I understand you wish to visit a nearby country. Which group would you like to go with?" When l mentioned Rabbani, he responded, "Be in Peshawar by 6 am tomorrow."
The next day, and much to my surprise, Rabbani himself was waiting for me outside his Peshawar office. "l wish l could accompany you myself to my country, but don't worry, my people will look after you very well." He was as good as his word and during the next two weeks, l travelled from the borders of Peshawar to the outskirts of Kabul, witnessing at first hand, how the mujahiddin operated against their Soviet enemies. By the time l returned to Pakistan, l was a seasoned war reporter.
I had General Zia's protection and the interview he gave me was one of the many that followed over the following years. Yet now, looking back, l realise how careless l was. It would have been all too easy to bump me off, either in Pakistan or Afghanistan and no one in either of these two countries would have given a damn.
Fortunately, killing foreign journalists was not in fashion at the time. It took another decade or more before Wall Street Journal bureau chief Daniel Pearl was captured and killed during a visit to Karachi. The man who took responsibility for personally beheading him revealed himself to the American authorities as Al Qa'eda's Khaled Sheikh Mohammed.
Al Qa'eda is not relevant in Pakistan's elections, but Hafez Sa'eed, the alleged mastermind of the Mumbai terror attack is certainly a player. He has been funded and armed by the Taliban, not to mention the ISI, and his rallying cry is anti-Indian.
Not every Pakistani politician is as extreme as Sa'eed. Imran Khan, the darling of the military, shot to fame because of his skills as a cricketer — not because of any anti-India venom. His excellence in cricket is not matched by any distinction in learning. He graduated with a poor degree.
At Oxford, Benazir was among those fans who followed Imran's successes as a cricketer. But, unlike Imran, she was politically astute from the start, just like her son Bilawal who currently heads the Pakistan Peoples Party. When l first met him in London, he was less than 16 years old and Benazir insisted he and his sisters help clear up the dinner plates after we finished our meal.
Later, in Dubai, it was he who waited outside the house to escort me in for an interview with his mother. He was silent during the four hours as Benazir talked about how she had exchanged Pakistan's nuclear technology blueprints for North Korea's Nodong missile. But we also spoke about her desire for friendly relations with India.
When l asked if she had ever woken up with the thought of 'nukeing' a few thousand Indians, she responded with a firm "no". l have the details of that interview on a tape safely preserved in my London office.
"For God's sake, never have l woken up with such a mad thought because l know that nukeing any Indian, even if l was mad enough to think that, would end up nukeing my own people."
She was scathing about the Pakistani military's hopes of creating a puppet government in Afghanistan while simultaneously challenging India. Yet, she did not take into account the dominant part that army officers play in Pakistan's internal affairs. So long as they have the last word, the two countries will remain distant and intelligence agents, like my shadow in Peshawar, will continue to harass foreign journalists, especially the ones from India.
Top News
Children were attacked on a playground, tweets a local lawma...
Wankhede moved the high court last month seeking quashing of...
AAP accuses the BJP of creating a ruckus at the event
Waste was being burnt, which allegedly resulted in the explo...
He has been awarded forfeiture of three years' seniority of ...