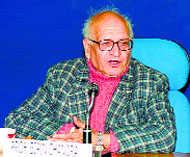 KL Tuteja
Former Tagore Fellow, Indian Institute of Advanced Study, Shimla
Professor Bipan Chandra, a distinguished historian, is widely acknowledged as one of the leading intellectuals of recent times in India. Born in Kangra of the undivided Punjab in 1928 in a Sud family, Bipan, as he was popularly known among his friends and admirers, completed his school education in his hometown and graduated from Forman Christian College, Lahore. Later, he went to the US and did his postgraduation in history from Stanford University. After his return to India, Bipan pursued research in history at Delhi University and was awarded the PhD degree in 1959.
Bipan began his teaching career at Hindu College, Delhi, in the early 1950s. After some years, he shifted to the Department of History, Delhi University. From there, he moved to the newly established Jawaharlal Nehru University in the early 1970s. After his retirement from service, Bipan was made Professor Emeritus by the university.
He was the general president of the Indian History Congress held at Amritsar in 1985. The UGC appointed him national professor in 2007. He remained chairman of the prestigious National Book Trust from 2004 to 2012. In 2010, the Government of India honoured Bipan by conferring on him the Padma Bhushan for his distinct contribution in the fields of literature and education. He passed away at the age of 86 four years ago on August 30.
Bipan taught history to generations of students in his long teaching career spanning about 43 years. Being a passionate and dedicated teacher, he was popular among his students from the very beginning. At Delhi University, Bipan's classes were fully packed with history students, and, interestingly, some students of other departments were invariably found standing in corridor listening to his lectures. Some of Bipan's former students at the JNU fondly recall how his classroom lectures, always rich in content and impregnated with ideas, would often result in long and intense discussions with him for hours, at times extending to the Coffee House or his residence.
He was open to new ideas and interpretations and would not arbitrarily impose his viewpoint on his students. In fact, as a teacher he promoted the cause of critical enquiry and independent thinking which he believed were crucial for the growth of knowledge in any institution of higher learning. Indeed, Bipan was truly a legendary teacher.
Bipan was one of the leading Marxist historians of the country. Perhaps, it was at Stanford that he got engaged in the study of Marxism and later pursued it with all seriousness and passion. It is important to note that Bipan did not approach Marx or Marxism as a dogmatic believer. For instance, in one of his seminal essays, he forcefully argued that Marx's analysis of colonialism was not sufficiently adequate to comprehend the complexities of British colonialism in India.
Bipan wrote 15 books and a number articles on different aspects of modern and contemporary Indian history. The foremost in Bipan's writings is his doctoral work entitled 'Rise and Growth of Economic Nationalism in India', which was published in 1966. This pathbreaking study establishes that the early nationalists made a powerful critique of the economic policies followed by the British as a colonial power which resulted in the long-term poverty of India.
In 1985, Bipan wrote a long essay entitled 'The Long Term Dynamics: Gandhiji and Indian National Movement' which he delivered as the presidential address at the Indian History Congress and, later, its revised version was published as a monograph. In this work, he offered a fresh interpretation of the national movement on the basis of his extensive research and keeping in the backdrop Antonio Gramsci's writings. Bipan persuasively argued that Gandhi actually led a multi-class revolutionary struggle which gradually eroded the semi-hegemonic or hegemonic position of the colonial state in India and finally succeeded in overthrowing it. In other words, he distanced himself from the traditional Marxist opinion that Gandhi and some of his colleagues were essentially handmaids of the Indian bourgeoisie. Some Marxist historians did not agree with Bipan's revised analysis of the Gandhian movement but at the same time found it difficult to ignore his interpretation altogether.
Bipan was a believer of secularism and opposed communalism both as an activist and intellectual. He believed that a correct and scientific understanding of communalism as a historical phenomenon was necessary to fight the communal forces in the country. In his famous book entitled 'Communalism in Modern India', he critically explored this phenomenon as an ideology that developed as a counter-polarity to nationalism in the late nineteenth century. According to him, while nationalism was a true reflection of the urges and aspirations of the people belonging to different regions, classes and groups, communalism based as it was on a false consciousness of historical issues, instead of furthering the real interest and concerns of the groups which defined themselves as religious communities merely gave them an illusory sense of fulfillment. Bipan, like Jawaharlal Nehru, underlined that communal consciousness had to be broken and transcended for the growth of India as a secular and composite nation.
It is sad that Bipan could not complete a monograph which he was writing on the life and ideas of Bhagat Singh. However, in one of his long essays and in popular writings, he forcefully contended that Bhagat Singh was not just a romantic revolutionary but also a Marxist thinker in the making. According to him, the importance of Bhagat Singh lies in 'not what he actually did but what he was capable of doing.' Indeed, it was a profound understanding of Bhagat Singh.
The late Somnath Chatterjee, former Speaker of the Lok Sabha, in the 2005 conference of the Indian diaspora in Trinidad spoke about Bipan, who was also present there. He said: "A large generation of Indians have grown reading Bipan Chandra's textbook of history and other writings and in this manner he is responsible for shaping the historical consciousness of the Indian nation in the true sense of the term."
Bipan, undoubtedly, led a purposeful life and left incredible imprints as a historian, teacher, activist and, above all, humanist.
Top News
Relentless rain throws life out of gear in Chennai and its n...
Under the crackdown, which will also impact Indians, medics ...
Group of militants on their way to Myanmar ambushed by anoth...
This will be the first time in history of Mizoram that the s...
West Bengal CM said she was unaware of the meeting date and ...