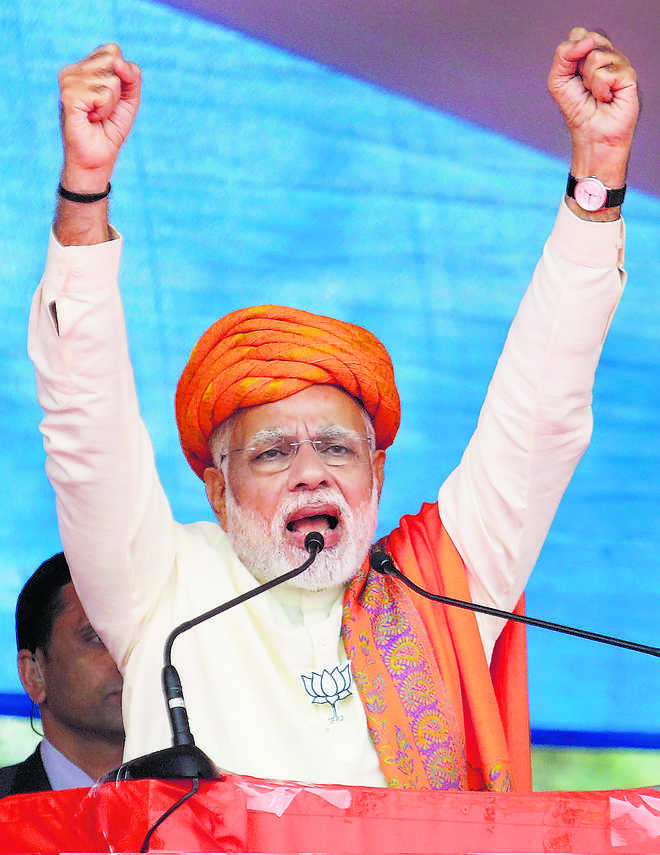 Salil Desai
Pune-based author and filmmaker
THE BJP won Gujarat yet again and also managed to wrest Himachal Pradesh. Brand Modi is being celebrated afresh, with mediamen tripping over themselves to drill into our brains that the Prime Minister is the greatest and most popular leader India has ever produced. Every victory is used by TV channels and social media to remind us how astute Mr Modi is, and how bold, decisive, charismatic, dedicated, indefatigable, incorruptible and foresighted he is. Never mind if he has used every inappropriate trick during his campaigns to appeal to the majoritarian instincts of voters. Never mind if he has spoken and behaved un-PM- and un-statesman-like. Never mind if he plays fast and loose with facts, shows no magnanimity of spirit towards his political rivals, subjecting them to vituperative talk and unapologetically uses the pretence of economic progressiveness to turn India socially, politically and culturally regressive.
Every flaw of the PM is either glossed over or is given a positive spin. Indeed, the media sets new bars in abject sycophancy. Take, for instance, the PM's comment about a Pakistani conspiracy at Mani Shanker Aiyar's party attended by former PM Manmohan Singh, former army chief Deepak Kapoor and former Vice-President Hamid Ansari, among others. Instead of being incredulous, TV news spent the evening spinning the narrative that perhaps the PM was justified in making allegations because he was privy to some top-secret information. What they did, in effect, was to provide a veneer of credibility to an utterly unsuitable and below-the-belt statement coming from the PM.
Ever since he was anointed PM candidate by the BJP in 2013, Mr Modi has been a media-created brand, constantly sold, marketed and promoted to us, ensuring not just that he remains top-of-mind, but also assumes the proportions of an iconic super-brand.
Here are some carefully crafted elements of this hagiography:
1 Modi the market-friendly reformer: Achche din was the original pitch made to make Mr Modi acceptable to a larger section of the electorate in 2014, resting upon the questionable Gujarat model. The premises — like Gujarat, India too would transform into a land of milk and honey under Mr Modi. This despite the fact that as CM, he stalled the major reform of GST for several years and has rolled out an extremely flawed version, when in power. There are as yet no signs of achche din. In fact, the economy was sunk by the thoughtless misadventure of demonetisation. No job creation is happening, neither is there any clue about what exactly is being done by the government that will propel the Indian economy to greater heights. And yet, we are constantly told that Modi is market-friendly and a visionary reformer — the only hope for India.
2 Modi the Hindutva icon: At the heart of Brand Modi lies subliminal Hindutva messaging. Quite simply, without Hindutva and especially the Gujarat riots of 2002 in which the then CM was perceived to have let mobs 'teach' Muslims a lesson, the PM would not have been half as popular or charismatic. And so, the media continues to play a big role in transforming this blot into a halo, positioning Modi's attitude of ignoring minorities, as the perfect template of a majoritarian approach to secularism, worthy of emulation.
3 Modi the perpetual victim: Another recurring theme which brand Modi evokes through the media is that of perpetual victimhood. Despite being the most powerful person in India today, the PM is portrayed as someone who is being targeted. What should be dismissed as an unbecoming, persecution complex is instead turned into rich melodrama in which Modi the good and virtuous is always threatened by a galaxy of evil forces — opposition, activists, journalists (though so many behave like court poets), 'sickularists', corrupt businessmen, Pakistan and God knows who else. What's more, TV channels unfailingly project any criticism of the PM as a personal attack. But the PM's ugly rhetoric and vindictiveness is never denounced.
4 Modi the incorruptible: The media cleverly pushes this element of the Brand Modi narrative simply by refusing to dig into any misdemeanours of his government. No questions are asked about where the money that funded Modi's campaigns came from. No probes are initiated into the brand of crony capitalism practiced by Mr Modi. It is no one's case that Mr Modi has been personally corrupt, but no one alleged that about Manmohan Singh either, even as his reputation got shredded by UPA scams. Why?
5 Modi the master politician: According to the media, the PM is always unleashing political masterstrokes. Such is its blind admiration of his political moves outmanoeuvring Opposition that the media has often ended up glorifying power-politics practised with dubious ethics, morality and principle. This is an important part of the cult-creation, where the PM is lauded for acts other politicians would have been slammed for.
The media as stakeholders will continue promoting the brand, but as buyers shouldn't we become more discerning?
Top News
Pro-Khalistan activist Amritpal Singh has been on the run si...
Police officials yet to confirm whether this is the latest p...
The decision was taken during a Panthic gathering at Amritsa...
Can write to the Housing Committee seeking an extended stay,...
The suspect, likely a teenager, also died after being shot b...