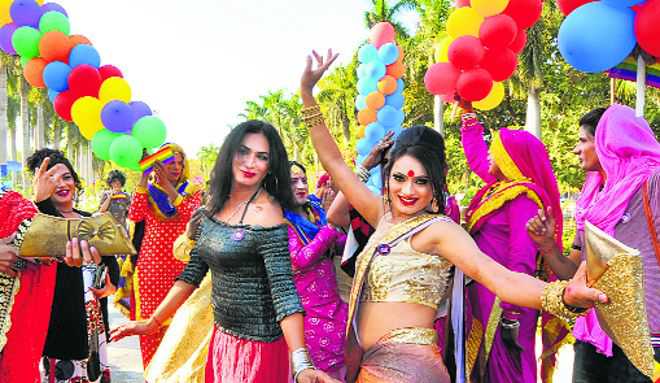 SY Quraishi
Chairman, India HIV/AIDS Alliance
They are called by many names: hijra, kinnar, aravani, mangalamukhi, jogappa, jogati. Transgenders are the most visibly invisible population in the country. Even their numbers are shrouded in mystery: ranging from around 4,90,000 as per Census 2011 to more than 1 crore (1.1 per cent of the total population), according to the UNAIDS report 2014.
Unfortunately, the system denied their very human existence as they were neither male nor female, the only two genders recognised. The Election Commission pioneered their recognition as the third gender by providing the 'Other' option in voter registration forms in 2009. The NALSA (National Legal Services Authority) judgment followed five years later, in which the Supreme Court identified them as the 'Third Gender'.
To quote Justice KS Radhakrishnan, "Recognition of transgenders as a third gender is not a social or a medical issue but a human rights issue."
The first piece of legislation was introduced as a private member's Bill in the Rajya Sabha: the Rights of Transgender Persons Bill, 2014. It was unanimously passed in April, 2015. But upon introduction in the LS in February, 2016, it was criticised by lawyers, activists and members of the community, for reasons mentioned later in this article. It was referred to a Parliamentary Committee in September, 2016, which published its report in July, 2017. It, however, lapsed when the Lok Sabha term ended in May, 2019.
On July 19, the Transgender Persons (Protection of Rights) Bill, 2019 was introduced in the LS. While the Minister for Social Justice and Welfare commented that the Bill "provides a mechanism for their social, economic and educational empowerment", there was widespread resistance by the opposition parties. One transgender even remarked that it was "equal to killing us".
Understanding India's transgenders
Historically, sexual fluidity has been mentioned in Jain, Hindu, Sufi and Mughal texts. There have been mythological references to transgenders, including the Ardhnarishwara and Brihannala. They had a socio-cultural significance. But under the British, the Victorian orthodoxy led to the passage of Section 377 of the Indian Penal Code, branding them as 'deviant'. The damage done persists.
The lifecycle of a transgender is extremely painful. Children who do not conform to the gender construct leave, or are forced to leave their biological families. Only a quarter are accepted by the family, according to the Pehchan Baseline Survey, 2010. These children or young individuals begin their journey alone and in search of similar individuals, suffering unspeakable abuse. As per the UNDP and ICMRW (International Convention on the Protection of the Rights of All Migrant Workers and Members of Their Families), 50 per cent of transgender women have severe mental health issues and substance dependence.
They are trapped in a vicious cycle of poverty due to lack of access to education and decent employment. They drop out of school because of bullying and because most schools are ill equipped to handle children with alternative sexual identities. As they leave their houses young, they don't have educational certificates on their birth names. Even though many higher education institutions have provided quota to the community, higher education is only the highest rung of the ladder. A whopping 60 per cent have never seen the inside of a school. It was recently reported that only one trans-person applied for DU admissions this year.
As a direct result of their acute mistreatment, vilification, ostracisation and exploitation, they have to sell unsafe sex in order to make ends meet. Hence, they remain highly vulnerable to fatal communicable diseases, most notably HIV-AIDS. Transgender sex workers are 14 per cent more vulnerable compared to other sex workers. As many 7.2 per cent have HIV, according to a report by the National Integrated Biological and Behavioural Surveillance (IBBS).
The core issues that need urgent focus include gender transition support, skill development, social sensitisation, educational support, housing, shelter, parental counselling and protection against violence. In this context, the TG Bill is historic. But while the government claims that it "provides a mechanism for their social, economic and educational empowerment", activists point out that the Parliamentary Committee recommendations and demands submitted to the Minister of Social Welfare and Justice were disregarded.
Issues with the Bill
The draft does have some shortcomings. Firstly, while the WHO recognises 'transgender' as an umbrella term "including persons whose sense of gender does not match with the gender assigned to them at birth", the Bill uses undefined terms such as 'trans-men', 'trans-women', persons with 'inter-sex variations' and 'gender-queers'.
As many as 15 criminal and personal laws only recognise 'man' or 'woman'. As these laws are not gender-neutral, it is unclear how they will be applied to transgenders.
Secondly, the current Bill makes remarks about the hijra culture related to begging and other practices. The members are opposed to any articulation of their culture or traditions in the Bill. They need their traditional source of income, Basti Badhai (rituals of blessing families and children), to be protected under the law. Also, it only recognises the traditional biological family structures and not the hijra and the kinnar families.
Thirdly, there are no provisions for affirmative action, even though the NALSA judgment talked explicitly about the need for reservations in employment and education along with other welfare facilities, including commuting in public transport etc.
Lastly, the Bill provides for six months to two years of punishment in case of violence, rape or murder of a trans-person. But, the punishment for the same offences against women could be seven years to life imprisonment. Why treat the former as a lesser crime?
Course correction
The government has made two major changes before introducing the Bill in Parliament. The Bill earlier provided for a 'screening committee' under Section 5 for inspecting and issuing TG certificates. It was fundamentally contradictory to the 'self-identification' upheld in the NALSA judgment. Now, a person would be identified as transgender through self-identification and a certificate would be issued by the district magistrate with the concurrence of the medical officer. Section 19 of the Bill criminalised begging, without provisions for alternative employment. This could have been counterproductive and disastrous for them and would have made them vulnerable to police harassment. This was also removed.
It is encouraging that the government is listening. The time has come to look beyond the binary gender construct of 'male' and 'female'. Along with feedback-based changes in the recent Bill, the existing criminal and civil laws will also have to be made gender-neutral. Only a multi-pronged approach shall bring this extremely marginalised minority into the mainstream. It remains to be seen what further changes are made in the interest of the all-round development of the transgender community.