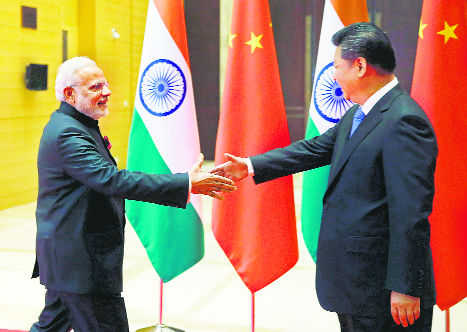 JAYADEVA RANADE
President, Centre for China Analysis and Strategy
Chinese President Xi Jinping's scheduled visit to India this October, as a follow-up to the first informal working meeting with PM Modi at Wuhan in April last year, comes at a time when he is under growing domestic and international pressure. Domestically, dissatisfaction is spreading inside China because of the rise in the cost of living, an almost 23% slowdown of the economy in dollar terms, closure of factories, retrenchments and unemployment and the imposition of stringent controls on academia and society.
Jinping's decision in 2017 to ignore the retirement age limits for elevation of cadres to the top echelons of the Chinese Communist Party (CCP), consensus on which was reached over two decades ago, has angered many party members and others who say they do not want a return to Mao's era of 'one-man rule'.
The US-China trade war has accentuated Jinping's difficulties. It has contributed to the economic slowdown and US and European curbs on the purchase of dual-use hi-tech products by Chinese companies will probably delay the 'Made in China-2025' programme announced by Jinping at the 19th Party Congress in 2017, by some years. The US and West are additionally pushing back on the BRI, a major Chinese geopolitical initiative backed by Jinping.
The US has prohibited 68 Chinese companies, and another 144 companies linked to China's People's Liberation Army (PLA), from purchasing dual-use hi-tech components from US companies, thereby adversely impacting China's fast-growing technology companies that have seen shares plummet. The market share, for example, of mobile phone handsets sold by China's Huawei has dropped 48%. Huawei is under pressure as the US has brought extradition proceedings against its founder Ren Zhengfei's daughter, who is the CFO. The US is persuading allies not to purchase Huawei's 5G technology as it would compromise their security. Higher tariffs on Chinese goods have also slowed exports to the US and products are piling up in warehouses.
Some former ministers, senior party cadres, 'princelings' and strategic experts have advised that to counter and ease US pressure, it would be prudent at this juncture to revert to Deng Xiaoping's policy of 'lie low, bide your time'. They have recommended relaxing assertive policies on the South China Sea and with Taiwan, India, etc. Advice to strive for a compromise with the US has, however, been met with two stern articles by Xinhua in June, hitting out at 'those who choose to surrender to the United States' in the trade war.
The situation has become more complex since June 9, with the inordinately protracted troubles in Hong Kong, which appear to have caught the Chief Executive of the Hong Kong Special Administrative Region and Beijing by surprise. News of the developments has been blocked inside China, but Hu Xijin, Chief Editor of Global Times, a subsidiary of People's Daily, commented that the Hong Kong protests were a malicious action by opposition groups in Hong Kong with Western support. More interesting, and reflecting the backroom power-play underway in Beijing, is the difference in coverage of developments by the Chinese language media. Some media outlets speculate that former Chinese President Jiang Zemin's faction is behind the trouble.
Meanwhile, preparing the ground for the Modi-Jinping summit, China's ambassador Sun Weidong on July 21, in carefully worded comments, indicated that Beijing was in no hurry to resolve the issue. He repeated it was 'a legacy left over from history', adding that 'before we finally come to a solution to this boundary dispute, we have to properly manage our differences so as to ensure peace and tranquillity in border areas'. He also appeared to exempt China's actions along the border by saying 'we should not allow some individual incidents to disrupt the long-term relationship'. The reference becomes pertinent in view of the incident involving Chinese personnel in civilian clothes intimidating villagers of Koyul in Ladakh on July 6, when they were celebrating the Dalai Lama's birthday. Urgain Chodon, head of Koyul village, posted photographs on Facebook of 11 Chinese personnel standing next to their vehicle with the five-star flag and a banner emblazoned with the words 'All activities to separate Tibet are prohibited.' She said residents of Koyul have been celebrating the Dalai Lama's birthday for years, but this is the first time such action has been taken. The Army Chief, however, clarified that the Chinese had not intruded.
This is the first time that China has combined the issues of the Dalai Lama and the China-India border issue in such a manner. The action was intended to convey an implicit warning to Tibetans in India. China, incidentally, lays claim to Ladakh. The incident has taken place just months before Jinping's proposed visit to India, and its location suggests the likely involvement of Chinese military authorities.
Separately, the official Global Times on July 30 picked up on US President Trump's offer to mediate on Kashmir and quoted China's ministry of foreign affairs as 'expressing support to the international community, including the US, to play a constructive role in improving India-Pakistan relations'. Stating that many countries had tried to mediate between India and Pakistan but India had rejected the offers, it asked India not to ignore the international community. The developments clearly indicate there will be negligible forward movement on the border issue and no softening in China's stance on India, though trade, etc., will be discussed. But the issue of the Dalai Lama will be on Jinping's agenda. He will also emphasise that India must improve ties with Pakistan and, in this context, probably raise the Kashmir issue with an offer to mediate.
Top News
The accused ASI was nabbed by local people, who then handed ...
Two frontline combat aircraft of the IAF crashed during a tr...
Gandhi was accompanied by his sister and Congress general se...
PM Modi also appreciated people for eating food items made o...