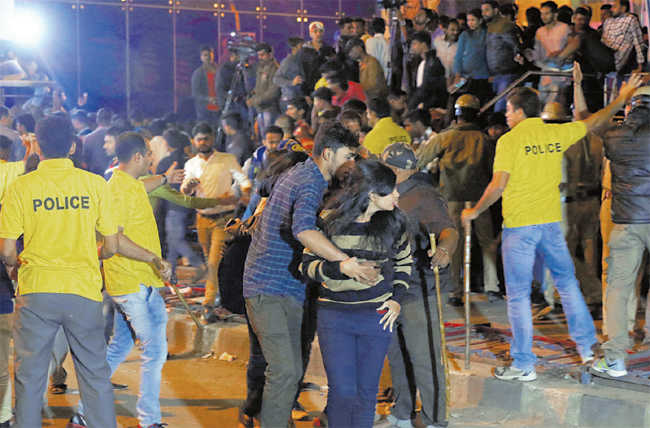 No sooner has 2017 rung in a new controversy being played out on television news channels is the inaction of the Bangalore police following the groping and molestation of several girls out on the streets celebrating the new year.
The Karnataka Home Minister's statement that "such things happen" during mass celebrations of this kind has been deservedly slammed as insensitive and unacceptable. He has also been served a show-cause notice by the NCW for insinuating that girls bring it upon themselves by wearing western dresses (meaning short skirts).
No doubt, the Bangalore cops will make a few arrests, agitated anchors and panelists will deplore the culture of misogyny, poor policing and haul the Home Minister and his ilk (like Abu Azmi who also made regressive comments on the issue) over the coals for a few days. In short, the usual suspects will be tried at the stake and having slaked its outrage, the media will move on to other stories.
But apart from it being a crime against women, a crime is a crime so shouldn't we be asking some other basic questions like who exactly has shaped the culture of public celebrations in India? Whether it's New Year, Ganapati Puja, Diwali, Holi, Navratri, Janmashtami or the Carnival, who has turned these occasions into raucous, uncivilised, noise-filled, drunken revelry? Who has created an in-built code of unwholesome behaviour for occasions of public merry-making?
In large parts of India, "fun" simply means drinking too much, thunderous music and generally creating a nuisance in public places, which disturbs or inconveniences all the people in the locality. A certain level of indecent behaviour, lewdness and junking of societal inhibitions too has become the norm. And this template has received such widespread sanction, that numerous laws are broken in the entire process. For instance, do pubs, bars, liquor shops and restaurants ask patrons for liquor licenses before serving alcohol, especially during celebrations like New Year? How many people who consume liquor actually possess a licence, without which drinking is illegal? How many places of celebrations — hotels, clubs, open-air event venues, marriage and event halls, vehicle mounted bands, observe noise pollution guidelines in terms of sound levels and timings on such occasions? And even if they wish or try to, how many customers or revellers allow them to follow the rules, without kicking up a fuss?
Indeed laws and rules are broken with such impunity because of the cultural and social immunity granted to anything that falls into the category of public celebrations — New Year, dozens of festivals, weddings, all kinds of parties, entertainment and cultural events. Such is our mentality that anyone who is apparently celebrating something is free to take liberties and is under no obligation to follow normal laws or rules or observe the basic tenets of decency and civilised behaviour. Just try asking a neighbour to tone down the music when he's having a private party. Instead of apologies for causing disturbance, you will likely be met with hostility, denials or defiance, if not invective. Multiply that many times over, when it comes to public celebrations since it is considered a kind of free-for-all where one automatically seems to get a social permit to behave badly and uninhibitedly.
The police bandobast is only expected to ensure matters don't get too out of hand or violence and other serious crimes are quickly controlled if these break out. Indeed, police forces are often wary of interfering with celebrations in order not to be accused of playing spoilsport, moral policing or hurting religious or cultural "sentiments" of people. That is exactly the reason why the police simply don't implement many of the laws and rules stated above, because celebratory anarchy is, in fact, encouraged by vested interests, politicians and "party-hard" elements of society.
Is it any surprise then that the Bangalore police might well have completely ignored the need to enforce laws related to eve-teasing and molestation during New Year? After all law-breaking is seemingly an inherent part of our public celebrations package. If laws related to liquor consumption, public nuisance, traffic, sound pollution are to be enforced perfunctorily only for very serious incidents or not at all, why would the molestation laws be treated any differently? No woman was raped was she? Just groped or manhandled by some high-spirited males. Not any more serious than any of the other violations isn't it? That's how the shocking logic goes.
In 1982, two social scientists, James Wilson and George Kelling introduced a theory called "Broken Windows", which in essence states that the key to preventing serious crimes is to effectively and swiftly deal with petty crimes like vandalism, public drinking and nuisance, which helps create an atmosphere of good law and order, thus acting as a deterrent. The metaphor used is a public building with some broken windows. If these are not repaired quickly, the tendency of anti-socials is to break a few more and soon the entire street could start getting vandalised because the message goes out that no one cares or dares to stop it — neither the police nor the citizens. Worse still, it conveys that the community around has accepted disorder as a fact of life.
The way to thus prevent unfortunate molestation incidents like the one in Bengaluru is to have a policy of zero tolerance to the lower-level crimes committed during public celebrations like illegal and excessive drinking, noise violations and public nuisance. It is those broken windows that need to be immediately repaired first so that miscreants realise that society has not accepted celebratory anarchy as passé. But do we really care enough, for the Karnataka Home Minister was just echoing our societal attitude when he said "such things happen".
The writer is a Pune-based crime novelist and film-maker.
Top News
Harried passengers take to social media to vent their ire at...
Lapid had stirred a massive controversy by terming Vivek Agn...
Final turnout to be higher as voting process continued at po...
DigiYatra will provide seamless entry and embarkation proces...
His song 'Mahakaal' removed from YouTube after 19 hours