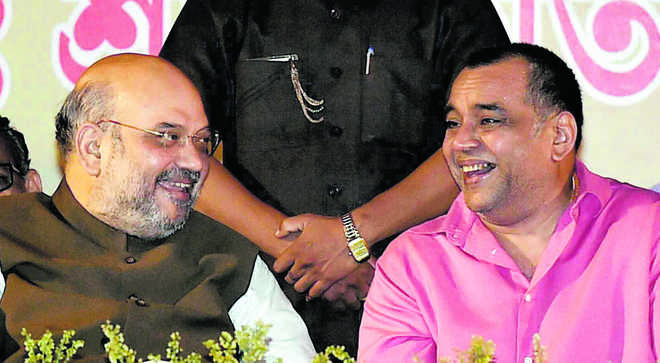 PARESH Rawal's tweet suggesting author, Arundhati Roy should be used as a human shield to protect the Indian Army from Kashmiri stone-pelters has to be a new low to which a well-known artiste can stoop. Is there no limit to which the BJP, its elected representatives and supporters can go to spread their brand of viciousness and hatred against the opponents of their narrow, bigoted ideology or anyone whose views they don't like?
While the BJP, as is its wont, downplayed Rawal's tweet, it resorted to its usual ploy of vilifying the personality at the receiving end — Arundhati Roy — quoting provocative arguments from her polemical essays on Kashmir and Maoists in Central India to portray her as an enemy of the state.
In the kind of bloody-minded atmosphere that the ruling party has managed to whip up and sustain in the last few years, Paresh Rawal and the BJP have unsurprisingly received plenty of support from its army of brainless bhakts on social media. Mercifully, there are still enough people who have condemned Rawal's thoughts.
But the moot point is not a single Indian celebrity who matters and is active on social media has stepped out to unequivocally admonish Paresh Rawal for his tasteless tweet. Not superstar Amitabh Bachchan, none of the Khans, not Rishi Kapoor — absolute radio silence. And this is not limited only to the film fraternity. All Indian celebrities — whether its cricketers or industrialists or high achievers in any other field — display a level of timidity and political conformity that is appalling, when it comes to taking on the reigning illiberal establishment.
Some amount of caution on their part is perfectly understandable because they are vulnerable to a huge backlash and would prefer not to court controversy or the displeasure of the powers that be. But the truth is their silence on all major issues is a sign of either cowardice or tacit support to the majoritarian mentality that has gripped the nation. In this scenario, all kinds of obscene and deplorable comments like those of Paresh Rawal are considered patriotic.
Indeed, isn't it time India's celebrities showed some spine — some sign that they have a sense of right and wrong? That the practice of their art, craft or professions has broadened their outlooks and made them progressive, unlike the raucous, regressive voices being raised in the country. That they can look beyond their own smug interests to take a stand against undesirable and disturbing tendencies displayed by the government and its minions?
They don't have to look very far for inspiration too. During the Emergency, that wonderful king of singers, Kishore Kumar, apparently defied the Union Minister of Information and Broadcasting, V.C. Shukla and refused to sing a propaganda song on All India Radio and perform at a Congress rally in Mumbai. He immediately faced the ire of the establishment and his songs were banned on AIR. But he stuck to his stand.
Similarly, matinee idol and film-star, Dev Anand and a few other people from the film fraternity set up a political party, National Party of India, in response to the Emergency and campaigned against Indira and Sanjay Gandhi during the 1977 polls. It was an act of courage, when the general tendency even then, was to be supine.
These two celebrities showed the gumption to oppose political wrongdoing, despite the fact that they were vulnerable, since the possibility of harassment and retribution was always present if the Congress had ridden back to power.
And while speaking out may not be everyone's forte, there are other instances of celebrities refusing to play dead during dangerous times. For instance, cricketing legend Sunil Gavaskar, who generally keeps a low profile and rarely comments on anything but cricket, showed great personal courage and put his life at risk during the 1993 Mumbai riots. Gavaskar ran down from his flat in Worli to rescue a Bohra Muslim family about to be lynched and harmed by rioters.
Why then are today's celebrities displaying such feet of clay? Why is it that many of them are simply echoing or endorsing BJP's brand of toxic nationalism or falling over their feet to get on the right side of the establishment — Anupam Kher, Paresh Rawal, Smriti Irani, Pahlaj Nihlani, Amitabh Bachchan, Hema Malini, Jackie Shroff, Arjun Rampal, Ajay Devgn, Akshay Kumar, Anil Kapoor, Shatrughan Sinha. The list is endless of those either joining the BJP, campaigning for the party or currying favour with it. Indeed, late Vinod Khanna too was a BJP MP as was Dharmendra, before he bowed out in 2014.
Is this what it has come to? It is not that film-stars hadn't joined the Congress once. Amitabh Bachchan, Sunil Dutt, Rajesh Khanna and even Govinda have all been Congress MPs. However, most of them, except for Sunil Dutt, were seat-fillers. In the case of the BJP however, we now have a bunch of celebrities who are willing to use their popularity and fame to aggressively encourage even the most repulsive and backward aspects of majoritarian ideology without any qualms whatsoever.
This will only diminish and jeopardise democracy in the long run. None of them seem to even have the moral courage to call out the excesses that are being committed under the guise of nationalism or Hindutva or baiting of minorities and liberals? Perhaps it is futile to expect an outspoken Meryl Streep or Robert De Niro in our country. But can our celebrities at least stop behaving like opportunistic chamchas or people who see and hear no evil but don't mind speaking a little evil like spiteful, mental midgets, whose stature is just an illusion.
The writer is a Pune-based author and film-maker.
Top News
Harried passengers take to social media to vent their ire at...
Lapid had stirred a massive controversy by terming Vivek Agn...
Final turnout to be higher as voting process continued at po...
DigiYatra will provide seamless entry and embarkation proces...
His song 'Mahakaal' removed from YouTube after 19 hours