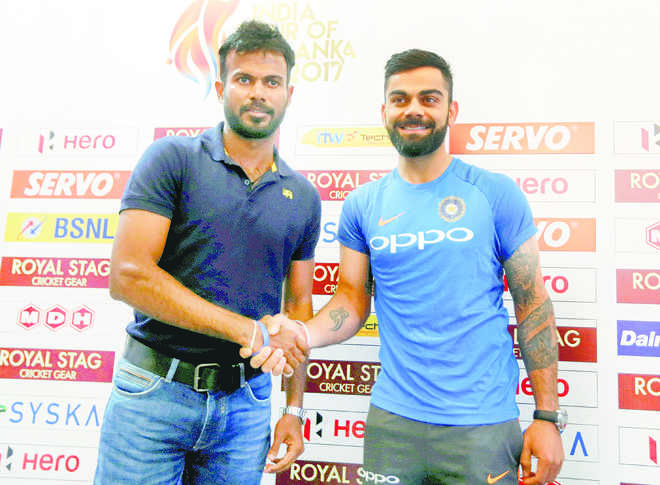 Maj-Gen Ashok K Mehta (retd)
After a week in Sri Lanka, one realises why Lankans are talking about a new Sri Lanka. The skyline is crowded with new skyscrapers and cranes, tourists are thronging the streets and beaches, and the dreaded Tamil Tigers have been exterminated. In Nepal, too, there is excitement about a new Nepal. Even Prime Minister Modi has been speaking about a new India. Both Sri Lanka and Nepal have fought protracted insurgencies and are engaged in post-conflict stabilisation. Given their strategic location, India has high security, economic and cultural stakes in both countries and this is being challenged by China. This challenge is certainly new in Sri Lanka where after the annihilation of the Tamil Tigers, Colombo is now freed from security threats. Political stability and economic growth in Sri Lanka will determine the scale of challenge Beijing will pose to New Delhi.
For the first time in Sri Lankan history, two mainstream rival political parties, the SLFP and UNP, have united to form a national government with some help from New Delhi. They got together during the presidential and parliamentary elections in 2015 to unseat the architect of war victory, former President Mahinda Rajapaksa, who is now the leader of the joint Opposition. On the face of it, President Maithripala Sirisena and Prime Minister Ranil Wickremesinghe are a formidable team, but neither has the fire to provide continual good governance in addressing three issues: economic growth, fixing rampant corruption and accountability of alleged war crimes. Fortunately for them, Rajapaksa has little new to offer. While local elections are due to be held in December, the fate of nine provincial elections is under a cloud, dogged by multiple challenges to the 20th Amendment through which the government wants to hold all together. The Sirisena-Wickremesinghe combine hopes to continue in office till 2020 when the next presidential and parliamentary elections are due. Whether the duo will retain the Swan symbol for the presidential elections and follow a similar strategy for local and provincial elections is not entirely clear.
What is clear is that if Rajapaksa and his SLFP loyalists return to power following defections in the SLFP or UNP, or other horse-trading, China will call the shots more decisively than it does now. Longevity of the ruling coalition, from India's point of view, is necessary for keeping the Rajapaksas out in the cold. The Lankan government has to show forward movement on the new constitution - its interim report is due to be tabled in parliament this month; present a sound and healthy budget and hold local elections already delayed for two years. Despite murmurs of discord between rival factions of the two parties, all indications suggest a stable government which uniquely has an opposition within facing an opposition without.
When asked about security threats, one of the seniormost military officers in Colombo said: "There are none." Since 2009, there has not been a single terrorist attack. There was some rioting by an extremist Buddhist entity — the Budu Bal Sena — against Muslims last year, but the issue has subsided. Three Sri Lankans (one of them killed) are known to have travelled to Iraq and joined the IS. The officer thought the Maldives was living dangerously. It is very Sri Lankan in nature, with 30,000 Maldivians living in Colombo. As many as 300 Maldivians have joined the IS in Syria and Iraq, and coupled with recruits from South India, there could be a problem as many of them will transit through Colombo as they enjoy a visa-free entry. India, the Maldives and Sri Lanka should collectively address this challenge.
The major security worry for India is the deepening presence of the Chinese in the south of the country. North of Vavuniya and essentially the northeast are with India, with all its development projects. The rest of Lanka is proliferating with Chinese projects - expressways, airports, ports/harbours, port cities, SEZs and so on. Sri Lanka's new military headquarters is being built by the Chinese. Rajapaksa gave a long rope to Beijing after the war in showcasing development as his election-winning ace. That this profligacy plunged Colombo in deep debt and triggered corruption is now being offset through equity and lease of sovereign territory for 99 years. The political and cultural influence through the possession of real estate and Chinese presence will follow as night after day.
At stake are three ports — Colombo, Hambantota and Trincomalee. Except Trincomalee, Chinese are entrenched in the first two with also at the least a 50-year lease of the new Port City they are building on reclaimed land near Colombo Port. Hambantota, a former Sri Lankan Navy Chief told me, is the key to the Indian Ocean. The Chinese have long-term plans for it. Indian interests and concerns are being projected by the India Foundation, the public diplomacy arm of the BJP-RSS which has Colombo locked in an Indian Ocean discourse. Speaking at the conference on August 31, Wickremesinghe said: "Sri Lanka will not enter any military alliance with any country or make its bases available to foreign countries." External Affairs Minister Sushma Swaraj also spoke, advocating enhanced security cooperation in the Indian Ocean region. An understanding between India and Sri Lanka makes the presence of Chinese submarines in Sri Lankan ports taboo. During Modi's visit to Colombo in May for the World Buddhist Day, a Chinese submarine was disallowed from docking in Colombo. China has acquired an 85 per cent stake in state-run China Merchants Port Holdings Hambantota costing $1.12 bn to service Colombo's debt. Till last week, the 99-year lease (it was initially negotiated for 33 years, according to the Naval officer) agreement with China had not been signed.
Colombo has made a vague offer to India of making the world's second largest natural harbour in Trincomalee. Currently, it has 19 out of 99 World War II vintage oil tanks which it operates under a 2003 agreement for a 35-year lease. It is Japan which will actually develop the Trincomalee port. Clause III of the 1987 Indo-Sri Lanka Accord stipulates: "Trincomalee or any other port in Sri Lanka will not be made available for use by any country in a manner prejudicial to India's interests." How times have changed!
The writer is a former Commander of IPKF South in Sri Lanka