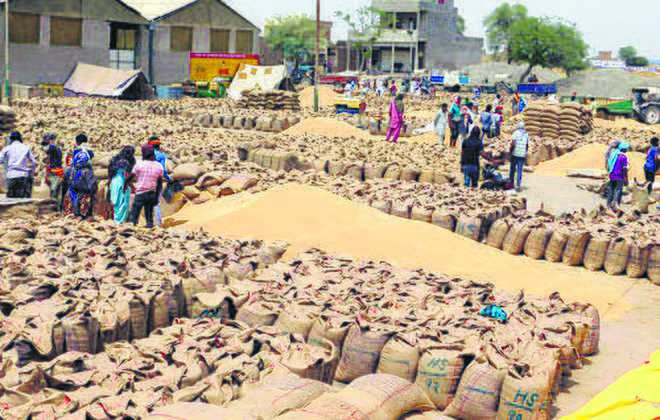 Siraj Hussain
Former Secretary, Agriculture Government of India
DESPITE the tall claims of success of Aadhaar in preventing the leakage of government subsidies, it is not being used for enabling cash transfer of major subsidies. Direct benefit transfer (DBT) of food subsidy has not even been seriously tried even though subsidies on food and fertiliser account for the highest amounts in the union budget of 2018-19 — Rs 1.69 lakh crore and Rs 70,000 crore, respectively.
The National Food Security Act, 2013 (NFSA) has a provision for the supply of foodgrains to 75 per cent of rural and 50 per cent of the urban population. Out of our estimated population of about 130 crore, about 81 crore people are entitled to subsidised foodgrains. About 8.7 crore people are classified as Antyodaya Anna Yojana (AAY) beneficiaries.
After the enactment of the NFSA, there are no Above Poverty Line (APL) and Below Poverty Line (BPL) categories. AAY households are entitled to get 35 kg of foodgrains per month at Rs 1/2/3 per kg for coarse grains/wheat/rice, respectively. The priority category is entitled to 5 kg of food grains per person per month at these rates.
As a result of very low prices under Public Distribution System (PDS) and much higher awareness, the offtake of foodgrains has gone up from 44.9 million tonnes in 2012-13 to 54 million tonnes in 2017-18.
PDS has been attracted criticism for several decades due to high leakages. In an August 2017 paper, it was estimated that in 2011-12, leakages under PDS were about 43.3 per cent at the all-India level. Delhi (81 per cent), Punjab (57 per cent) and Haryana (50 per cent) were in the category of high leakage states. The Economic Survey of 2015-16 also estimated wheat and rice leakages at 54 per cent and 15 per cent, respectively. Similar leakages in kerosene (41 per cent) and sugar (48 per cent) were estimated in the Economic Survey.
The government's answer to check leakages is end-to-end computerisation. Except in the north-eastern states and Jammu and Kashmir, almost all ration cards have been seeded with Aadhaar and foodgrains are now issued if the bio-metrics of a beneficiary are authenticated at a ration shop through point-of-sale machine. There is no doubt that this would have reduced leakages to some extent, for example, by cancellation of bogus cards. But other challenges, like under-weighment of grains, continue.
In case of failure of the biometric authentication, the person has to go to the ration shop another day. In many cases, the poor families prefer to take more than one person to the ration shop so that if his authentication fails, another family member can try. In the process, families lose the day's wages, spend on fare and waste a lot of time just to get their entitled grains.
The Central government has written to the states that in case of failure of biometric authentication, the beneficiary should not be denied foodgrains if the Aadhaar card and ration card are produced by her. However, complete data on failure of authentication has not been released by the government.
A simpler and more efficient method of delivering food subsidy could be direct benefit transfer of cash through bank accounts. A pilot of DBT was launched in Chandigarh, Puducherry and the urban areas of Dadra and Nagar Haveli in 2015. Cash payment through DBT for wheat and rice is paid at the rate of 1.25 times of MSP minus the beneficiaries' contribution of Rs 3/kg for rice and Rs 2/kg for wheat. At present, cash payment is Rs 26.66 per kg for rice and Rs 19.69 per kg for wheat.
In an evaluation conducted in the January-February 2017 survey, the Abdul Latif Jameel Poverty Action Lab (J-PAL) found that in Chandigarh, 67 per cent beneficiaries reported receiving DBT cash in their bank accounts but 20 per cent reported not receiving the money and 13 per cent did not know if money had been received. One of the problems was frequent change of mobile numbers, resulting in beneficiaries not receiving the SMS and money in their bank account. The opening of new Aadhaar-linked bank accounts resulted in DBT money going to the most recent bank account.
In an ICRIER paper, the preparedness of states to move to DBT for food was assessed. Urbanisation, share of poor in the state's population, rate of literacy, dependence on PDS grains, banking infrastructure, financial inclusion, availability of foodgrains in the open market and malnourishment were evaluated as parameters. The study found that Punjab, Delhi, Daman and Diu, Goa, Puducherry and Chandigarh were more ready for the switch to DBT.
There is concern about the impact of DBT on procurement of wheat and rice.
Firstly, we are not about to reach a stage, even in the next five years, where DBT can fully replace distribution of foodgrains.
Secondly, the procured grains can always be released under the open market sale scheme. China also procures paddy and wheat under a system akin to India's MSP operations. But there is no PDS in China and wheat and paddy are regularly sold on the open market to cool the prices.
A problem with DBT is that the cash received may not be enough to buy wheat or rice after adding the beneficiary's share of Rs 2/3 per kg as the market rate may be higher. This year, the rate of wheat on the open market in Chandigarh has been Rs 23/kg since May 2018, but the subsidy plus the beneficiary's share comes to Rs 21.69/kg. If the government wishes to make DBT a success, it has to increase the cash subsidy from 1.25 times to 1.5 times of the MSP.
There is too much noise about Aadhaar-enabled DBTsaving Rs 40,000 crore of subsidies. But it is not backed by real action on the ground as far as major subsidies are concerned. So, the much-touted JAM — the trio of Jan-Dhan accounts (over 31.26 crore), Aadhaar (over 121.46 crore) and Mobile connections (105 crore) — has been grossly under-utilised for paying food subsidy.
Visiting Senior Fellow, ICRIER
Top News
Odisha government has issued helpline 06782-262286. The rail...
At least 50 people died and 350 were injured in a three-way ...
12837 Howrah-Puri Superfast Express, 12863 Howrah-Bengaluru ...
WFI chief demanded sexual favours in lieu of supplements and...
Said agitation will be intensified by holding panchayats acr...