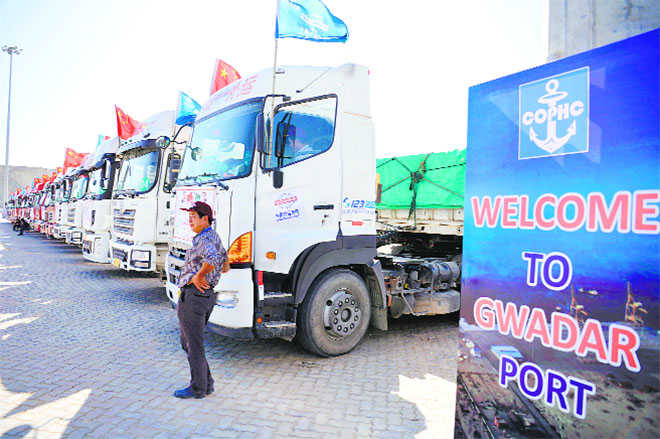 Lt-Gen Kamal Davar (retd)
First chief of India's Defence Intelligence Agency
Down the ages, even when its empires and ruling dispensations suffered inglorious defeats or political ignominy, China consistently managed to display uncanny steadfastness in its goals and ambitions. That a rare amalgam of strategic patience, statecraft, deep pockets and resoluteness in the pursuit of its long-term objectives, characterises the Dragon's ever-growing footprint across Asia, Africa and the oceans, lapping the increasingly strategic region from the Strait of Hormuz to the bottleneck of the Strait of Malacca. That China has successfully kept at bay, in its area of operational interest, specifically in the South China and East China Seas even the world's sole superpower's naval might, speaks volumes of China's military ascendancy in the Indo-Pacific expanse.
China's string of pearls
The 'string of pearls' stratagem, originally an American think tank's expression for strategic encirclement, is since a couple of decades, a virtual Chinese hallmark as it asserts itself in the Indo-Pacific region. That the Chinese avatar of the 'string of pearls' is directed also against India brooks no elaboration notwithstanding China's frequent unconvincing denials stating that China's increasing activities in the Asia-Pacific (being now largely referred to as the Indo-Pacific) are predominantly economic and commercial in nature.
Equally, China's growing forays and naval build-up in the Indo-Pacific region is to overcome its "Malacca Dilemma" as the narrow Malacca Strait is the conduit from where over 70 per cent of China's energy needs get transported from West Asia. China is understandably wary of the US and Indian naval capabilities to interdict its sea-lanes and, thus, it is in an overdrive to protect its interests by consolidating its 'string of pearls' to hem in India's military resources.
In the last 15 years or so, China has assiduously perfected its strategic encirclement of India. Commencing with the port of Hambantota in Sri Lanka over which it has acquired a 99 years' lease, China's $1 trillion ambitious project — the Belt and Road Initiative and the China Pakistan Economic Corridor (CPEC) — traversing the Gilgit-Baltistan disputed territory in India's north-west — the proposed China-Pakistan-India-Bangladesh-Myanmar Economic Corridor, the Chinese-supported and -built Gwadar deep sea port in Baluchistan, its first foreign naval base in Dijbouti and efforts to set up naval facilities in Maria Atoll in the Maldives are all part of its 'string of pearls' stratagem which have marked geo-political and military repercussions for India.
Adding to India's woes
In addition, a road is under construction from its Yunan province to the Myanmar's deep sea port of Kyunkpyu, China's offer of major improvements to Bangladesh's Chittagong port and China's growing interests in Afghanistan will add to Indian discomfiture — both militarily and economically. China's ever-increasing financial, military and nuclear largesse to Pakistan — all form a deliberate part of the Chinese grand design using Pakistan as a low-cost proxy against India.
To add to India's diplomatic woes in the neighbourhood, China has successfully driven a wedge between India and Nepal by unifying the two Communist parties in Nepal. Both the militant Nepali Communist leader, Prachanda, and its PM, KP Sharma Oli, are solidly pro-Chinese and already have taken some steps to distance themselves from Nepal's traditional fraternal relationship with India.
Nepal withdrew from participation in counter-terrorism exercises for BIMSTEC nations hosted recently by India, besides, seeking access to far-distant Chinese ports to nullify any future Indian blockade of their mountain kingdom. Nearly a lakh of Nepalese serve in the Indian Army and other security forces. Besides, India has been providing employment to many lakhs of Nepalese citizens. India will have to deal with the current Nepalese establishment with caution, maturity and factor in scenarios if the crafty Chinese manage to further worsen India-Nepalese relations.
India has to further ensure that its traditional relations with its tiny but strategic neighbour, Bhutan, does not follow the Nepalese pattern. After the Chinese engineered Doklam crisis in September, 2017, Bhutan too appears to be re- thinking its historical relationship with India. It is now apprehensive of a strong China creating political problems for them.
Silver lining for India
However, the silver lining for India in its neighbourhood has been the surprise defeat of the Chinese-supported Maldives President Abdulla Tameen by Ibrahim Solih in the Maldives presidential elections. It is expected that the wily Chinese will do their utmost to retain their influence in the strategically located Maldives.
India will now have to marshal all its genius, build its capabilities and synergise its resources to counter China's machinations to strategically encircle India. It must not fall a prey to China's off-on-off guiles to lull it into complacency. Thus, India must endeavour towards far greater blue water capability to the Indian Navy, especially augmenting its submarine strength and a minimum of two additional aircraft carrier borne-task forces. Additionally, added military muscle to and cooperation among the QUAD nations is sine qua non. US and Japan themselves are seriously concerned with increasing Chinese assertiveness in the Indo-Pacific.
All-out efforts to regain its influence among India's neighbours must be earnestly strived for. An unambiguous message should be conveyed to all our neighbours that the economic muscle of China will ensure their colonisation and subservience by dragging them into gigantic debt traps as Sri Lanka and Pakistan have realised.
Top Stories