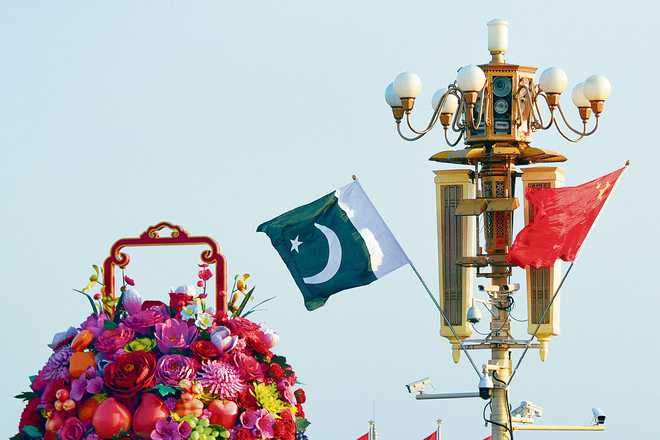 Shalini Chawla
Distinguished Fellow, Centre for Air Power Studies, New Delhi
The China-Pakistan strategic alliance has been expanding for five decades now and in the last three months, after the revocation of Article 370, China's unflinching support to Pakistan has been discernible. Beijing used its position in the United Nations to call for a closed door meeting at the Security Council to discuss Kashmir after the revocation of Article 370, guarded Islamabad's case at the Financial Action Task Force (FATF) to restrain the blacklisting of Pakistan, and very importantly, has offered to extend military support strengthening Pakistan's position in the wake of rising tensions between India and Pakistan. China has reportedly offered to deploy a certain number of upgraded version of JH-7AII fighters on the Sino-Pak border.
An 'official' Chinese-language media report dated September 28, translation done by the Centre for China Analysis and Strategy in New Delhi, stated: "In the face of the strong Indian Air Force, Pakistan's efforts are clearly not enough. China, on the other hand, could help Pakistan turn the tables by providing a fighter which will have remarkable 'strength multiplication' combat efficiency."
According to the report, against the backdrop of the India-Pak confrontation, the Chinese aircraft (JH-7AII variant) "can not only effectively suppress air defence system of Indian troops; all the more, can let Pakistani fighters hold superiority in the air confrontation."
Beijing feels that Pakistan's economy is not in a position to deal with the "urgent needs of war" and thus China's offer would 'leverage the powerful air combat effectiveness of JH-7 AII for strength multiplication and achieve victory for Pakistan.' The JH-7AII variant is reportedly equipped with a more advanced radar and avionics system, enhancing its flight performance. While the details of the recent move by Beijing are not fully known, the fact is that China is clearly thinking in terms of offering direct military support to Pakistan to deal with any scenario of a probable India-Pak conflict.
China's assistance in Pakistan's defence build-up has been central to the strategic partnership. The two nations share a unique strategic alliance where both countries have been complementing each other's strategic requirements despite different cultures, political systems and social values, not to talk of different histories. Undoubtedly, the common strategic objective which both Pakistan and China share is to keep India off balance.
Pakistan's relationship with China, which formalised through a major step with the signing of the Shakasgam Valley agreement in 1963, has continued to grow in the light of Beijing's strategic interests and its strong desire to neutralise India's growth. For Pakistan, China served the purpose of fulfilling its defence requirements in the wake of US sanctions which disrupted the flow of the western equipment more than once. Also, diplomatic support from Beijing against India and the US on various occasions was welcomed by most Pakistanis. Over the last five decades, China has provided all-out military assistance to Pakistan on three critical fronts: export of defence equipment, assistance in building Pakistan's indigenous defence capability and build-up of its nuclear arsenal.
Starting in the mid-1960s, China supplied a large variety of defence equipment to Pakistan, including the F-6s, slaughter-class attack fast-patrol boats (FPBs), Hunain-class attack craft, T-59s and T-60s. The Chinese equipment was affordable for Pakistan and the defence deals were facilitated by China with easy repayment loans and relaxed terms and conditions.
In the 1990s, the Sino-Pakistan defence collaboration further flourished under US sanctions and the two nations entered into deals of production of the Karakoram-8 jet trainer and for the co-development of a fourth generation aircraft, the JF-17. The JF-17 is designated to be a low-cost combat aircraft to meet the tactical and strategic requirements of the Pakistan Air Force with reduced reliance of Pakistan on imports. The JF-17 is co-developed by Pakistan and China and is being built by China's Chengdu Aircraft Industry Corporation (CAC) and Pakistan Aeronautical Complex (PAC). There have been reports that the design was developed by the MiG complex in Russia and transferred to China after the Russian Air Force cancelled procurements. The JF-17 is fitted with RD-93 engine and the initial batch of JF-17s delivered to Pakistan was fitted with the Chinese KLJ-7 multi-mode pulse-doppler radar. Islamabad intends to acquire up to 250 JF-17s, which represents a quantum jump in Pakistan's aircraft industry.
Pakistan military acquisitions post Kargil have been focused on the build-up of the air force and maritime strike capabilities of the navy. Islamabad has been making significant efforts to add force-multipliers in the Pakistan Air Force inventory and received Chinese built Airborne Early Warning and Control System (AEW&C) aircraft ZDK-03 between 2011 and 2014.
Over the last four decades, China has adopted an extremely supportive posture in the development of Pakistan's nuclear programme and supplied it with a variety of technology and services, including ballistic missiles and power reactors.
China has emerged as the leading exporter of defence equipment to Pakistan and the two countries have been conducting an annual joint air force training exercise, Shaheen, for the last eight years. Beijing's military support has given Pakistan emotional and psychological confidence to conduct its foreign policy, primarily against India, and to some extent, with other major powers as well. China's growing defence exports to Pakistan and its latest announcement to deploy its electronic fighters on the Sino-Pak border need to be carefully looked into by the Indian leadership and defence planners.
Top News
Resolution gets the backing of 13 Council members, while the...
The written answer to unstarred question number 980, uploade...
Punjab Police tell Punjab and Haryana High Court that the in...
Move comes day after Ali walked out of Lok Sabha proceedings...
The tax department has deployed about 40 large and small mac...