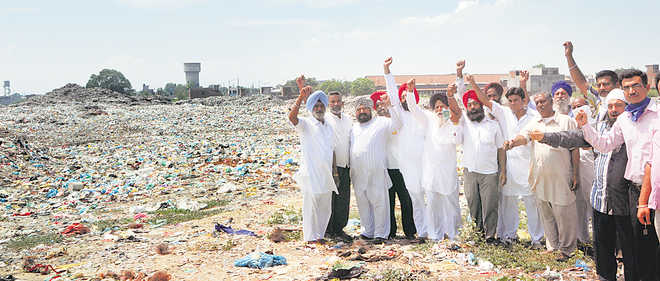 Gopal Krishna
Public policy & law researcher and Editor, www. toxicswatch.org

UNDERLINING waste problem as a "serious public health threat", Niti Aayog's Draft Three-Year Action Agenda of April 2017, plans to set up 100 waste-to-energy (WTE) plants to deal with 1,70,000 tons per day of municipal solid waste for some 7,935 urban centres. It draws on the May 2014 report of the Planning Commission's Task Force on WTE and recommendations in the October 2015 report of the Sub-Group of Chief Ministers on Clean India Mission, which recommended WTE plants for bigger municipalities and clusters of municipalities. The Action Agenda states "Incineration or 'waste to energy' is the best option" even as Annexure A of the Kyoto Protocol marks out waste incineration as a source of greenhouse gases. This Protocol remains relevant because the Paris Agreement on climate crisis will come into operation only from 2021.
The Draft Agenda does not pay attention to the Planning Commission's report that recorded that the waste-to-energy plants built by SELCO International Ltd on the outskirts of Hyderabad and in Kanpur by A2Z Infrastructure Company are not functional and operational. It records that the former plant "is closed down for want of required quantity and quality of waste."
Residents protest
Earlier, amidst protests from residents and waste recycling workers, the WTE plant in Okhla, New Delhi, run by Jindal Urban Infrastructure Limited was penalised by the National Green Tribunal on February 2, 2017, saying, "For the pollution resulting from deficient functioning/operation of 'Waste to Energy Plant'". But it allowed it to operate with a caveat, saying, "In the event, the plant is found to be deficient in its operations or violates the prescribed standards of emissions, it would be liable to pay Environmental Compensation of Rs 5 Lakhs per incident, in addition to such other order or directions that may be passed by the regulatory authorities and/or this Tribunal, including closure of the plant."
Notably, the Planning Commission's report recorded that the "Presence of large chunk of" construction and demolition wastes (C&D waste) "in the MSW supplied for processing was a major problem" in this plant.
Contrary to paper on pollution
This Niti Aayog agenda paves the way for the Fifteen Year Vision and Seven Year Strategy document spanning 2017-18 to 2031-32. To begin with, there is a plan to generate 330 MW from waste-to-energy projects in years 2017-18 and 511 MW in 2018-19 as deliverables for the Clean India Mission. It recommends the creation of a Waste-to-Energy Corporation of India (WECI) "which may set up world-class waste-to-energy plants" through Public Private Partnership (PPP) across the country in 100 smart cities by 2019. This seems contrary to the government's White Paper on Pollution with an Action Plan that states, "Thermal treatment methods such as incineration or conversion of waste to briquettes and its subsequent use as fuel are not feasible due to the low heat value of the municipal solid waste."
Given the fact that at present India has surplus power to the tune of 3,000-4,000 MW as India's total power capacity increased from 243 GW in March 2014 to 320 GW in March 2017, there is no compelling logic for the extraction of power from WTE plants.
Notably, the Planning Commission's Task Force on WTE headed by K Kasturirangan erred in proposing a target of setting up 215 waste-to-energy plants by 2031 through PPP with a viability gap funding of up to 40 per cent. Niti Aayog's Draft Three Year Action Agenda pursues a similar path without taking note of the failures recorded in the report of the Task Force which was peer-reviewed by Isher Judge Ahluwalia, Dr RK Pachauri, M Ramachandran and Sunita Narain. Both the Draft Agenda of Niti Aayog and Planning Commission's report failed to pay heed to the warning of chemist Bruno Terne who had cautioned against barbarism that caused the destruction of the most valuable biological material through combustion and furnace technologies simply for the purpose of getting rid of it. Speaking at Philadelphia's Franklin Institute in 1893, he argued against burning natural fertilisers in incinerators whilst at the same time extracting and transporting fertilisers from continent to continent. He said, "In this century of progress, with our knowledge of chemistry, and with the most complete machinery at our disposal, it seems to me like a lapse into barbarism to destroy this most valuable material simply for the purpose of getting rid of it, while at the same time we are eager to obtain these very same materials for our fields by purchase from other sources."
Failed plants
Governments are feigning amnesia about the failure of such plants in Timapur, Delhi. Notably, in the recent assembly elections in Jalandhar, Punjab, Pargat Singh was the only sitting MLA who retained his seat. His victory is attributed to his support to villagers' protest against the waste-to-energy project. He remains a shining example of an elected representative acting like a valiant soldier for the protection of public health and environment, unlike Amanatullah Khan, the AAP MLA from Okhla, Delhi. Prior to elections, Khan supported the residents' protest, but after his election, he forgot about it.
Impact on public health
As to implications for public health, a World Health Organization's publication of 2016 found associations between birth outcomes (preterm birth and spontaneous abortion), chronic or acute respiratory effects in children or adults in relation to increased level of exposure to incinerators. It echoes the findings of a judgment of the Delhi High Court which observed, "Residents living within 10 km of an incinerator, refinery, and waste disposal site" showed "Significant increase in laryngeal cancer in men living with closer proximity to the incinerator and other pollution sources."
Some 125 years after the sage words against the unscientific way of waste management, Niti Aayog appears all set to distort waste management beyond repair and undermine lessons from success of decentralised integrated zero waste management in places like Suryapet in Telangana.
Top News
'One of them, Dakshaayini Velayudhan who had come out of dep...
The purported video of the AAP leader meeting the jail super...
Polygraph test on Poonawala went on for nearly three hours o...
FIR was filed against four for 'glorifying' gun culture in A...
The manifesto is released by BJP president JP Nadda at Kamal...