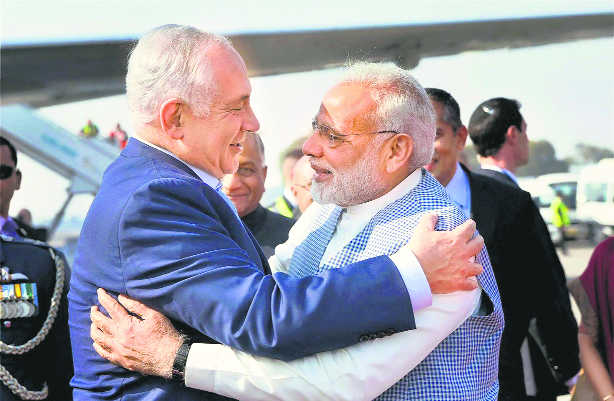 KC Singh
ISRAELI PM Benjamin Netanyahu arrived on a six-day visit on January 14. In 2003, Ariel Sharon was the first Israeli head of government to be received in Delhi. However, theatrical flair imparts the current visit a historical veneer. The guest visits Gujarat and then Mumbai, where the two nations were targeted in the 26/11 attack a decade ago. Moshe, the infant saved by his alert attendant when the terrorists overran Chabad House, is back in the city.
The diplomatic play opened at the Teen Murti monument, facing former residence of Jawaharlal Nehru, and earlier the British chief of army staff. The word Haifa was added to commemorate the Battle of Haifa in 1918. But history is multi-layered and events can signify different things to different peoples. For instance, the second Battle of Haifa was fought in April 1948 as the UN debated the partition of Palestine. Jewish force Hagannah captured this crucial deep-water port city with a crucial oil refinery and a population of over a lakh and a half, evenly divided between Jews and Palestinian Arabs. Thus, to Palestinians and Arabs the more painful memory is the Israeli annexation by force than their earlier liberation from the Ottoman yoke.
Whether PM Narendra Modi was uninformed of this dimension or uncaring, it cannot be a coincidence that of the three cavalry regiments at the Battle of Haifa, two were from Mysore and Jodhpur. Both are in states headed to crucial elections. Not noted is the additional significance of the liberation of Haifa in 1918 that Abdul Baha, the founder of the Bahai religion, considered an apostate by mainstream Islam and particularly Iran, was held there after death sentence by Ottoman authorities. Indian forces had been tasked by the British to ensure his rescue, which they did and thus ensured the survival of that faith.
In 1992 when I was Director (West Asia and North Africa) in the Ministry of External Affairs, the Union Minister for Housing Hardeep Singh Puri — then Director attached to Foreign Secretary JN Dixit — sought urgently a Cabinet note to establish diplomatic relations with Israel. The needful was done but what surprised was its approval by the Cabinet literally over the weekend. This had been necessitated by the end of the Cold War and the commencement of the Madrid Peace Process which all parties to the Israel-Palestine dispute had joined. India was told that for it to be even an observer, it needed to have relations with all parties, including Israel. PM Netanyahu's visit commemorates the end of the one-year celebration of a quarter century of diplomatic relations then established.
The joint statement sharpens many areas of engagement and adds a few. For instance, while cooperation in agriculture and water use has been underway since the 1990s, as various chief minsters have made an Israel trip mandatory in their foreign itinerary, now a five-year work plan has been adopted. Once again, engagement in fields of space, cyber, homeland security, etc, is already well developed and merely reiterated now. Last year when PM Modi visited Israel, centres of excellence were already envisaged. Out of 28 such centres, seven are in advanced stages of execution. A fresh agreement has been signed, linking the Make in India scheme to its Israeli counterpart. Cooperation in science and technology and research and development is overdue. Energy, particularly renewable energy, is an obvious area of collaboration. Recent find of huge gas and perhaps oil deposits in the Mediterranean Sea make Israel a potential exporter. Oil and gas thus become a crucial new area for joint exploration and development. But ultimately, implementation is key, and so far, it has been sketchy as states take a call on most projects.
Diplomatic niceties were observed with Israel ignoring the recent Indian vote at the UN on a resolution condemning the US recognition of Jerusalem as Israeli capital. Both sides are pragmatic enough to realise that they are not allies and thus will have areas of diplomatic divergence. At the UN, India needs the 50 plus votes of the Islamic nations in any election and certainly to become a permanent member of the UN Security Council. Israel, on the other hand, has a massive outreach to China, with bilateral trade thrice that with India. China also is a robust purchaser of Israeli defence equipment, absorbing critical technologies which will impact the balance of power in South Asia. China is also way ahead of India in investing in Israeli companies having cutting-edge technologies, especially in the agro-biotechnology segment.
Geopolitically also, South Block should not view Palestine as the sole Islamic hurdle to factor into India-Israel relations. The issue that both divides and reconfigures the Islamic world today is Iran's rise and its Shia crescent. In its corner and opposed to US-Saudi-Emirati-Israel axis are Turkey and Russia. Thus, India would have to balance between these new poles. Iranian Supreme Leader has cursed out the US and Israel in a tweet this week. It is important not to go overboard when engaging any country of these two camps. A case in point is the hugging controversy. Congress party's humorous video on Modi's serial hugging of foreign leaders elicited strong BJP reaction. Although the tape was best released post visit, the convention on keeping foreign policy and domestic politics apart was broken early by Modi by lambasting Opposition when abroad. An Israeli newspaper, referring to the callous treatment of Palestinian civilians by its Gaza blockade, called it 'death of guilt'. That's the burden India shares in hugging Netanyahu, which PM Atal Bihari Vajpayee personally found unacceptable, though Modi seems unperturbed.
There is little empirical evidence that hugs beget alliances abroad or their absence poor relations. Indira Gandhi was more embarrassed than elated when Cuban leader Fidel Castro embraced her when handing over NAM chairmanship in Delhi. Poor farmers or jobless workers could do with a Modi hug, in the process getting him electoral benefit. A firm handshake is all that Indian Prime Ministers needed in the past to shepherd India with grace and effectiveness. Actually, joining hands in a Namaste would be even better.
The writer is a former Secretary, Ministry of External Affairs
Top News
The accused ASI was nabbed by local people, who then handed ...
Two frontline combat aircraft of the IAF crashed during a tr...
Gandhi was accompanied by his sister and Congress general se...
PM Modi also appreciated people for eating food items made o...