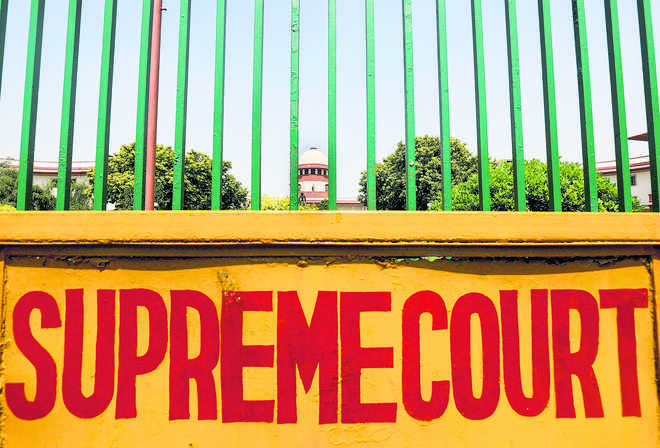 Faizan Mustafa
Vice Chancellor, Nalsar University of Law, hyderabad
AFTER the Spycatcher judgment by the House of Lords in 1987, British newspaper Daily Mirror published an upside-down picture of three law lords with the caption, 'You Old Fools'. Lord Templeman refused to initiate contempt proceedings and said he was indeed old and whether he was a fool was a matter of perception, though he personally thought he was not one. British judges don't take notice of personal insults, if uttered without malice. After the Brexit judgment, Daily Mirror titled its story 'Enemies of people'and again no contempt notice was issued.
Contempt proceedings are a relic of a bygone age and not generally invoked in modern democracies. Lately, there has been a surge in the use of contempt power in India; it is an exception to the freedom of speech. Former Supreme Court judge Markandey Katju was asked to explain his criticism of the judiciary. Lawyer Prashant Bhushan was in the contempt loop over his tweets regarding the appointment of the CBI's acting director. The Attorney General now wants to withdraw contempt proceedings. Several eminent public men want to intervene in this matter because contempt power is not to be used to discipline the lawyers.
Shillong Times Editor Patricia Mukhim and publisher Shobha Chaudhry were found guilty of contempt by the Meghalaya High Court despite their apology. They were ordered to sit in the corner till the rising of the court and fined Rs 2 lakh each, failing which they were to serve a sentence of simple imprisonment for six months, besides a ban on the paper. The Supreme Court stayed this order on Friday.
The contempt power was used over a news report carried by the Shillong Times titled 'When judges judge for themselves'. It began with former Chief Justice of Meghalaya High Court Uma Nath Singh and former Justice TNK Singh's order of January 7, 2016, in which Z security was to be provided to the former judges. It went on to say that similarly, Justice SR Sen, who is set to retire, has ordered providing several facilities not only to retired judges, but also to their spouses and children. In addition to medical facilities, the controversial order stressed the need for providing protocol, guest houses, domestic help, mobile/internet charges at the rate of Rs 10,000 and a mobile phone for Rs 80,000 for judges. It was found that the news report was not based on facts and was intended to scandalise the High Court. The caption was found malicious and contemptuous. Mukhim was also alleged to have made insulting comments against the court on social media.
It seems the actual facts were that the Meghalaya government had withdrawn protocol service from the retired judges and their family members without consulting the High Court. Subsequently, the Chief Justice called a meeting of the Chief Secretary and other senior bureaucrats, seeking their explanation on this withdrawal, but they could not give a satisfactory answer. They were asked to restore these benefits, but when this did not happen even after a lapse of two months and some judges faced difficulties, the High Court initiated suo motu proceedings. Since the government kept mum and did not restore the benefits, contempt proceedings were initiated against the Chief Secretary, Law Secretary, Commissioner and Secretary, General Administration Department (GAD), Shillong. The court came down heavily on the journalists as their report had attributed motives to Justice Sen though the cases are allotted by the Chief Justice, who is the master of the roster. By the way, the Chief Justice was the other judge on this Bench.
Justice Sen was recently in the news for desiring that India be declared a Hindu rashtra. In his judgment, he has praised Prime Minister Narendra Modi and advocated passage of the controversial Citizenship Bill.
Ideally, judges should never be oversensitive to public criticism. Bona fide criticism should be welcomed and appreciated because it opens the doors to introspection. Lord Atkin, in Ambard vs Attorney General of Trinidad and Tobago (1936), rightly said that "the path of criticism is a public way: the wrong-headed are permitted to err therein; provided the members of the public abstain from imputing improper motives… Justice is not a cloistered virtue: she must be allowed to suffer the scrutiny and respectful, even though outspoken, comments of ordinary men."
In 2006, the then UPA government brought in the long overdue amendment to the Contempt of Courts Act (1971), which now provides 'truth' as defence, provided it is bona fide and in public interest. A fair comment on the merits of a judgment is not contempt. Attributing improper motive to a judge or scurrilous abuse of judge will amount to scandalising the court and thus amount to contempt.
The contempt law is problematic as the judge himself acts as prosecutor and victim and starts with the presumption of guilt rather than innocence, and in his discretion decides punishment. British judge Lord Denning, in Metropolitan Police Commissioner (1969), rightly observed that contempt "jurisdiction undoubtedly belongs to us, but which we will most sparingly exercise: more particularly as we ourselves have an interest in the matter. Let me say at once that we will never use this jurisdiction as a means to uphold our dignity. That must rest on surer foundations. Nor will we use it to suppress those who speak against us." Let Indian judges follow this greatest judge of the 20th century and demonstrate their compassion and large-heartedness in dealing with contempt cases so that the dignity of courts rises in the hearts of the people.
Top News
Hits back at BJP | Cong brass holds 'satyagraha' for Rahul
The shooting takes place on Sunday at around 2.30 pm at the ...
South Korea's Joint Chiefs of Staff says the two missiles we...
Scribe abused & assaulted, MEA flays attack