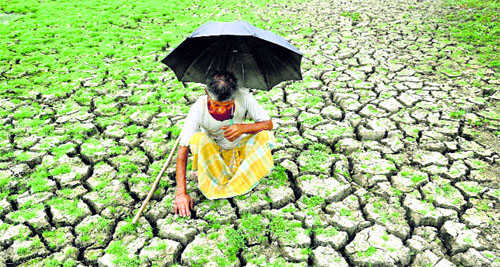 The recent monetary policy announcement of the Reserve Bank of India (RBI) mentions in detail about the fear of El Nino looming large on the Indian economy. In North India, agricultural activity was already adversely affected by unseasonal rains and hailstorms in March 2015, impacting nearly 94 lakh hectares of area under the Rabi crop. The outlook for Kharif season is also not very encouraging. The Indian Meteorological Department has predicted that the south-west monsoon will be 7 per cent below the long period average.
Conceptually, El Nino is a climatic development occurring in Asia and Pacific every three to seven years and lasting about two years due to the warming of the equatorial Pacific Ocean. In the past, El Nino has been linked to poor monsoon rains in India and in most of the cases this has resulted in droughts. In India, examination of empirical evidence since 1950, reveals that there is a strong relationship between El Nino and droughts, as of the 13 droughts since then, 10 were in El Nino years. And since 1980, all the six droughts were in El Nino years.
As agriculture is the most exposed sector, El Nino impacts it directly. This effect then cascades to the industrial and service sectors. El Nino-associated risks are major economic concerns for impacted countries. More importantly, in rural areas, El Nino could impact employment, forced migration, indebtedness, food insecurity, and malnutrition, contributing to people slipping into the poverty trap and slums in urban areas. In India, consequent to El Nino, financial distress, especially borne by farmers and already reflected in farmer suicides, could further become a grave concern for policy makers. Therefore, in view of the impending El Nino, strategic thinking and planning will help in inspiring confidence, (especially in rural households) in weathering natural and financial calamities. These concerted measures need to be short and long term. In the short run, a well-coordinated approach between various government agencies can help to mitigate the impact.India needs to focus on a contingency plan for food and agricultural products as well as strengthen the crop insurance scheme, and supply chain of food through the Food Corporation of India (FCI) and fair price shops. In this context, probably, the National Bank for Agriculture and Rural Development (NABARD), constituted in 1982 with a view to promoting integrated rural development, could be tapped.In the long run, government needs to undertake proactive measures by analysing climatic patterns and making use of available forecasts.
A multi-disciplinary approach to address the issue of forecasts and translating it into potential impact and then formulating remedial measures needs to be set up by the government. In this context, specific states, where agricultural activities are dominant, need to undertake someurgent steps.
India already has crop and weather insurance schemes but these may not be adequate in facing El Nino. As with any other insurance schemes, there are difficulties in making claims and availing appropriate amount in time. In most cases, as agricultural activities support nearly 70 per cent of the population, there are economic justifications for budgetary relief but these are ad hoc and generally end in political debates.
The state governments would need to prepare a contingency plan to ensure that insurance claims of losses are met in a short span of time of, say, less than a few weeks, to provide certainty to the farmers. The increased number of bank accounts due to the successful operation of the Jan Dhan Yojana can be used to extensively extend penetration of crop insurance in rural India. The highly subsidised contribution from the farmers for the existing government insurance schemes for crops should be helpful in expanding the scheme. Generally, there is widespread dissatisfaction towards relief measures and its computation provided by the government. To ensure scientifically computed value for crop damage and assessment of loss, it may be useful to involve NABARD and academicians from a state agricultural university to adopt a professional approach. The use of satellites to technologically assess areas of crop damage can also be examined. This would also ensure that grim issues of economic losses in rural areas are not trivialised by political debates damaging the self-esteem of farmers. A relief fund can also be created. The government, farmers during better times, and others, including private entities, under corporate social responsibility, could make initial contribution to the corpus of such a relief fund. The compensation should only be given to those farmers who regularly contribute to such a relief fund.
Also, food items that are covered by the FCI are generally fixed by the government on a long-term basis. Rather, there should be flexibility in choice of food items,to stabilise the market, on an annual basis to prepare for natural calamities like El Nino.The impact of El Nino could be on different commodities, depending on the place of its impact. In view of the vast available geographical area of India, it would be useful to focus on the development of agriculture in different regions, especially virgin lands of the North-East. A spatially developed agricultural sector across the length and breadth of the country can help in reducing the impact of El Nino on foodgrain production. In India, in view of global warming, climatic changes are expected and so is El Nino. Thus, there is need to consider setting up multi-disciplinary groups to address the issue on a war-footing, when El Nino-related losses occur in the economy. This distress can be mitigated by transparently standardising the procedure for computing compensation and automating the system to provide relief. Hopefully, these measures will help to soften the impact of impending El Nino in India.
--- The writer is RBI Chair Professor of Economics, Indian Institute of Management, Bangalore