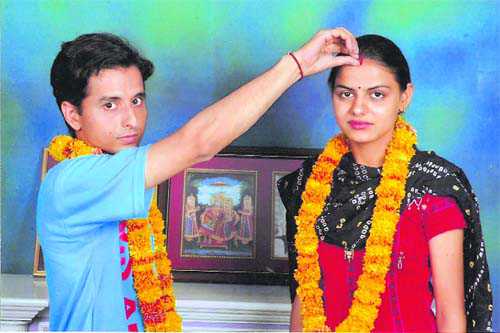 The right to choose, if, when and whom to marry is a fundamental human right. It is guaranteed by most human rights instruments. Provisions of the Indian Constitution on non-discrimination on the basis of sex, equal protection of law, equality before law and the protection of life and personal liberty, safeguard this right. The introduction of modern concepts like adulthood and sanctity given to individual rights has legally turned the individual settlement of marriage between two consenting heterosexual adults to be legitimate. The State is under obligation to enforce such a right. State-sponsored, registered court marriage too facilitates marriages which cut across several prohibited boundaries.
Yet, not many exercise the right. Surveys and statistics reveal that an overwhelming majority of 74 per cent prefer an arranged marriage to choice marriage in India. The tenacious hold of caste, customs, religion, patriarchal ideologies nullify this right effectively. The recent increase in the activities of vigilante groups determined to stop all such deviances, has added to the enormous odds faced in exercising self-choice in marriage — that is well known to end in violence.
Despite all these odds, there are still roughly one-fourth of those surveyed who opted for choice marriage. Such couples are forced to elope and get married in a clandestine manner. If Hindus, an Arya Samaj wedding is preferred by the eloping duo to a civil registration of marriage. The former wedding is a quick affair, with hardly any questions asked of the couple, but the latter has a mandatory notice period of one month. This period is taken to check the antecedents of the couple, proof of their age and residence etc. These legal precautions make the possible discovery of the runaway couple very real. There are several cases in which the court notice given for registration of the marriage leads to the two parties, of the girl and the boy, coming to blows in the court premises. Thus, the state and its functionaries emerge as obstructing the marriage rather than facilitating it. This provides a valid reason to couples to avoid availing of the state-provided civil marriage facility. The facility of registered marriage, although imperfect, is under attack from many sides. Attempts to nullify this have been made in different states. In Gujarat, for example, in 2005, rules were introduced through an official circular asking courts not to register marriages unless there was parental consent in writing. As a result, couples in Gujarat started to be turned away by the marriage registrar.
Certain institutions, like the Arya Samaj, have been abrasively condemned for solemnising such marriages by the self-appointed custodians of society. In Haryana, for example, the khap panchayats have been vociferously demanding the closing down of the Arya Samaj temples for "encouraging inter-caste and love marriages". Om Prakash Dhankar, a prominent khap leader of Haryana, demanded that the temple should be allowed to perform marriages only in the presence of the parents of the couple and the officials of the their village panchayats — a condition guaranteed to quash all such alliances.
In certain states, even the judiciary has not lagged behind in condemning the Arya Samaj. The High Court of Rajasthan, for example, noting "the easy facility" provided to such marriages, instructed the Arya Samaj offices in 2011 to observe strict rules and regulations for solemnising marriages which correspond to those maintained by the Civil Registration Office.
The judiciary, specially the higher judiciary, has been taking a lead in safeguarding this right. An instance is a 2006 path-breaking verdict of Justice Markandey Katju. It ended the six-year ordeal of a young high-caste woman, Lata Singh from Lucknow who had married a Dalit man. She faced her family's fury for this. The court quashed all cases instituted against her husband and his relatives and instructed that criminal proceedings be instituted against any one who issued threats or committed acts of violence against such couples.
In May 2009, the Supreme Court overturned the Jammu and Kashmir High Court judgment by maintaining: "India is a free country where girls after attaining the age of eighteen years have the freedom to live with or marry anyone they liked. Parents, if not happy could at worst sever their ties with her but cannot threaten, coerce or torture her." In 2010, the higher judiciary confirmed the sentence given by a lower court in Karnal in the Manoj-Babli case of 2006. This was one of the rare instances when the lower court pronounced death sentence for five and life term for one in the brutal murder of this couple who had a run-away marriage. Taking serious note of "honour killings," the higher judiciary instructed "stern action" to be taken by the police against those responsible for torture of such couples.
Despite all such efforts, choice marriages have continued to remain under a cloud and the violence has persisted. In view of the realities of this danger, the Punjab and Haryana High Court formulated a landmark guideline in 2010 for the establishment of Police Protection Homes for such couples to be set up in each district of Haryana, Punjab and Chandigarh. Widely availed of by couples, the number of protection seekers has been going up steadily, that is from 366 in 2010 to 1,221 in 2013.
According to the lawyers in Chandigarh, the Punjab and Haryana High Court receives as many as 50 applications per day from couples seeking state protection, anticipatory bail or restriction orders against their parents and other relatives; they fear for their lives for having defied their families and community. This is a staggering 10-fold rise from about five to six applications a day, five years ago. Clearly, despite the difficulties faced by the couples who wish to make choice marriages, the existing evidence suggests an increase.
There are multiple socio-political reasons behind this increase. These extend from the rapidly changing social milieu, the process of political democratisation, economic opportunities that have altered local power dynamics, complicating relationships between members of different communities. Identities other than that one is born with have taken over, leading to greater self-assertion and the rejection of traditional norms observed for purposes of marriage. Couples are defying age-old customs and revolting against imposed constrictions. In the given social milieu of education, higher mobility and a globalised and consumerist society which has increased the intermingling of sexes, it is high time that the Constitutional obligations regarding choice marriages are accepted rather than resisted.
The writer is a Senior Academic Fellow at the Indian Council of Historical Research, New Delhi.