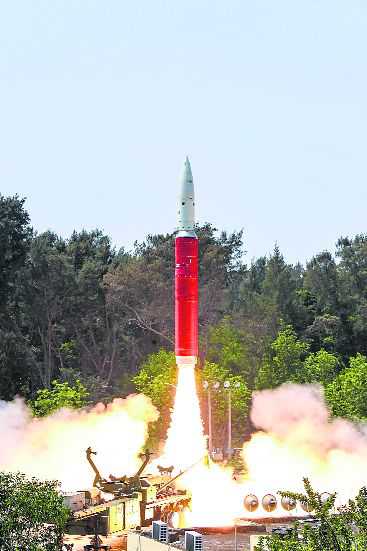 R Ramachandran
Senior science writer
SECURING the country's space assets is certainly important, and possessing anti-satellite (ASAT) capability may be arguably necessary for the purpose, but there is no immediate threat perception scenario, either by the Department of Space/ Indian Space Research Organisation (ISRO) or the Services, which would warrant such an urgent test overriding all other priorities for the nation's defence and space sectors.
One of the critical technologies needed for acquiring ASAT capability is a 'kinetic kill vehicle' with a target homing device using an imaging infrared (IIR) seeker. In a recent interview, VK Saraswat, former chief of the Defence Research and Development Organisation (DRDO), said though DRDO had the technical capability to develop this in 2012 itself, the then government had not given the go-ahead for the same.
Infrared seekers use what is called Focal Plane Array (FPA) of IR-sensitive sensors. And the choice material for IR sensors covering the entire spectrum — long-wavelength IR (LWIR) to short-wavelength IR (SWIR) — is the ternary compound, mercury-cadmium-telluride (MCT). Binary compounds such as indium-antimonide, which are sensitive only to IR signatures in the limited middle-wavelength (MWIR) range, are sometimes considered good enough, but the signatures from the thermal environment around a spacecraft would peak in LWIR.
India's quest for technologies for FPA and pure MCT is over two decades old, and till date the country does not have these technologies. This was stated by Saraswat himself in a lecture addressing a Pugwash gathering on February 3, 2017, at the Institute for Defence Studies and Analysis (IDSA).
"As far as IR seekers is [sic] concerned," he said, "the FPA [technology] which was denied to us [due to MTCR] is now not denied… We are not producing FPAs in the country… we are buying those FPAs and the rest of the optics and everything is being done in the country. That is why the possibility of NAG IIR seeker being manufactured in the country [exists] today. But we still have to go a long way... we need many more seekers, we need… LWIR and MWIR [seekers]..."
"The fact remains that, even today," he said answering a question from the audience, "the capability to make FPAs for thermal imaging and also for IR seekers… despite a lot of attempts by our country [is not there]… Like most of the cases when the country wants to venture into very highly complex technologies, you need to invest a huge amount… We had spent not even 10 per cent and as a result MCT, which is the basic element needed for making the FPA, could not be developed… [w]hen in 1995-96 there was a proposal after there was a little relaxation of MTCR (Missile Technology Control Regime), Sofradir of France was ready to give the FPA technology… Rs 95 crore at that time, the government was not willing to spend... Today it may be Rs 1,000 crore… In 2006, when I was chief controller [of R&D], we realised that with the kind of infrastructure and knowledge that we had even within the DRDO and academic institutions and others, we do not make MCT of that purity which is needed as the raw material for this… not even a gram of that material is available to us." This runs counter to the 'DRDO's capability'in 2012 itself that Saraswat claimed in his interview.
The idea of an ASAT programme seems to have originated around 2008 soon after the first missile defence tests, when AK Antony was the Defence Minister. Apparently, following a preliminary meeting piloted by Saraswat at the Research Centre Imarat, Hyderabad, in which former President APJ Abdul Kalam was also present, a projection of around Rs 8,000 crore was made. The DRDO was then told that it should focus its efforts on moving from Agni-3 to Agni-5 rather than embarking on an altogether new and complex project especially when it did not have the essential seeker technology.
When it was suggested that Sofradir or Israeli companies, such as Israel Aerospace Industries (IAI) and SemiConductor Devices (SCD), might supply the technology, a move to first acquire it before a full-fledged ASAT programme, with emphasis on collaborative development under the ambit of the Indo-Israel Management Council (I2MC), was mooted. Then DRDO chief M Natarajan had also got a sanction for about Rs 1,700 crore for that. Apparently, Sofradir, while willing to sell, was not even prepared to give FPA units for testing, let alone sharing the technology.
But nothing tangible seems to have resulted in terms of technology acquisition from Israel or France, especially on the MCT front, since then, either during Saraswat's tenure or during those of his successors till February 2017 at least. According to DRDO sources, apparently towards the end of Saraswat's immediate successor Avinash Chander's term in 2015, a move was made to acquire a 1kx1k FPA, not of MCT but indium-antominide sensors, from SCD. And this was pursued by Chander's successor Satheesh Reddy as well, but the idea was apparently finally dropped. Around the same time, off-the-shelf entire MCT-based seekers with 320x256 array — not FPAs alone that you integrate domestically with other elements — were apparently bought from Sofradir for Helina, the helicopter-version of the anti-tank missile NAG (similar units have been purchased by ISRO also for its hyperspectral imagers). These events beg the question: How could a full-fledged ASAT project proposal have been made to then UPA government in 2012 for it to decline sanction when the DRDO did not have the technology for IR seekers?
It may be argued that, after the 2016 sanction for the project, within just two years of the Pugwash talk in February 2017, these technologies could have been developed as an Indo-Israeli project. But that would be a near impossibility, given the complexities involved in perfecting the weapon: integrating the other elements with the bought-out FPA, developing the complex image read-out algorithms, calibration of the device, simulation tests with the imager and final integration with the kill vehicle.
As sources within DRDO and ISRO conjecture, the likely scenario is that these off-the-shelf Sofradir seekers, in combination with the active radar seeker which DRDO makes, may have been used in the ASAT test. Alternatively, under the ambit of I2MC, an entire off-the-shelf MCT-based seeker may have been supplied by IAI. Of course, given that the test was conducted in the morning (11 am), a simple optical imager coupled with radar seeker could have also been used for homing.