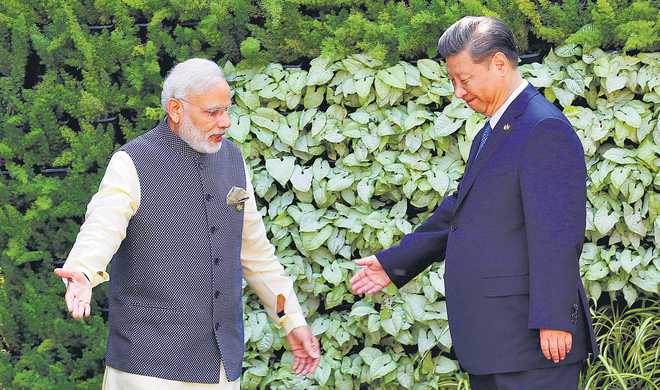 Gen VP Malik (retd)
THE ongoing China-Bhutan-India confrontation at the Doklam grazing ground is characterised less by soldiers sitting eyeball to eyeball and more with bullying, threatening and disparaging language being used by China against India. With soldiers from both sides digging in, the consequences of this confrontation remain unpredictable.
On China's India-specific attitude, I will start with the Agreement on the Maintenance of Peace and Tranquillity along the Line of Actual Control (LAC) in the India-China Border Areas signed in1993. As a senior Army officer then, I was involved in discussions regarding military confidence-building measures with China, as well as advising Bhutan on the India-Bhutan-China border issues.
Para 2 of the agreement stated: 'The two sides agree to reduce their military forces along the LAC in conformity with the requirements of the principle of mutual and equal security to ceilings to be mutually agreed. The extent, depth, timing and nature of the reduction of the military along the LAC shall be determined through mutual consultations between the two countries. The reduction of military forces shall be carried out by stages in mutually agreed geographical locations sector-wise within the areas along the LAC.' However, after the agreement, despite our best efforts, China backed out on the delineation or disclosure of its perception of the LAC, which had to be the start point for any troop reduction or relocation by either side.
In 1996, during an official visit to China, I called on Gen Chi Haotian, then defence minister, and raised this issue. He not only brushed it aside, but also displayed his annoyance. I felt then — and do so now — that China wants to settle India-China boundary issue on its own terms, at some opportune time.
China's aggressive approach towards India began in the late 2000. It opposed nuclear exemption for India at the NSG, as it opposes India's membership of the NSG now. Despite the political acceptance of Sikkim's status within India, China has made attempt to create ambiguity on this issue. It started issuing 'paper visa' to travellers from J&K and Arunachal Pradesh. In the recent past, several incursions have been attempted in Ladakh. The Chumar incident took place when Chinese President Xi Jinping was being feted in India. China has refused to declare Masood Azhar as a global terrorist despite near unanimity in the UN on this issue.
Beijing stopped bothering about India's sensitivities when it began to use its economic and military clout to influence and wean away India's South Asian neighbours. Its embrace of Pakistan has got tighter. China is now an integral part of India-Pakistan disputes. It took no notice when India objected to CPEC passing through the disputed territory of Gilgit-Baltistan, but felt insulted when India did not attend the OBOR jambooree in Beijing. With its string of pearls strategy, and CPEC entry to the Arabian Sea, its influence in the Indian Ocean and its littorals is expected to rise sharply.
Doklam has been an 'accepted' disputed area between Bhutan and China since the 1980s. When China started road construction — a unilateral attempt to change the status quo in the area — Bhutan called for India's help under the purview of India-Bhutan Friendship Treaty of 2007. India's action is also in its own national interest. If allowed to be completed, this road would not only extinguish Bhutan's claim over Doklam, but also improve Chinese reach to India's narrow Siliguri corridor. Yet another obvious purpose is to dent the good relations between India and Bhutan.
Now to the larger, global perspective of China. Paul Kennedy in his book The Rise and Fall of Great Powers stated that 'Long-term shifts in economic productivity of nations are co-terminus with the increase or decrease of their global influence'. After developing its economy and military power, China is now emerging as a revisionist, expansionist and a combative power; its 'peaceful rise' stage seems to be over. Under Jinping, it is pursuing a strong domestic national identity and the dream of once again becoming the Middle Kingdom. China has running territorial disputes with many countries, including India, Japan, Taiwan, Philippines and Vietnam. In the process, it has started asserting dubious claims, bullying smaller nations and adopting a defiant attitude like the one on the International Tribunal award over the South China Sea.
In redrawing borders and expanding spheres of influence, China is indulging in cartographic subjectivity. History and selective interpretation of colonial-era decisions are quoted in accordance with its own prerogatives — China rejects McMahon Line with India as a colonial era accord, but accepts this line as a boundary with Myanmar. And now it cites the 1890 Anglo-Sikkim Convention in the case of India-China-Bhutan tri-junction in Chumbi Valley.
India has displayed accommodation and timidity in dealing with China's numerous provocations — its territorial claims, encroachments, nexus with Pakistan, supporting insurgencies inside India, trade imbalance, violation of bilateral agreements and opposing India's vital interests in multilateral forums. After Doklam, this attitude may change. Any display of weakness will not only encourage Chinese coercion and bluster, but also impact India's relations and credibility in South, Southeast and East Asia. India will need to carry out a holistic review of its China policy.
In the last two months, China has made several military threats. Keeping in view the nuclear status of both countries and geopolitical sensitivities involved, I doubt if there can be a high intensity India-China armed conflict. A major armed skirmish in Chumbi Valley is also unlikely. The geography here places serious operational disadvantage to China. The scope of any limited conflict/skirmish can be expected to shift to the less accessible areas in Ladakh, Central Sector or Arunachal Pradesh, where it has better mobility and logistic advantages. Yet, another option China could adopt is to restart helping India's secessionist elements in the North-East and along the Siliguri corridor. Or to use its cyber capabilities to damage any national-level IT-enabled systems. It would then be able to cause greater intimidation without going to war.
While preferring a solution through a dialogue on equal terms, India must be prepared for all eventualities. There is considerable asymmetry in power potential between China and India. Without getting into an arms race, India must start thinking strategically to cope with China's power. Doklam is a wakeup call to look at our defence capabilities and infrastructure along the LAC and to review the long comatose military transformation.
The writer is a former Army Chief
Top News
Nijjar was killed in Surrey in British Columbia on June 18
Serious matter, cooperation must: Canadian PM
Says those occupying positions of influence are resisting th...
There are no safety provisions in the Act for areas lying do...
Suspended coach is pursuing molestation case against Haryana...