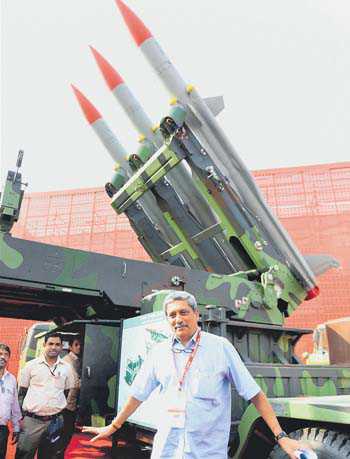 AS an armed forces veteran, I noticed two firsts in the budget presented this year. First, Finance Minister Arun Jaitley never mentioned the word 'defence' in his speech. I cannot remember that happening in the last five decades or more. To many people, this will convey the impression that India's security, and Rs 3.4 lakh crore of India's defence budget (total defence outlay plus pension bill), is not of much importance. Second, for the first time, he included 'defence pensions' as part of the Defence Ministry Allocation (item no. 21 in the Summary of Demands for Grant). This appears to have been done for two reasons: (a) to convey that this particular item has impacted the rest of defence allocation, and (b) to convey that the total defence outlay has been increased substantially.
What is the defence allocation for next year? What are its implications for the armed forces?
The defence allocation sought in the budget estimate (BE) for 2016-17 is — revenue: Rs 1,48,498.85 crore, capital: Rs 78,586.68 crore, pensions: Rs 82,332.66 crore, misc (other than armed forces): Rs 68,537.63 crore. There is an increase of 1.16 per cent on the basis of BE of last year, which does not even cover India's inflation rate. But if calculated against the revised estimates (RE) — based on unspent money by the Ministry of Defence till December 31, 2015, leading to reduction in the allocation by the Ministry of Finance in the RE — it works to an increase of about 9 per ent.
In 2015-16, the Ministry of Defence was unable to spend Rs 18,295 crore out of its allocated budget. This included Rs 11,595 crore from the capital expenditure, or 13.4 per cent of the funds earmarked to purchase military equipment. The rest unspent amount was from the revenue expenditure, or maintenance requirements of the armed forces.
For the unspent money, which leads to reduction in the RE year after year, we can blame the Ministry of Defence for its cumbersome procedures, and also its finance adviser who takes his cue on curtailing expenditure from the Ministry of Finance. Usually, he is seen more loyal to his parent ministry than the one in which he is located.
Our major worry is on the modernisation of the armed forces. The parliamentary standing committee on defence, currently headed by a BJP member, had in its last report stated that although the defence expenditure had been increasing over the years, it had not been consistent — neither in keeping with the strategic environment nor in the allocation for revenue and capital expenditure. It had warned the government that a low allocation for the defence sector would affect the country's security adversely.
For 2016-17, the capital expenditure outlay for the armed forces is Rs 78,586.68 crore. Last year, at the BE stage, it was Rs 85,894.44 crore. This clearly implies lesser money allocation for modernisation this year.
In his speech to the Combined Commanders in December 2015, Prime Minister Modi said: "In a world of rapid changes, India faces familiar threats and new ones. Our challenges cover land, sea and air at the same time. It includes the full range, from terrorism to conventional threat to a nuclear environment. Our responsibilities are no longer confined to our borders and coastlines. They extend to our interests and citizens, spread across a world of widespread and unpredictable risks."
The delays in the replacement of the army's obsolescent weapons and equipment, making up deficiencies in fighter squadron strength of the Air Force and the submarine fleet of the Navy to meet future threats and challenges is worrisome. Several big ticket defence purchases being worked out for modernisation are likely to suffer. This would also affect our defence industrial sector which is looking for expansion and supply orders as part of India's 'Make in India' programme.
The revenue expenditure is no less a worry. The allocation this year of Rs 1,48,498.85 crore is an increase from BE of Rs 1,37,153.03 crore (RE of Rs 1,30,071.09 crore) of last year. The fact is that this expenditure has been bloating year after year and skewing the maintenance versus modernisation ratio in defence allocation. Ideally, it should be about 50:50 for the Air Force and Navy, and about 65:35 for the manpower-intensive Army. In the past, whenever revenue expenditure overshot the budgeted allocation, there was a tendency to dip into the capital expenditure. With extra revenue expenditure on account of the 7th Pay Commission recommendations, and post-Pathankot attack, extra security measures are required for large defence installations, and I doubt if we can come anywhere close to these ratios next year.
There is a common feeling amongst armed forces personnel that the government, particularly the Finance Minister, are upset with some veterans' continuing agitation over the OROP issue, despite conceding most demands. My appeal to the government is that whether that is true or not, it must not come in the way of the armed forces modernisation!
I have three additional comments to make. One, as a ratio of projected GDP for 2016-17, the defence expenditure will be around 1.6 per cent. In comparison, China spends over 2.5 per cent, and Pakistan around 3.5 per cent of their respective GDP. India's per capita expenditure on defence is less than $10 while the average expenditure of the top 10 spenders in Asia is approximately $800. Given India's increasing vulnerabilities and rising international demands on it to act as a net provider of security as a rising regional power, the defence allocation and expenditure needs to be supplemented to create the capabilities which the armed forces will need in future.
Two, the inability to spend allocated capital modernisation budget needs to be rectified urgently. We should consider 'non-lapsable, roll-on allocation' for defence capital budget. This was instituted by the last NDA government under Atal Bihari Vajpayee. We should also institute a 'technical audit' every five years to check if allocated capital resources have been utilised optimally.
Three, while seeking additional resources from the government, it is also the responsibility of the Ministry of Defence and the armed forces to control the ever-bloating revenue expenditure. This requires stricter check over manpower expansion with greater use of technology where necessary. With greater integration of services, we can also cut down duplication (sometime triplication) of our non-combat resources.
— The writer is a former Chief of Army Staff
Top News
Govt awaits world body's report on Gambia deaths
Drugs Control Administration orders withdrawal of all batche...
Attacker later kills his wife, child and himself | He was di...
DSP (Intelligence) Pawan Kumar, Harjinder Singh have also be...
Were to visit India in Jan for daughter's first b'day