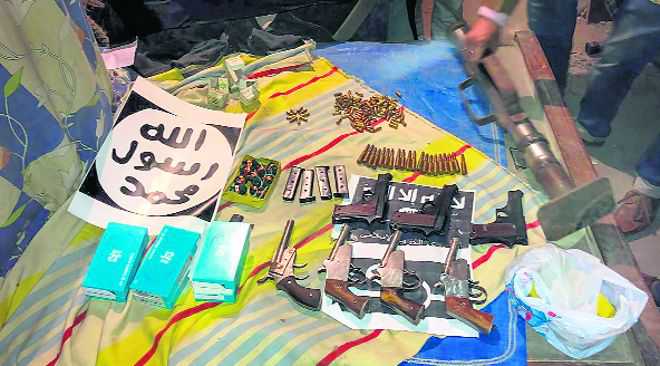 Vappala Balachandran
Ex-Special Secretary, Cabinet Secretariat
BY unearthing 'terror mastermind' Mufti Suhail's conspiracy, the National Investigation Agency (NIA) has disproved Home Minister Rajnath Singh's assertion, made on May 23, 2016, that there was "no threat to India from the Islamic State (IS) as people of the Muslim community are against the IS". Rajnath Singh had repeated this argument on March 15, 2018, saying that the IS would have no impact on India. He should have known that the IS is not supported even in Sunni-majority Arab areas, not to speak of Muslims globally.
The Home Minister is not alone in going wrong on the shadowy terror group. Mathew Olsen, Director of the US National Counter-Terrorism Centre (NCTC), had told the Brookings Institution on September 3, 2014, that he had "no credible information that the ISIL (Islamic State of Iraq and the Levant) is planning to attack the US". A year later, ISIL (IS) organised one of the worst mass killings in the US at San Bernardino on December 2, 2015, through a Pakistani-origin couple.
Thus, even knowledgeable people go wrong in assessing the danger from the IS. Some say that the IS would not be able to march into India like the way it captured Syrian-Iraqi territories. Others think that it would stealthily infiltrate foreign cadres into target countries on the lines of al-Qaeda, Lashkar-e-Taiba or Jaish-e-Mohammad.
The first scholar to describe how they operate was US journalist James Kitfield. When the IS had not even made its appearance, he wrote in the National Journal Weekly in September 2006: "Global insurgency reacts to Osama bin Laden's radical ideology almost like distant and seemingly disconnected light particles respond in unison to an unseen wave". This is also called 'Do it yourself terrorism'.
No doubt the IS had raised a spectacular army and captured 60,400 sq km during 2014-17 with 31,000 foreign fighters from 81 countries. By January 2018, this area had shrunk to 6,500 sq km through allied bombing and online propaganda was reduced by over 60 per cent. Still they are able to sneak into the minds of their adherents remotely and make them zombies to obey commands. The UN Security Council's Counter-Terrorism Committee acknowledged this in November 2018. The IS' covert propaganda is able to bypass the internet and shift to "anonymous sharing portals like Sendvid.com, Justpast.it, and Dump.to and maintain its networking structure in the face of coordinated disruption". The UN report of December 31, 2018, estimated that 20,000 fighters might still be present in IS-controlled areas.
The IS also motivates its retuning cadres to unleash terrorism in countries of their origin. Algerian Islamists who had taken part in the Afghan Mujahideen wars (1980-89) had started it on their return to Algeria, killing thousands in the 10-year civil war from 1991. I had envisaged a scenario like this in India through my column, 'When the Boys Come Home', in a prominent weekly on September 21, 2014.
A tragic example of this type of terrorism happened in Surabaya (Indonesia). The families of Dita Oepriarto, Anton Febryanto and Tri Murtano, including their minor children, blew themselves up on May 13, 2018, when they attacked three Christian churches. Oepriarto, a childhood education programmer belonging to IS affiliate Jamaah Ansharud Daulah (JAD), had spent time in IS-controlled areas.
Other countries are spending thousands of man hours decoding how such remote propaganda affects the minds of people beyond national borders and how to counter them. The European Union has a staff of 550 in its Radicalisation Awareness Network on cross-border issues such as asylum, migration, border control and terrorism. The Organisation for Security & Cooperation in Europe (OSCE), the world's largest security-oriented inter-governmental organisation, has programmes to prevent online radicalisation, not all very successful. An article in New York Times in 2017 says that people tend to look up to online propaganda, being dissatisfied with the mainstream media.
In the US, several official and non-official agencies are involved in countering online radicalisation following the theme paper of December 2012 by Thomas Keen and Lee Hamilton, co-Chairs of the bipartisan 9/11 Commission. We do not seem to have paid focused attention to it. Our security agencies, Home Ministry, police forces and the National Security Council might assure us that they are taking necessary steps, but there is no transparency regarding their specific contribution. We have no tradition of academic institutions being involved in such serious studies, except by think tanks that might produce occasional papers.
One of the basic requirements to prevent radicalisation is to maintain an inclusive society where justice is assured to all sections irrespective of their religions or castes. The UN General Assembly's 'Four Pillars' of 'Global Counter-Terrorism Strategy', adopted on September 8, 2006, and renewed every two years speak of "addressing conditions to the spread of terrorism", including violation of human rights. Mufti Suhail had spoken about "the persecution of Muslims in India" as one of the reasons for his joining the IS network. We should introspect whether the 'beef lynchings' in some states on mere suspicion had created such 'conditions', especially when DNA tests by the National Research Centre on Meat had certified that only 7 per cent of the suspected samples were cow meat (between 2014 and 2017).
We should also introspect how far the NDA government's misguided policy on Kashmir has contributed to this trend even after the May 24, 2018, recommendation by the National Security Strategies Conference to Rajnath Singh on holding talks with the Hurriyat and Pakistan to stop the slide. This introspection should include policy deviations such as considering 'separatists' as untouchables, policy excesses like treating stone throwers as terrorists and using pellet shots on demonstrators.
On December 29, 2018, masked youths entered the 14th-century Jama Masjid in Srinagar and hoisted Islamic State flags on the pulpit, akin to Abu Bakr al-Baghdadi's action of proclaiming the IS from the podium of the 12th-century grand mosque of al-Nouri in Mosul on July 4, 2014. It is hoped that the present J&K administration would fully support the Hurriyat-led joint resistance in countering this sacrilege.
Top Stories