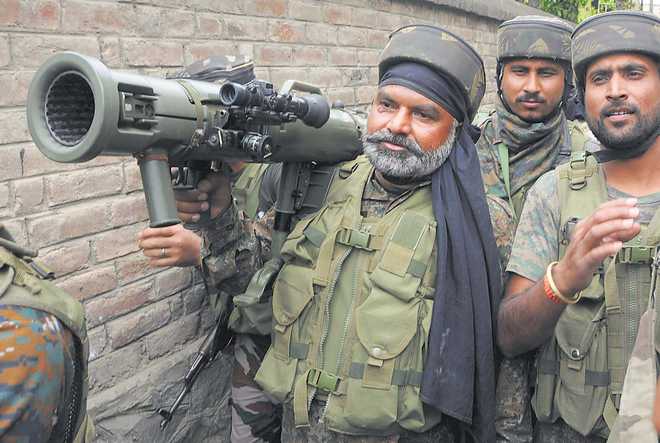 Pravin Sawhney
Senior Strategic Analyst
THE proposed restructuring of the Indian Army is a one-man show, meant to deflect political pressure to reduce the army through perception management. The Army chief General Bipin Rawat's suggestions are not reforms, but quick-fixes through borrowed ideas.
The key idea of joint-ness at the top (Army Headquarters and field formations) by cutting down directorates and headquarters is straight from China's People Liberation Army's 2015 military reforms book. Instead of suggestions from field commanders on how to reduce troops without compromising operational efficiency, Gen. Rawat has put the deliberative process on its head by announcing his verdict to his commanders. Moreover, he has rushed to disclose the convening order of the three committees (the preliminary stage) to the media as fait accompli well ahead of the final acceptance within the service.
Yet, Gen. Rawat cannot get the right balance between the army's revenue (for troops' pay and allowances) and capital allocations (for acquisitions) for desired modernisation without some deep thinking and cutbacks. Since the year 2000, the army has added one command headquarters, three corps headquarters, five divisions (56, 57, 59, 71 and 72 mountain divisions) and six brigades. This is in addition to the 80,000 strong Rashtriya Rifles which does counter-terrorism operations. All these add up to about three lakh troops.
Most of these mindless accretions have happened since 2009 after the army successfully sold the idea of preparing for the two-front war to the government. Now, unless these nearly three lakh troops are slashed after deliberations, readjustments and restructurings, the army would not be able to do its desired modernisation in order to remain operationally relevant to the new warfare. Remember, the PLA took three years of deliberations (from November 2012 to March 2015) before its reforms were announced, and hopes to accomplish them by 2020.
What we need are reforms for the military and not the Army alone in order to acquire conventional war deterrence. Since the warfare has altered drastically with the induction of stand-off, precision, stealth, unmanned, and deniable weapon platforms across all war domains (to ensure minimal casualties and greater speed) of land, air, space, sea, cyber and electronic, the old reforms suggested by various earlier military reform committees are no longer relevant.
Given this, the starting point for new reforms should be the lessons of the 2017 Doklam crisis between India and China. For example, the unrealisable two-front war thinking failed the Doklam test. Since India was not prepared for even peace-time escalation beyond the tactical face-off, Prime Minister Narendra Modi sought peace with President Xi Jinping at Wuhan in April 2018. Considering that most of the army's new formations including 17 corps have been raised consequent to the acceptance of two-front war formulation, did these raisings make any difference to the Doklam outcome? Clearly not; worse, a newly-raised division of 17 corps meant for China was actually on deployment against Pakistan during the crisis. The Indian Army is simply unable to get over its Pakistan fixation.
While abandoning the two-front war thinking, the Indian military should seek acquisitions based upon defined threats and stop open-ended capability-building. The latter is done by major powers which have global geopolitical interests, vibrant defence-industrial complexes and excellent warfare and defence centres. India has none of these.
The other lesson of Doklam is that the future of warfare is not war, but successful military coercion. I have often heard senior military officers say that China will not go to war with India. Of course, China will not go to war with India because it is able to accomplish its objectives by military coercion. Two examples of successful military coercion by China would help make this point — the South China Sea against the US, and Doklam against India. When Indian generals say that there will be no repeat of the 1962 war, China tells India to forget 1962. China is right. Repeat of 1962 will not happen for two reasons: PLA's focus is on military coercion in peace-time, and non-contact war, if needed.
The key to beat military coercion is by developing credible peace-time deterrence. In this, the Army, through its border management, would play a critical role. However, the air force should be in the doctrinal loop since it would be the lead service in actual land warfare. This was the mistake made by India during the Doklam crisis. The Air Headquarters was brought into the picture well after the Army had entered into the face-off with the Chinese troops. If India had a joint land doctrine for peace-time deterrence and war-fighting for continental defence, it might not have started the Doklam crisis by blocking the Chinese road construction party.
Thus, the requirement for joint doctrine in peace and war cannot be over-emphasised. As part of the 2015 military reforms, all PLA think-tanks have been bought under the Academy of Military Sciences. These include those devoted to the science and art of warfare and futuristic warfare where Artificial Intelligence (robotics, autonomy and human-machine interface) is set to play a significant role in addition to simulations. The Academy's strength has risen from 1,000 to more than 10,000 officers. Technology can only be exploited optimally in warfare with joint doctrines for peace and war.
This is how reforms happen, through deliberation and consultation over a period of time; not by cherry-picking ideas from all over the world and superimposing them on existing structures.
Top News
Nijjar was killed in Surrey in British Columbia on June 18
Serious matter, cooperation must: Canadian PM
Recalls 'Silk route', an ancient trade corridor used by Indi...
There are no safety provisions in the Act for areas lying do...
Suspended coach is pursuing molestation case against Haryana...