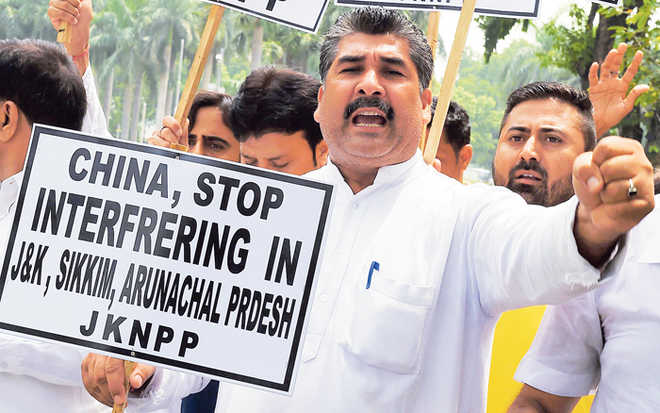 WITH the India-China faceoff near Sikkim having entered the fourth week, it is time to put matters into perspective. Foremost of all, China does not want a war with India. We know this because the food and water supply line of over 150 Indian soldiers who have crossed into the disputed (between China and Bhutan) Doklam area to block Chinese road construction has not been severed.
Why did China start the road construction? The Chinese local commander had informed his Indian counterpart on June 1 during a flag meeting that they would begin road construction in the Donglang area (Chinese name for Doklam). This was two weeks before they actually did it on June 16. I know this because a senior Chinese diplomat from the Chinese embassy in New Delhi told me this on condition of anonymity.
Since road building in the Bhutanese claimed area was a politically sensitive issue, China expected India to reach out diplomatically; this did not happen. Instead, alarmed by this information, the field generals, GOC 33 Corps (responsible for Sikkim) and GOC 4 Corps (responsible for areas of Arunachal Pradesh adjoining Sikkim) and the Director General Military Operation under the overall guidance of the Army Chief, General Bipin Rawat, dusted the Army's plan for this contingency.
Consequently, on June 18, over 150 Indian soldiers entered the Doklam area, a few hundred were added to Indian positions on the passes in north and north-east Sikkim, especially Nathu la, Batang la, Doka la, and the higher shoulders of Jelep la (this pass is held by China) closer to the area under contestation, and about 3,000 troops stood in two circles of five km and 10 km behind inside Sikkim. The purpose was to ensure that China's already offensive Border Management Posture (BMP) did not add more teeth.
China's good BMP is because of its excellent roads in the Chumbi Valley, especially from Shigate to Yatung. In Indian Army's assessment, if China is allowed to build road further south across the Doklam area, its troops could do two things. One, through a limited quick offensive action involving two to three divisions (each with 12,000 troops), it could threaten Indian defences along north and north-east Sikkim, capture areas there to deny launch pads to the Indian Army, and its artillery guns would have the Indian Oil Refinery and Bangaigaon Refinery in Assam within its 30-km range. If this were to happen, it could be a nightmarish situation for the Indian Army. With strengths of 18 to 20 divisions (not difficult for them to muster fast), the PLA could sever the Siliguri corridor (width 180 km by 75 km with the neck of the corridor being a mere 20km) and capture important towns of Gangtok, Rhenok, Rangpo or Siliguri.
The problem with this Army assessment is that it is at least 15 years old; this is on account of no military reforms, and no joint assessment between the Army and the Air Force. For example, when General Rawat was claiming capability to fight a two-front war (unrealistic and suicidal), the Air Force Chief, Air Chief Marshal BS Dhanoa was complaining about the lack of combat strength for such scenario.
For all the big talk by generals, the Army, in high-altitude conditions (at 18,200 feet), can do nothing more than attacks and counter-attacks; fight series of attrition battles, whose sum-total will not add up much to decide the outcome of a modern war. The modern war outcome will be decided by the Air Force and offensive capabilities in five other domains, namely, cyber, space (China has anti-satellite capability to shoot down Indian satellites in the highest altitude geo-synchronous orbit), electromagnetic (the US is worried about Chinese capabilities to block radar frequencies), accurate ballistic and cruise missiles with conventional warheads, and armed unmanned aerial vehicles. When the PLA has humongous capabilities to win war without losing its soldiers, why will it get into a series of attrition battles in the Chumbi Valley funnel so as to become easy meat for the Indian Army? So, what was the purpose of the PLA's road construction? Analysts have given numerous reasons from China's irritation with India from not joining the Belt and Road Initiative, to India's close ties with the US, to India's aggressive foreign policy under the Modi government and so on. Since China is politically, economically, technologically and militarily stronger than India, and does not consider India as its real rival, it is unlikely to start mischief on the Bhutanese claimed area for these reasons.
Moreover, the disputed border with India — where China has legal and military advantage — has not been listed as China's core or major concern over which it could go to war. The real reason, perhaps, was India's insensitivity towards Tibet which is China's core concern.
To recall, China has reacted sharply before and after the Dalai Lama's extended visit to Arunachal Pradesh in April, which seemingly had the government's blessing (The Union Minister of State for Home, Kiren Rijjiju accompanied His Holiness), with the state Chief Minister declaring that Arunachal Pradesh's border was with Tibet, not China. The Chinese Foreign Ministry spokesman, Lu Kang had summed up China's reaction by saying, "What India has done has violated the solemn commitment on Tibet-related issues." Since India downplays the regular PLA border incursions (there have been 240 cases in 2017), China might have concluded doing one in Bhutan would spur India for serious talks; this did not happen.
What is the way out of the impasse? China's ambassador in New Delhi, Luo Zhaohui, has set his government's terms: No compromise, and no talks without Indian withdrawal. When I asked the Chinese diplomat as to what was meant by no compromise, he responded by saying that the PLA road construction will not stop despite Indian withdrawal. He added, that China's patience will not last "very long."
Given that China is comfortable conducting negotiations and hostility at the same time (they believe in psychological warfare), a good option for India would be to withdraw troops on the clear assurance that road construction will freeze for the duration of the talks. If China agrees to this, talks could be upgraded from the diplomatic to the political level to iron out issues. India should not underestimate the utility of political over-reach; President Xi Jinping and Vladimir Putin have already met three times this year. India should remember that given the existing disparities in overall national power between the two, a favourable Army balance on the ground will not translate into much. Neither will a prolonged faceoff help.
Ripple effect of 1962
The lessons learned by Pakistan after the India-China war were that: (a) disputes with China were to be avoided, (b) this state was a potential hedge/ ally against India and (c) that the Indian Army was not as strong as it had seemed during its capture of Goa.
The idea of the Indian Army being susceptible to strategic surprise played a significant role in the calculations that led to the 1965 war.

India-China impasse at Doklam
The problem with the Army's assessment on China is that it is at least 15 years old. This is on account of no military reforms, and no joint assessment between the Army and the Air Force.
The modern war outcome will be decided by the Air Force and offensive capabilities in five other domains — cyber, space, electromagnetic, accurate ballistic and cruise missiles with conventional warheads and armed unmanned aerial vehicles.

The writer is Editor, 'Force' newsmagazine.
Top News
The scheme to cost additional Rs 44,762 crore
There are about 50 lakh Central Government employees and ove...
Decision comes following two consecutive country-wide raids ...
The process of nominations ends on September 30 with only Sh...