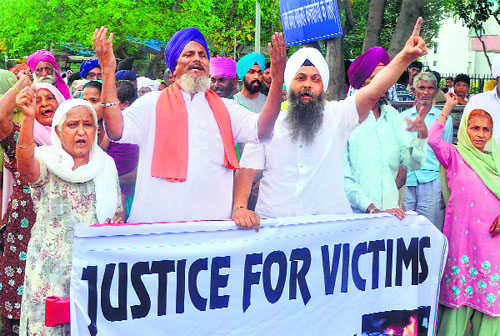 ON the completion of the Delhi Assembly elections, the Union Home Ministry has constituted a three-member Special Investigation Team (SIT) for re-investigation of the 1984 anti-Sikh riot cases in Delhi and other states. The SIT has come on the recommendation of the Justice G.P. Mathur Committee. It has rekindled hope for the victims to attain illusive justice after full three decades. Will it help in overcoming agonising memories of brutality, pain and struggle for survival of victims?
The anti-Sikh pogrom took place in the National Capital where the Supreme Court of India is seated. How and why such a holocaust against a section of populace was not judicially addressed? It was subjected to web of commissions of inquiry and became tool for political expediency.
The reinvestigation would comprise exhuming the gory past even as many of the victims, witnesses and perpetrators have died. So what purpose would the SIT probe serve to address needs of the victims? Will it enable them to get free from shackles of unspoken pain and enforced silence? Does addressing the past wrongs transform a society that faces collective shame? What form of justice is needed after an agonising wait of three decades?
Grappling with the past
There has been clamour for justice for the victims of 1984 riots. What could be an adequate remedial justice for organised atrocities directed at a community that so valiantly fought for Independence, forms substantial part of defense forces and whose distinct presence can be felt in every part of India? Enhancement Rs 5 lakh in compensation per kin to victims' families is too little too late.
Can demands of justice be met by belated prosecution and punishment for perpetrators of the 1984 pogrom? In a robust democratic society, courts and tribunals do create a symbolic space wherein competing versions of crimes, perpetrators and victims are produced and contested.
Their role is related to an idea of justice, responsibility and guilt as ordained by the legal system. Some trials do become an occasion to produce invaluable history about forms of human vengeance and roles of various actors (investigative agencies, prosecutors, presiding judges, political parties, scholars and the media). The trial of Adolf Eichmann drew global attention when the history of Nazi Holocaust was recounted in the courtroom. "It is not an individual that is in the dock at this historic trial, and not the Nazi regime alone, but Anti-Semitism throughout history", said David Ben-Gurion, the first Prime Minister of Israel. At a subterranean level, every such trial places all the events and crimes on record for posterity.
When widespread violence is committed against a group or community based on their identity, it leaves an indelible scar on the collective psyche. The systematic cover up of violence and the rupture have debilitating effect on claims of being a civilised society. Thus the record shows that 10 government-appointed commissions and committees of inquiry investigated the 1984 anti-Sikh riots. Various trial courts in Delhi and the High Court seem to have handed down scattered convictions in some cases. Notwithstanding this, why do victims still feel justice has not been done? This perceived sense of "justice gap" is endemic to the victims of organised violence and conflicts based on religion, ethnicity, race or colour. It raises serious questions about the efficacy of the criminal-justice system wherein the victim does not figure in.
Approach to criminal justice
There has been persistent worldwide search for appropriate legal and institutional designs for post-conflict justice (PCJ) in cases of mass atrocities. Such PCJ seeks to provide a robust way to close a violent chapter in ruptured societies. It could comprise truth-telling process, recording historical facts as well as social reconciliation and enduring peace in future. They could add therapeutic dimension to justice by restoring lost dignity to the victims. Such alternative justice mechanisms need to complement criminal justice.
Gandhi's credo of Satyagraha provided one such alternative. It comprises words satya (truth) and graha (grasping): holding on to truth. These ideals have provided the basis for theories of PCJ. Justice and accountability vary in situations such as end of military regime or repressive government or in the aftermath of a civil war (like Nepal or Sri Lanka). In South Africa, through a Truth and Reconciliation Commission, large scale amnesties were granted for crimes committed during the apartheid regime where the petitioner had to come out with a truthful testimony. The process could not bring to surface major perpetrators. Still it helped ruptured South African society not to sink into abyss of anarchy and retributive justice.
The inordinate delay in meeting the quest for justice by 1984 anti-Sikh riot victims has been inexplicable. The horrific violence took more than 3,000 lives. It also led to Punjab suffering from a cycle of violence through acts of militancy, societal rupture and no-holds barred counter-insurgency. Punjab kept burning as fuelled by tales of injustice and brutality on both the sides. In the crossfire of violence between militant groups and the state machinery, scores of innocent people suffered. These victims and their families lived in pervasive fear, trauma and often faced denials. They have not been counted in and their sufferings have been overshadowed by the tales of 1984 riots. Over the years, manifestoes of main political parties have promised illusive justice for victims of 1984 riots. No discernible effort was made to address enormous complexity of the simmering problem and healing the wounds of victims in entirety.
Need for truth & justice commission
It is in this context there is need to go beyond the SIT for deeper probe into the origin, causes and consequences of the entire conflict. It can take the form of a Truth and Justice Commission (TJC) having a broad mandate to look into pattern of abuses committed within a timeframe. It would need to be a statutory body to perform non- judicial functions through concrete recommendations. Such TJC could become a vehicle for truth-telling, as well as for voicing the victim's stories. It could provide reassurance that such "banality of evil" and hatred will not be repeated against any community or groups who have different identity, belief systems or a way of life. The process is validated through an official acknowledgement of the progrom; providing concrete steps for reform and change; ensuring a measure of accountability; and assistance in bringing about a process of healing, reconciliation and peace within the society. In some specific cases, it could make recommendations for criminal trials as well as reparations and full rehabilitation for the victims and their families.
The victims of the anti-Sikh riots have been struggling to get justice at different levels in vain. The only avenue open to them remained the courts of law. The long passage of time, fading memories of the victims, pain and suffering they had to endure cannot be mitigated by meagre sentences handed down to a small number of perpetrators. It is high time to think in terms of a victim-centric approach rather than retributive justice. It makes a compelling case in the Indian context where one segment of society (on religious/caste lines) often becomes venomous and blood thirsty of the other, thereby producing deep fissures in the society. Many of these gory events have a long historical lineage. Still they are a reflection of primitiveness and societal degeneration.
Different societies have resorted to different options, including ad-hoc criminal tribunals, truth and reconciliation commission, commissions of inquiry, lustration, purging and reparations. There is no one-size-fits-all solution that could be applied universally. The victims of 1984 anti-Sikh riots, including those who suffered in its aftermath, stand at the crossroads of history. So a TJC could improve chances of access to justice, providing a basis for more durable peace and reconciliation. It could be used as a complementary process to the trial-based method of criminal justice.
The victims need empowerment through both judicial and non-judicial processes to catapult them from being marginalised to becoming active participants in the painful task of reconstruction, reconciliation and eventual peace. Justice for all victims, prosecution for all perpetrators, and deterrence for the future need to form the basis to emerge as a society that is tolerant, just and at peace with itself.
Bharat H Desai is Chairman, Centre for International Legal Studies (JNU) and Centre for Advanced Study on Courts and Tribunals (CASCT); Balraj K Sidhu is Execuitve Director of CASCT.
A still from a photographic exhibition organised by Forgotten Citizens —1984 on the anti-Sikh riots.
No peace without justice
Dealing with the wounds of the past has been an agonising quest around the world. Bangladesh has been struggling with mass killings committed during the 1971 liberation war. The International Crimes Tribunal has been handing down sentences to local collaborators of the genocide committted by the Pakistani Army. All Pakistani PoWs were allowed to go without any trial, following the 1972 Shimla Agreement. Bangladeshi society still feels the need to punish its own nationals. It will need a visionary step in going beyond an SIT to address this enormous challenge.
Top News
Says strength of democratic institutions to figure in discus...
BKU protests as sunflower not procured on MSP
Kuki insurgents target soldiers' camp in school