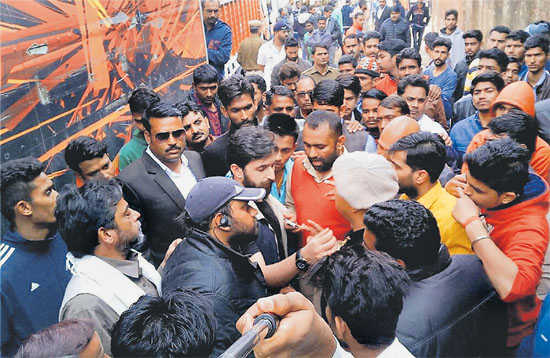 INDIA seems to have outsourced the upholding of its cultural honour and pride to a new breed of goon squads, which rough up any creative person, who messes around with the holy cow of public sentiment — an amorphous, abstract phrase that could mean absolutely anything these vigilantes deem as offensive.
Members of the Rajput Karni Sena recently slapped and punched director, Sanjay Leela Bhansali in Jaipur, agitated by reports that he was planning to shoot love sequences between the characters of Allauddin Khilji and Rani Padmini, for his forthcoming film, Padmavati, inspired by the tale of Rani Padmini of Chittor. The activists of Rajput Karni Sena not only thrashed crew members but are also reported to have vandalised the sets and equipment, even as Sanjay Leela Bhansali has denied he was planning to shoot romantic scenes involving these characters from history.
This appalling episode is the latest in a series of several such incidents, in which political parties, rogue squads and unknown outfits wave the flag of "hurt public sentiments" against some work of art, book, film, utterances by creative people and physically attack them with impunity. Just earlier this month on January 2, a group called Sambhaji Brigade tore down the bust of long-dead, famous Marathi playwright Ram Ganesh Gadkari in Pune, claiming he had insulted Maratha King Sambhaji, son of Chattrapati Shivaji, in his play Rajsanyas, penned 90 years ago. They were incensed nearly a century later because of the portrayal of Sambhaji's character as wayward by Ram Ganesh Gadkari, most famous for his hard-hitting social drama on alcoholism, Ekach Pyaala (Just One Tumbler).
Back in 2004, this same group had made headlines by ransacking and vandalising the venerable Bhandarkar Oriental Research Institute in Pune, apparently for its association with American academic and author James Laine's book on Shivaji Maharaj, some passages and claims of which Sambhaji Brigade had found objectionable.
But coming back to the present, in December last year, vigilantes of Lal Sena Sangathan stormed into the Jaipur Art Summit and threatened to burn down all semi-nude paintings on display and got into a scuffle with painters, claiming to be offended by these so-called immoral and obscene works of art.
Of course, we all know quite well how the Maharashtra Navnirman Sena (MNS) brought film-maker Karan Johar to his knees prior to the release of Ae Dil Hai Mushkil, since Pakistani actor Fawad Khan featured in it. Earlier in 2015, Tamil writer Perumal Murugan too had declared himself dead, anguished by sustained attacks from caste groups protesting against his novel, Madhorubhagan.
Clearly, such attacks therefore are not restricted to any one part of the country or certain states. Across India it appears such bouncer squads exist merely to get offended by something related to culture, religion, patriotism, history, morality, personalities and physically attack soft, vulnerable targets, especially from the creative fraternity.
Just how have we arrived at this juncture? Why is it that all it requires is a handful of toughies to perfunctorily claim some section of society is outraged by creative license taken and resort to destruction? It is almost 10 years since legendary painter M.F. Hussain had to flee India in 2006, after being charged with hurting the sentiments of people with his nude portraits of Indian goddesses. So, have things only got worse since then? Is the vigilante culture here to stay? Is every Indian creative person bound by some unwritten rule that he or she has to keep the sentiments of thousands of varied groups in mind, while making a film or writing a book or creating a painting? If not, are they likely to be hounded, beaten or humiliated by a bunch of bullies on the slightest of perceived slights? Especially those of the creative fraternity who are not prominent enough or have no political or powerful connections, and are therefore easy bait.
More importantly, why has this way of treating creative people, gained traction if not social sanction? The obvious reason why such stunts are on the rise is that many of these bouncer squads and rogue elements have political connections and socially regressive agendas which suit our netas, making them immune from police and legal action. Secondly, media coverage quite perversely results in providing them disproportionate publicity and wider support, instead of chastening them.
But perhaps the most significant underlying reason is that while Indian society to a certain extent has started developing scientific temper, as a whole it has simply failed to nurture any kind of aesthetic or artistic temper.
We seem to think that the limited function of all creative output — be its films, literature, theatre, painting, music, dance, sculpture — is entertainment or utility. Art as a free form of human expression, imagination, provocation, protest, adaptation, experimentation, historical and contemporary interpretation appears lost on the majority. Moreover, there seems to be complete incomprehension about the concept of creative freedom. Therefore, we hardly seem concerned about it. What is particularly disconcerting is the level of broad agreement among Indians that personal and artistic license must always surrender to mob sentiment.
In a country where the only forms of mass entertainment that are easily accessible to everyone are cinema and television, how exactly can society develop this artistic temper and aesthetic awareness to realise why creative liberty is desirable and crucial for democracy? Indeed, India is still not even fully literate. How long before it becomes art-literate? Until then the bullies will continue to thrive, for to them, art is a threat because it subverts and challenges their backward, bigoted world-view and certainties.
The writer is a Pune-based novelist and film-maker.
Top News
Harried passengers take to social media to vent their ire at...
Lapid had stirred a massive controversy by terming Vivek Agn...
Final turnout to be higher as voting process continued at po...
DigiYatra will provide seamless entry and embarkation proces...
His song 'Mahakaal' removed from YouTube after 19 hours