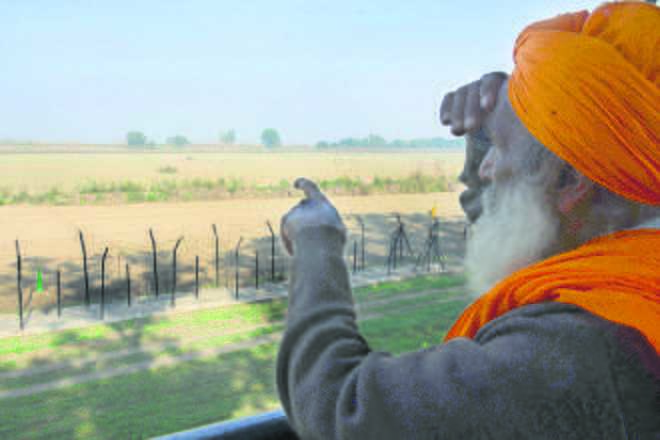 Capt Amarinder Singh
Chief Minister, Punjab
IT is strange that two weeks after the ceremony of the Kartarpur Sahib corridor at Dera Baba Nanak, it dawns on five-time Chief Minister Parkash Singh Badal to insinuate that I am attempting to sabotage its opening. Had he read reports of my speech that day, or my letter to the Pakistan Foreign Minister, declining his PM's invitation to their ceremony on November 28, it would have been crystal clear to him why I did so.
At Dera Baba Nanak on November 26, I made it clear that it was part of every Sikh's ardas each morning that we should be united with our gurdwaras which remained in Pakistan after 1947. I welcomed this initiative between the governments of India and Pakistan, and said Punjab would do everything to hasten its construction. We have since set up Dera Baba Nanak Development Authority and will start acquiring land once the Ministry of Road Transport and Highways gives us its requirement.
To Mr Badal goes the credit for the 35,000 deaths in Punjab during the 80s-90s, and the destruction of our economy. Using gurdwaras for his politics, demolishing every vestige of constitutional propriety, creating massive unemployment, and putting himself before Punjab and our people has been his sole contribution — history is witness to it.
For me, to be CM at a time that this corridor has come about, to open access to pilgrims from India to visit one of our holiest shrines, is a singular honour. My grandfather Maharaja Bhupindra Singh rebuilt Kartarpur Sahib from 1920 to 1929, after floods in the Ravi destroyed it. My father Maharaja Yadvindra Singh, in 1932, did sewa at Punja Sahib. In 2004, the then CM of Pakistan Punjab, Parvez Elahi, and I laid the foundation stone for a road linking Nankana Sahib to Wagah, for easy access to pilgrims from India.
However, I cannot forget that it is my duty as head of Punjab Government to secure my State against any agency or individuals who attempt, yet again, to create disturbed conditions. Punjab has been through terrible times from the 70s through the 90s. It was our security forces and the people who finally ensured an end to the prevailing madness. Having lived through that period, I was determined that I would never allow such a situation to again engulf my State. I therefore decided not to visit Pakistan, regardless of my personal loss in not visiting Kartarpur Sahib, till that country stopped its nefarious activity in my State and country.
Do we see light on the horizon? I think not. If the Pakistan government and its army want better relations with India, why not start by stopping cross-border fire, killing or wounding Indian soldiers every day? Why not rein in the ISI, which continues to weaponise and train terror outfits in Kashmir? Why attempt to start terror activities again in Punjab? Referendum 2020 is ISI's new game. The frontman is a decrepit US-based lawyer called Pannu, who professes a peaceful referendum for Khalistan, which finds contradiction in a recently neutralised terror module's confession to owing allegiance to this organisation.
The question arises: why did Pakistan army agree to the corridor now, after rejecting consistent attempts made over the years? For any student of ISI functioning, the reason is obvious: create a universal euphoria among the Sikh community and gain as much sympathy by any disgruntled youth or citizen, and thus widen its terror base with the objective of gaining support for the referendum.
Do not for once believe that the Pakistan army has any love lost for India. The army calls the shots in all spheres of government. Behind the figurehead civilian rule is the gun, and the gun today in Pakistan has a warped strategy. Its army today is engaged, in the north and west, in a war with the tribals, in what used to be the NWFP; in the south the Balochis keep it engaged; in the northeast it is Kashmir; and to the east it wishes to engage Punjab. Arrogance in the extreme — a four-front war!
In Pakistan, the army is the largest corporate body built from the post-war reconstruction fund, running virtually everything. The corps commanders, PSOs and the COAS, who call the shots, are more interested in furthering their monetary interests as retirement approaches. The COAS gets a million dollars as bonus on retirement, apart from land and housing on his way up the ladder. And all this while the core of the country is on the verge of collapse.
In our Punjab, each village is linked by a hard-top road, is electrified and has drinking water. Each village is connected by buses, and now each village is being provided piped gas, and CNG stations for gas-operated vehicles. Pakistan has none of the above. Karachi has become a slum, gas pipes were recently removed as gas could not be provided, and Lahore is close behind. The country be damned, the generals must survive, therefore divert public opinion away from these miseries. What better way than to rope in Punjab as well!
General Bajwa should understand that the Punjab he sees in India today is not the Punjab of the 70s. The Pannus of the so-called pacifist movement, or 'Happy PhD' advisers to terror outfits are of no consequence. Do not underestimate the Punjab of today. When trouble started in 1978, our police force was a fledgling one with a strength of 20,000, employed mostly in routine policing duties. Today, we have a 81,000-strong, highly professional and motivated force, prepared for any eventuality. In addition, we are backed by our paramilitary and defence services.
My suggestion to you, General, is that you should consider a hand in friendship, which would pay greater dividends, rather than continue with the current belligerence your ISI is executing. We have, since my government took charge in 2017, neutralised 20 ISI modules, arrested 95 operatives and seized caches of arms and explosives.
Top Stories