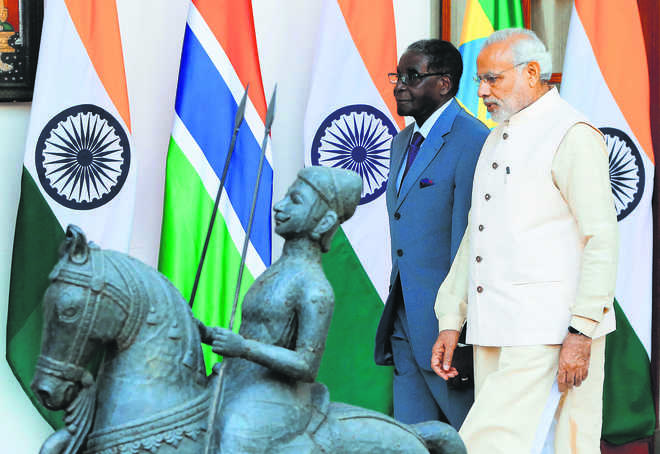 THE third India-Africa summit is on in Delhi. Whereas in the first two gatherings leaders of regional groupings were invited, this time all stops were pulled to ensure maximum attendance. From 54 African nations, at least 40 heads of state/government or vice-presidents are attending the summit.
Whether this was additionally planned as a mid-election stage for PM Modi to project himself as a global statesman can only be conjectured. It would certainly be a distraction for the Prime Minster to be campaigning in a do-or-die contest in Bihar and attending a historic meeting with such a large African gathering, which probably needed the PM's full attention. But then PM Modi has a penchant for multi-eventing.
India being the first to escape the British colonial yoke in 1947, African nations followed in its wake. Thus affinity was natural with newly liberated nations, particularly in Anglophone Africa, which not only constituted the Commonwealth Group's core, but also of the Non-Aligned Movement. But the Cold War had its role even there. India, for instance, was less comfortable with a pro-West Jomo Kenyatta of Kenya than Julius Nyerere of Tanzania or Kenneth Kaunda of Zambia. The Indian diaspora in East Africa also became a friction point when Kenya and Uganda began to discriminate against them.
But Africa of the 21st century is different. According to Freedom House, a US think-tank, while there were only three participative democracies amongst 49 sub-Saharan African countries in 1990, the democracy wave unleashed post-Cold War, lifted that number to 24 in 2005. However, this fell to 19 in 2010. Ironically, during the December 2010 Arab Spring, a tsunami of popular protests that overthrew dictators in some Arab nations emanated in Tunisia in North Africa.
Thus African politics is evolving, bringing the demand for representative rule. Sadly, the first picture of PM Modi with an African leader is of him meeting Robert Mugabe, the resilient dictator of Zimbabwe. It would have been better if PM Modi was seen with the leaders of Nigeria or Ghana, or even Tunisia, the only nation where the Arab Spring gains have consolidated, unlike in Egypt, Libya and Syria.
African demographics and economies are also changing. The global demand for raw materials, driven by China in this century, has enabled African GDP to grow at 4.9 per cent in 2000-08, double the rate in previous decades. Africa also is rapidly urbanising, thus presenting an expanding market. Urbanisation has risen from 28 per cent in 1980 to 40 per cent today. African trade has shifted from Europe to Asia, doubling to 28 per cent today, while that with Europe falling from 51 per cent to 28 per cent now. Africa is also a major source for minerals and metals that any rapidly industrialising country requires. Chinese demand may be tapering, but that of India will mount if the Modi government can deliver on reforms. In terms of reserves, Africa has 10 per cent of global oil, 40 per cent of gold and 80-90 per cent of chromium and platinum.
Even more significantly, Africa, besides Latin America, has vast untapped arable land, the key to global food security. For instance, sub-Saharan Africa utilisation of arable land today is just 14.2 per cent. In Asia and Pacific, it is 61.4 per cent. This is not a new discovery. While weeding out old files, as Director (Africa) in 1992-93, I saw a handwritten note on a file by Jawaharlal Nehru, commenting on a proposal by the then Raja of Faridkot to accept an offer from Haile Selassie, Emperor of Ethiopia, for a huge chunk of land. There are whispers in Punjab of some farmers themselves going and obtaining huge land leases in Africa as the state is extremely land constrained.
It is unclear why PM Modi did not invite chief ministers from relevant states to interact with the visiting dignitaries to discuss many of these issues that would be ultimately implemented by states. Ironically, defying the political logjam, the Punjab government is holding its own investment meeting to be attended by the usual marquee business tycoons. Perhaps the business savvy Deputy Chief Minister Sukhbir Badal should have, instead, met some of the visiting African leaders, exploring what the enterprising Punjabis could do by a second wave of migration to Africa, after the 19th century one that the British shepherded. Incidentally, many countries of the Gulf Cooperation Council (GCC) and even China have taken leases on huge tracts of land in African countries to plan for food security in the future.
Jaswant Singh, a former minister in the Vajpayee government, used to call the Indian Ocean region as the world's oldest free-trade area, contacts going back many millennia, although the entrepot for spice trade was Yemen. The monsoon winds determined the movement of boats and intrepid Arab sailors connected India to Africa's East coast.
Another more immediate reason for engaging Africa is its criticality to the reform of the UN Security Council. The African Union operates by consensus and holds veto on who represents Africa in a reformed council as permanent members. This stymies progress as even one spoiler can stall an African decision. In any case, it is undemocratic for members of the UN to be constrained in their voting by regional consensus building. Minister of External Affairs Sushma Swaraj raised the need for Africa to move forward, though what effect it may have is uncertain. Ultimately, the African cartel needs to be broken, which India partially achieved by getting some African countries involved in the L 69, which India chairs.
The main significance of the mega meeting is not transactional. It is to send a signal of Indian commitment to work, in a mutually beneficial way, with African countries, for a partnership relevant to the needs of the 21st century. India, unlike China, has had a low-key approach, which has its own benefits as it causes fewer ripples in the host nation. But India cannot merely earmark lines of credit without attention to follow-up or tailoring strategies to specific countries. Only time will tell whether the PM's promise of "achhe din" can be sold to the African audience. But hardly would these leaders have returned home, when people of Bihar would have delivered their verdict on the same subject.
— The writer is a former Secretary, Ministry of External Affairs