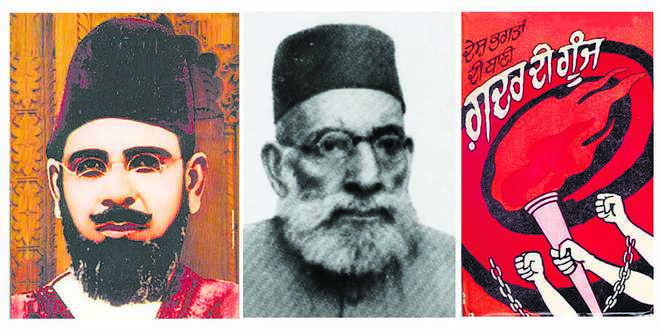 Priya Satia
INDIA'S Independence changed the world. But it was also shaped by the world; Indian nationalism was a global product. Most of the iconic leaders of the nationalist movement—Gandhi, Nehru, and others — were formed by experiences abroad. More importantly, the movement by the Congress that they led made Independence its objective under the influence of radical influences from beyond the subcontinent.
British suppression of the First War of Independence of 1857 led to the scattering of Indian rebels around the world. Many Punjabis wound up in California, where I write this article. The Delhi-born Lala Har Dayal met this community when his global wanderings took him to San Francisco. Around 1913, he led the foundation of the Ghadar Party here; the name "Ghadar" was an homage to the mutineers of 1857.
The party's newspaper distributed revolutionary poetry and news from around the world — from Ireland, Russia, India, and elsewhere. Under British pressure, the American immigration authorities drove Har Dayal to flee to Geneva where he worked with anti-colonial exiles from Egypt. The Ghadar movement cultivated strong ties of solidarity with Egyptian, Irish, and other anti-colonial movements. These international networks of anti-colonialism were politically heterodox-a mix of nationalists, communists, anarchists, regionalists, those invested in "pan" movements (for example, Pan-Arabism, Pan-Asianism, Pan-Islam). Competing visions of the future world order coexisted with common dissatisfaction with the contemporary world order. Ghadar linked militant diaspora intellectuals with activists in the subcontinent. As China underwent a revolution in 1911, Indian communities along the Pacific rim helped the Ghadar movement acquire money and arms for an insurrection at home. Indians in India were also engaged in anti-colonial activities, inspired by a mix of local and global ideas. There was the "gentlemanly terrorism" of Bengal, influenced by the ideas of European revolutionaries from Mazzini to Marx.
Banned literature came into Punjab from around the world, along with news of Indian resistance to racist policies in South Africa and Vancouver. Figures like Lala Lajpat Rai who travelled to California in 1907 and 1916 also strengthened intellectual and political ties between the Punjabi diaspora and Punjab. In 1914 as hundreds of Punjabis trying to enter Canada were turned back in the infamous "Komagata Maru" incident, World War I began. In Constantinople, Har Dayal and other Indians continued to work with Egyptians. Meanwhile, hundreds of Ghadar Party members prepared to return to India to free their homeland by raiding arsenals and organising mutinies. With American cooperation, British Intelligence caught wind of their plans. Many were executed; others were imprisoned on the Andaman Islands where they wrote love poetry for the motherland. On the hanging of his comrade Pandit Sohan Lal Pathak in 1916, Amar Singh wrote: Chardhaa Mansur phansi par, pukarta ishq baazon ko,
Yeh berda hai tabaahi ka utthaaye jis ka ji chaahe
Kartar Singh Sarabha, executed in 1915 at the age of 19, wrote:
Jo koi pooche ke kaun ho tum
To keh do baaghi hai naam apna
Zulm mitaana humaara pesha
Ghadar ka karna hai kaam apna
Namaaz-sandhya yahi humaari
Paath pooja bhi sach yahi hai
Dharam karam sach yahi hai yaaro
Vahi Khuda bhi o Ram apna
Ghadar publicity inspired Punjabi Muslim soldiers in the Fifth Madras Light Infantry in Singapore to mutiny in 1915. Thirty-six mutineers were executed before a crowd of 15,000. In the United Provinces, the revolutionary passion of the young poet Ram Prasad Bismil (who authored "Mera Rang de Basanti Chola") was awakened as he read in a newspaper of the death sentence pronounced on a Ghadar leader.
With their global networks, Indian radicals remained determined despite suppression. With German and Ottoman support, Har Dayal, Raja Mahendra Pratap and other rebels set up a provisional Government of India in Afghanistan to coordinate an uprising in the subcontinent. The Bolshevik Revolution of 1917 fortified the resolve of such rebels.
Ghadar's aim was total Independenc e, unlike the Congress movement at this time. After the war, the Muslim League and the Congress cooperated in the Khilafat movement to pressure the British to preserve the defeated Ottoman Caliphate. The fiercely anti-colonial journalist and poet Hasrat Mohani (who gave us "Chupke chupke raat din") was the presiding chair of the League at a joint meeting in Ahmedabad in 1921. There, he and Bismil urged passing of a Purna Swaraj proposal, but Gandhi opposed it, favoring dominion status within the empire as a goal. Mohani was jailed for two years for his radical speeches. In jail, he wrote devotional ghazals to pirs as wells as to Lord Krishna. Here is one:
Manmohan Shyam se nainan lag
Nis-din sulag rahi tan aag
Birah ki rain nipat andhiyaari
Rovat-dhovat katat jaag-jaag
Prem ka rog lagaike Hasrat
Rag-rang sab diin tyaag
The poet Mohamed Ali Jauhar presided over Congress in 1923. He shared his dream of a subcontinent that went beyond nationalism: "a federation, grander, nobler and infinitely more spiritual than the United States of America,…(a) dream of 'United Faiths of India'."
As such radicals became disillusioned with Gandhi's aims and tactics, Har Dayal encouraged Bismil and Mohani to found the Hindustan Republican Association, which aimed to create a federated republic of the United States of India through organised armed revolution. Mohani also helped found the Indian Communist Party. Bismil was hanged in 1927. In 1928, the Simon Commission arrived to study constitutional reform. In Lahore, nationalist groups protesting the Commission's all-White composition were lathi-charged, and Lajpat Rai died of his wounds. Partly to avenge his death, Hindustan Republican Association members Bhagat Singh, Chandrashekhar Azad, and Rajguru assassinated the assistant superintendent of police JP Saunders. The struggle Singh and his companions launched in prison for the rights of political prisoners became intensely popular. When they went on hunger strike in 1929, thousands gathered in Amritsar to recite poems comparing their love of country to the qissas of Heer-Ranjha and Sohni-Mahiwal. Bhagat Singh was hanged in 1931.
The radicals had had their effect. In 1930, Congress finally agreed to demand Purna Swaraj. Many radicals remained unsatisfied, dreaming of freedom not only from the British but from the parochial forms of nationalism and violent capitalism whose dangers the world war had so clearly exposed. They continued to pursue other forms of organisation — workers' and peasants' movements, the Communist Party, the Progressive Writers' Movement, and so on.
Radical ideas of subcontinental federation did not prevail; instead, ideas of separation carried the day, as the Congress Party and Muslim League continued to cultivate parochial forms of nationalism. The individuals mentioned in this article were Muslims, atheists, Buddhists, Arya Samajis, Sikhs, but their anti-colonial passions transcended such distinctions, as did their shared poetic sensibility, which was integral to their radicalism. Poetry infuses politics with the imaginative power required for practical politics —the space of continuing aspiration and longing for a better future.
The Ghadar memorial in San Francisco is currently under reconstruction. As inequality and insecurity continue to stalk India on its 70th year of Independence, reconstruction of the Ghadar legacy is urgent there too.
The writer is an Associate Professor, Department of History, Stanford University.
Top News
Attacker identified as ex-policeman dismissed last year, had...
The victim family, from Hoshiarpur in Punjab, was kidnapped ...
Jasdeep and Amandeep Singh came out with their hands zip-tie...
Jaishankar also talked about India's aspiration to become a ...
WHO has warned that Maiden cough syrup could be linked to th...