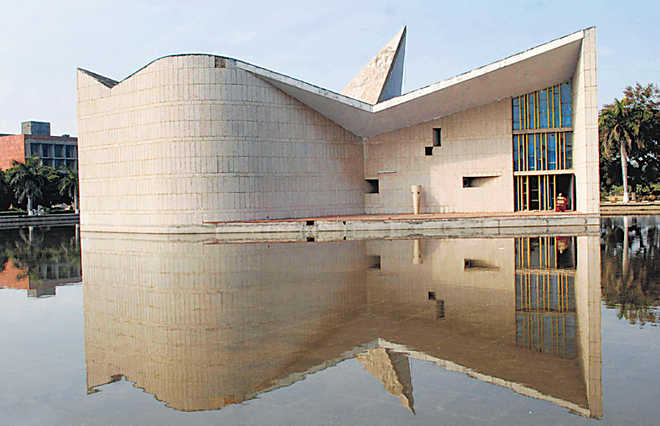 Apoorvanand
The writer is a Professor of Hindi in Delhi University
Are we turning into a republic of noise? Is the myth of the argumentative Indian overdone? These questions arose on a university campus.
The occasion was a discussion on "The Last Battle of Gandhi", and the venue was the seminar hall of the Department of Sociology of Panjab University. The organisers call themselves Critique, a nearly 20-year-old group of students and teachers of the university. It keeps alive a tradition of out-of-the-classroom discussion across disciplines. Serious scholars and activists know and respect this group and consider it an honour to be invited by it. Fortunately for the speakers and the audience, the organisers do not ask or expect you to speak on a topic of their choice, or to tow a particular ideological line. You see students and teachers from different disciplines participating in what is the fundamental job of a university, to "critique". No resolutions are passed at the end of the discussions. The idea is to help each other think. Have your own way of thinking and expressing it. Thinking is a deliberate effort and is difficult. You have to cultivate it, and have access to intellectual resources necessary to make this possible. You need a relaxed, anxiety-free atmosphere. Platforms like Critique promise exactly that.
Such spaces are shrinking in universities across India. Authorities in Delhi University and other universities are often suspicious of such initiatives and generally advise students and teachers to confine themselves to the syllabus, classroom and 'academic' seminars that help teachers bolster their API scores. That is why the low-profile continuity of a group such as Critique is so reassuring.
Discussing Gandhi was not going to be easy on a campus in Punjab. I had proposed it to a liberal Left friend some time back, and he was not sure how it would go. From my exposure to campuses in different parts of Punjab, I know there is a vibrant presence of groups and individuals with Left leanings. There are rationalists too. Gandhi is not their favourite. I approached the hall and surveyed the audience, preparing myself for a tough time after the talk.
Suddenly, the collective quiet was broken with a shout. It was as if someone walking deeply immersed in her thought runs into a roadblock. Heads turned and some volunteers ran towards the door. "He is lying, he is lying," the man shouted as people tried to calm him. He did not seem convinced with the idea of letting the talk conclude, and then asked questions on reservation.
Some more people tried to force their way into the jam-packed hall, complaining loudly that there were more people like them who were not being let in. When asked not to interrupt but to put their questions, they said they were doing exactly that. They accused the speaker and the organisers of being undemocratic by trying to silence them.
So, were their questions about Gandhi or the interpretation of Gandhi done by the speaker? No! They had with them some papers which they started waving as evidence to show that the speaker's sympathies were with some dreaded nation-breakers. The speaker tried to tell them that the topic for the afternoon was Gandhi, and not the speaker. But the intention was clear. It was to change the topic and derail the discussion. It was clear that we had been trapped as the speaker was forced to respond to them to clarify his own political position. It was very clear that they were not interested in any dialogue. There was relentless shouting.
There was tension in the air and some students left. Suddenly, security had become the dominant theme of the place. The new entrants charged towards the speaker and some of the organisers moved in to block them. Some policemen appeared. Majority of the audience bravely stayed on, and demanded the discussion continue. But we knew that it was over. Noise had succeeded in driving out thought.
As the speaker came out, he was surrounded by some students. "You, a Hindu, are being given security by two from the minority communities, a Sikh and a Muslim," one of them joked. Reference to the last days of Gandhi could not be missed. Policemen stood guard and tried to shoo away the violent-looking latecomers.
Their intention, as one could see, was not to make a physical attack. The idea was to create noise and make thinking impossible. Spaces which are meant to be secure for thinking start looking dangerous, forcing you to avoid such places. Discussions turn into law and order issues. There are worried calls from the authorities. Universities already starved of resources do not like their furniture and windows broken. A valid concern, you would agree. Discussion, which should be a natural and routine phenomenon for a campus, becomes an act of bravery, an extraordinary feat.
That is their strategy, to capture all available spaces for discussion. We saw it happening in TV talk shows, and now it has invaded campuses. You try to enter into a dialogue with them assuming they would have a voice too. But there is no voice at the other end. Or, there is voice with muscle. It crowds and clogs the collective mind and stuns it into numbness. You are simply incapable of shouting back, and start looking weak before them. And if you shout back, defying your nature, you look like a fool.
And, it all happened on the eve of Republic Day.
(Views are personal)
Top News
The Khalistan sympathiser said if the state government had t...
'Let us not be selective,' Solicitor General said while insi...
Counting of votes will take place on May 13
Deplores attempts by Rahul Gandhi to draw parallels between ...
Petitioner sought more time from the court for producing evi...