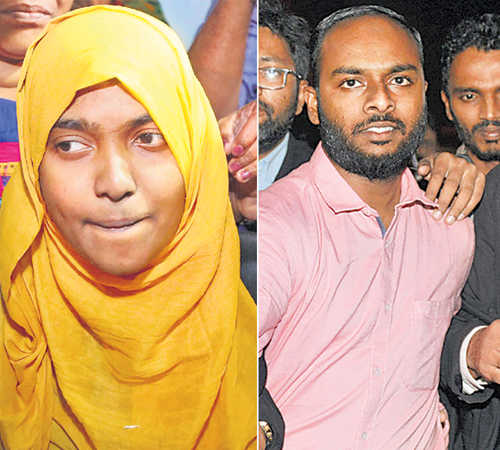 Faizan Mustafa
Vice-Chancellor, NALSAR University of Law, Hyderabad
Authoritarian governments do not believe in the rights' discourse. They always talk in terms of larger 'public interest' and their jurisprudence is generally 'duty'-centric. Unfortunately, lately, it seems that even our judges who zealously guard their own rights and independence do not demonstrate similar enthusiasm in protecting citizen's liberties.
The Supreme Court Bench headed by the Chief Justice of India in a welcome order has said that NIA will not probe the legality of Hadiya's marriage. It is not for the court to examine whether she made the right choice or not. In fact it is no body's business, including her father's. In recent past in two other matters, the apex court has taken this position that if an adult has made a choice, it is the end of the matter. The Rajasthan High Court, too, gave a bold quick decision in dismissing a similar petition. As a matter of fact, the apex court should have allowed the husband's appeal since it has already said that the father cannot challenge an adult daughter's marriage. There is no need for any more hearing and wasting the court's precious time on a settled legal issue. Only a spouse can get the marriage nullified.
The judgment of the Kerala High Court and the NIA order of the apex court may have helped a particular political party which heaps big dividends on the basis of the so-called bogey of 'love jihad', but it has, of course, wasted hundreds of precious hours of electronic media. The marriage of a person is not a terrorist activity which is to be probed by a specialised investigating agency. The initial regressive and wrong order was passed by the Kerala High Court annulling her marriage in exercise of the writ jurisdiction on Hadiya's father's petition, though in a similar case another Bench of the same high court had passed an opposite order, recognising freedom of choice. Judicial inconsistency has become a problem.
The Supreme Court's order of the NIA probe was equally disappointing and it is good that the court has now modified that order. This latest relief for Hadiya has come after the interim order of November 27, 2017, under which she was released from her father's custody and sent back to her college. The reluctance to hear her and the kinds of questions raised during the hearing were plainly troubling. Similarly, on her request to make her husband as guardian, there was strong reaction from the Bench which said that a "wife is not a chattel." Are we going to lay down this rule that no husband will be the wife's guardian? If yes, it will really be a progressive step.
The Kerala High Court judgment was also against gender as the high court gave her custody to her father after passing some highly derogatory remarks against her as to her independent agency and so-called 'vulnerability'. Under the high court's order, poor Hadiya was living almost like a hostage in her father's house till her release in November, 2017. There were reasons to believe that her liberties were seriously curtailed by her father.
So many people marry as per their parents' wishes within their own communities, castes etc, yet several such marriages too prove to be a disaster. The Supreme Court acknowledged the fact that may be her choice was wrong, but it is her problem. Divorce rate is on the rise. Every adult has the right to make mistakes. But what Hadiya's father was doing is also done by other parents who too do not accept inter-faith choices of their sons/daughters.
Decades ago, in a kidnapping case where a class XI minor girl had eloped with a boy, the Supreme Court had refused to punish the boy on the basis that the girl went with him on her own volition and she was mature enough to take her decisions. In the current case, the Kerala High Court, which interacted with the girl on several occasions and ordered a number of times that girl is not under anybody's evil influence or in any kind of illegal detention, suddenly, when the girl married a Muslim man, got suspicious and treated it as a case of 'love jihad' just because there was some discrepancy in the name of the girl in the nikahnama and panchayat marriage registration request and the boy allegedly had some criminal case pending against him and his mother was working in the Gulf and thus he was likely to "transport the girl out of the country" without realising that she has not even applied for the issuance of passport. The court ordered that she complete her internship and expressed its displeasure on her marriage without her parents' concurrence. The apex court should not even force her to complete her education if she wants to quit.
In a country where honour killings still take place, these observations not only show patriarchy but can also play havoc with the life of individuals who want to marry against the wishes of their parents or village elders outside their castes or from other religions.
The high court overlooked the fact that as per law, one can even marry a person on death row and one also has a right not to finish one's professional training. The court accepted everything which her father said and gave her custody to him without giving any credence to her testimony.
Change of religion is purely a private matter with which public officials should have nothing to do. Such conversions cannot be equated with terrorism in the absence of any authentic empirical study proving its existence. In the country of our size, we should not indulge in over-generalisations on the basis of isolated cases.
The Supreme Court should assure the citizens that they need not fear anybody if they want to have an inter-faith marriage. It should direct the police to take immediate action against non-state actors who want to impose their will on law-abiding citizens. No one has the right to interfere with their choice of spouse/life partner. Even the Romeo squads of the Yogi government are a blot on a liberal democracy.
(Views are personal)
Top Stories