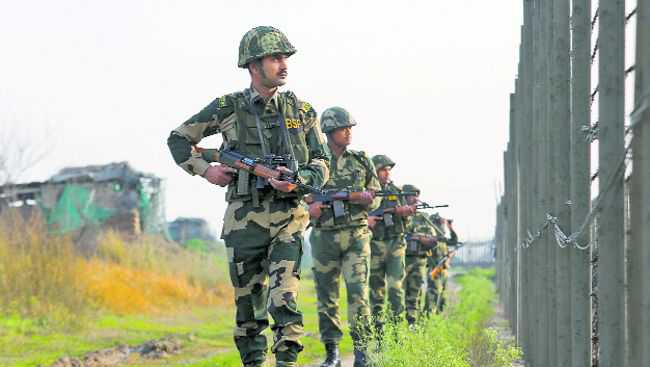 Vappala Balachandran
Ex-Special Secy, Cabinet Secretariat
IT was an unimaginable lapse on the part of Pakistan to neglect its air defence system even after receiving so many warnings. On February 16, Prime Minister Narendra Modi had warned it that the terrorists and their 'backers' who caused the deaths of 40 CRPF jawans on February 14 in Pulwama had made a 'big mistake' and would have to pay a 'heavy price'. US President Donald Trump had mentioned of the possibility of a 'strong response from India' on February 22. Soon thereafter, New Delhi rushed 10,000 paramilitary troops to the Valley. The apparent reason was facing widespread protests arising out of a possibility of the Centre considering revising its stand on Article 35A which confers special privileges to the 'permanent residents'.
In retrospect, this was a clever 'red herring' planted by the government to hide its real intention of misleading Pakistan that the troop movements were meant to deal with the unrest in the Valley. It was also meant to lull the Pakistan leadership, which was euphoric with the successful visit of Saudi Crown Prince Mohammed bin Salman on February 17 and his grandiloquent offer that it should consider him as the 'ambassador of Pakistan' in his country. Who would dare to invade Pakistan's airspace when it had the backing of such a strong leader? Who would risk such a venture when the US was depending so much on Pakistan to facilitate power transition in Afghanistan to enable them to depart with their bags?
Ultimately, none of this mattered when India sharpened its airpower to thrust its sword into Balakot on February 26 to destroy Jaish-e-Mohammad's (JeM) main training centre.
Yet one cannot but feel that we have, by delaying our official announcement, allowed Pakistan to derive propaganda advantage in the global media to project its side of the story first. The media picked up Pakistan Army spokesman Major Gen Asif Ghafoor's tweet and photos at 5:42 am on February 26 to claim that IAF jets which had violated the Line of Control (LoC), when confronted by PAF planes, 'released a payload (munitions) while escaping'. Some reports also said, quoting local villagers, that no damage was done. Yet, Pakistan considered our intrusion into its territory 'as aggression to which Pakistan shall respond at the time and place of its choosing'. Pakistan has already embarked on LoC incursions through ground and air action, which is being dealt with appropriately by our forces.
But what is worrisome is the hidden weapon in its armoury which we don't have. The ISI's close relationship with terrorism dates back to 1973. This was during the Zulfikar Ali Bhutto regime when Brig Naseerullah Babar, then IG Frontier Scouts, was asked to train Afghan Islamists to punish the Afghan Daud regime which was harbouring anti-Pakistani Baluchis in Kabul. As a result, training of 5,000 Afghan guerrillas was done by ISI's Special Operations Bureau under Col Reza Ali. This was the beginning of Pakistan's links with Afghanistan, which the US utilised to infuse jihadis and arms after the 1979 Soviet invasion. Babar was to play a key role later as Interior Minister in Benazir Bhutto's Cabinet by creating the Taliban in 1994. The initial idea was to seek their muscle power to open the lifeline highway from Quetta to Central Asia, Benazir's pet project, freeing it from the warlords who could not be controlled by the Burhanuddin Rabbani regime.
Why is the Pakistan army so fond of Lashkar-e-Taiba leader Hafiz Saeed and JeM chief Mazood Azhar? A former Pakistan Police Service officer, who spoke at an Oxford University counter-terrorism conference in 2010 where I had also given a lecture, told us how the ISI had to bend over backwards to humour the jihadis to keep the Kashmir war going. The police wanted to de-radicalise 300 militants lodged in jail but could not since the ISI would not permit releasing them despite the then PM's intervention. On the other hand, the ISI was also worried that it was losing control over the Kashmir militants. It had then openly said that its policy was to keep Hafiz Saeed as relevant; otherwise, they would lose control over new recruits in the Kashmir operations.
The same officer said that Pakistan's army brought in JeM chief Mazood Azhar and Harkat-ul- Mujahideen's Fazlur Rahman Khalil during the October 2009 Pakistan GHQ attack to persuade Muhammad Aqeel, alias Dr Usman, who had led that attack, to back off. It was futile. Aqeel was a deserter since 2006 from Pakistan's Army Medical Corps. He had assassinated Gen Mushtaq Ahmed Baig, Pakistan's surgeon-general, in 2008 and was also involved in an assassination attempt against President Musharraf. He was connected with earlier incidents, such as the March 2008 attack on the Sri Lankan cricket team and the September 2008 Islamabad Marriot Hotel bombing just prior to our 26/11.
Even the US has found it difficult to discipline Pakistan despite sanctions. A Forbes report in 2017 said Pakistan was blocking or delaying critical supplies meant for the US-led coalition and Afghan National Security Force through the land route. The US was unable to force Pakistan to disconnect itself from the Haqqani faction of the Taliban which had caused untold misery to the coalition forces and also to India by organising the 2008 and 2009 Indian embassy bombings which killed several people.
While Pakistan's attempts against our regular armed forces are not bothersome, its covert capability in neighbouring countries like Afghanistan, Nepal or even Bangladesh, where we have no control over security, is of concern. We should have similar concerns too during our campaigning in the run-up to the General Election when normal police systems will be under tremendous strain. After all, Pakistan has promised retribution 'at the time and place of its choosing'.
Top News
Congress has 108 MLAs in 200-member Assembly, of which 82 lo...
Rajasthan is one of the only two states where Congress is in...
The water flow above 2.5 lakh cusecs is considered high floo...
Day-long session is likely to be a stormy one with oppositio...
Unlike CUET-UG, NTA has announced subject-wise toppers for p...