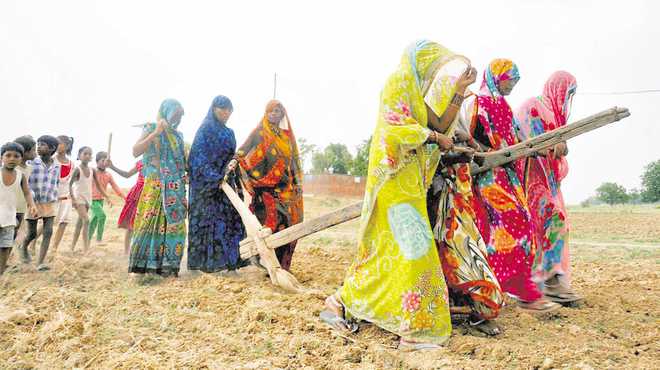 Women own only one-hundredth of the world's property, even as they make up half the world's population. Land ownership a strong tool of empowerment--eludes them, despite the guarantee of legal framework. Privately owned land is overwhelmingly held in the name of men across rural and urban India. Women provide more than half of all agricultural labour yet one national-level survey revealed that less than 13 per cent of privately held land nationwide — rural and urban — was in the name of women. This national average has come about by inclusion of states like Kerala, where women own 43 per cent of landed property. Daughters inherit property from their mothers in a few matriarchal communities in the South. In northern states, women's right over property remain entangled in moorings of the past, despite progressive laws.
The gap between women's and men's education and income levels is narrowing gradually, women's participation has grown phenomenally in the labour force (from 19.67 per cent in 1987, to 25.7 per cent in 2001) but the disparity in property ownership remains stark and seemingly intransigent. Despite a significant amount of interest by the state, NGOs and a few international donor agencies in the recent years to increase women's access to emerging economic opportunities, there has been a virtual silence in engaging with women's efforts to acquire or retain control over landed assets. Criminal cases related to property ownership of women in urban areas, such as Panchkula, would reflect the enormity of social bias that runs through society against women's true empowerment. Anuradha Adhikari received a two-canal house, bequeathed by her mother. The house was registered in Anuradha's name in 2004 and a registered will to the effect was left in the custody of their family lawyer by her mother, a medical professional. The lawyer sold the house to two different buyers without her consent, after manipulating the Will. When Anuradha contested the Will, the lawyer offered a sound justification for his actions, which are in tune with the political history of land ownership in the region. "What for does a single woman need property worth crores?" he contested. Despite Anuradha's education and a sound social background, she had to partially concede to the lawyer's demand. Else, she would be involved in a long-drawn legal battle.
The Hindu Succession Act, brought into force on June 17, 1956 became the first gender-equitable law in India after the century-long British rule that excluded women from inheritance in rural Punjab. The Act amended and codified the law relating to intestate succession among Hindus and brought about fundamental and radical changes in the law of succession, making provisions for married and unmarried daughters, sisters, widows and mothers to inherit land with full proprietary rights to its disposal.
The apprehension of losing exclusive male rights over the lands rather than the ground reality made landowners of Punjab act in a rather unusual rush to abolish this Act. They tried to have it abolished through the legislative procedures, simultaneously accelerating their attempts through the caste panchayats to control its fallout. How could a woman, considered to be the property of man, own another property, they thundered? As tension mounted in rural society, voices to abolish or amend the 1956 Act gained momentum.
In 1966, the state of Haryana was formed, within months of its creation the Haryana Legislative Assembly passed a resolution in 1967 (and the Punjab Assembly in 1977), requesting the Central Government to amend the said Act. The Centre did not oblige. In 1979, the Haryana Assembly tried to force the issue by unanimously passing a Bill which amended the Act of 1956 and sent it for the President's approval. This was not granted. Ten years later, in August 1989, Devi Lal (Member of Parliament from Haryana) as the Deputy Prime Minister proposed an amendment in the Succession Act, once again in an attempt to deprive the married women of their share in the parents' property.
Devi Lal was forced to drop the proposal in view of fierce protests spearheaded by feminists across country. Even though the move to bring about a change in the legislation were defeated, the spirit that had moved them persists. Not letting go of their control over the income- generating resources, patriarchal forces devised several ways to stem the progressive fall-out of this legal enablement. Advocates began to aid stream of male members with the potential female inheritors in tow to get them to write off their land claims in favour of their brothers. And the stock question continued to be asked even today before a girl signs off her rights in the "likhat-padhat" (formalisation of rights) takes place is, "tum khush ho ker bhaiyon ko de rahi ho" (are you giving the land to your brothers of your own sweet will?), putting the onus for relinquishment of rights on the female. Post-1956, there was a surge in gift and sale deeds registered in favour of male members in Punjab and Haryana. In some cases the land is automatically registered in the girl's name but remains in de facto possession of the brother.
With property rates going through the roof, in a few cases, daughters have demanded a share in the money earned by the family through sale of the property, often prompted by their spouses. "If we go by the number of women demanding share in property, it's not even one per cent. They are told, you got your share in dowry and they believe it," says Santosh Dahiya, the first-ever woman national president of Sarv Jatiya Maha Panchayat.
Rural male opinion, represented by the khaps is almost unanimous in contending that the girls receive their share of patrimony at the time of marriage in the form of dowry. To a large extent legitimacy has been provided to this custom by women themselves, primarily because they don't want to spoil relations with their brothers, which works as a safety mechanism against ill-treatment by in-laws. In a study sponsored by the UN on women's ownership of land, several rural women expressed their obligation towards their brothers, "haven't our brothers got us married, so where is the question of more share?" Even after the amendment of 2005 to the Act, that took care of the major lacunae in favour of female inheritors, a RDI (Rural Development Institute) study showed, most women were unaware of their rights, 61 per cent of women surveyed had never gone to a revenue office and of these 99 per cent said this was because men handled such matters. If, there is a political will, such constraints can be removed.
"Gap in knowledge of gender and property ownership is more pronounced for urban women than it is for rural women," says Bipasha Baruah author of Women and Property in Urban India. A strong correlation has been established between landlessness and poverty. Land ownership and drastic fall in the incidence of spousal physical violence are also interrelated. It is not desirable that families be torn apart by litigation over property, it requires a voluntary recognition by society that women who participate in the labour force almost on equal terms, are not treated unequally when it comes to rewarding the fruits of labour.
vandanashukla10@gmail.com
Top News
Opposition Congress demands resignation of CM Naveen Patnaik...
Pace sensation Titas Sadhu, leg-spinner Parshavi Chopra dish...
Congress leader says people of J-K are in pain and his party...
Said there is a push from a growing number of member nations...
'Winning on the field and off it': ICC posts video on social...