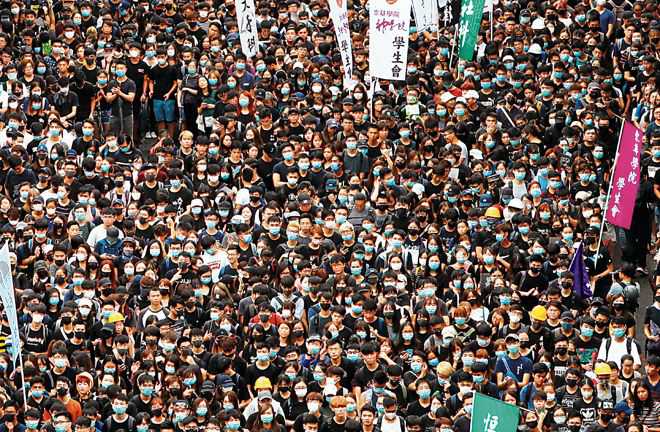 Jayadeva Ranade
President, Centre for China Analysis and Strategy
Fifteen consecutive weekends of protests against Chinese rule by millions of Hong Kong residents in the adverse glare of international media publicity are severely embarrassing the Chinese leadership. Beijing's vacillation in quelling the protests reveals Xi Jinping's apparent hesitation in taking action, suggesting differences within China's top leadership — the Politburo Standing Committee (PBSC). Xi Jinping is reported to have remarked in mid-August that the person responsible for the trouble in Hong Kong should resolve it — hinting at the seventh-ranking PBSC member, Han Zheng, who is responsible for Hong Kong and Macao affairs. There are also indications of divergence in the tenor of reporting by Chinese-owned news outlets affiliated to different leadership factions in the Chinese Communist Party (CCP).
The protests reveal that despite Hong Kong's reversion to China over 20 years ago, neither its citizens nor Beijing yet trust each other, and neither have the two 'systems' been able to adjust to each other. The Hong Kong and Macao Affairs Office and Xinhua, China's long-time outpost in Hong Kong, were obviously unaware of the extent of public anger. The CCP, which has over the decades penetrated all sections of Hong Kong, similarly failed. This despite large numbers of Hong Kong businessmen being close to it, at least 15 pro-Beijing groups and associations linked to Chinese provinces, and the CCP controlling the Hong Kong Federation of Trade Unions, the largest in Hong Kong.
Initially, China banned all reporting on the protests by its official media, but later instructed them to focus on the 'violence' and describe the protests as foreign-funded. Conscious of international opinion, Beijing used Facebook, Twitter, etc. It organised rallies by pro-Beijing students and prominent personalities abroad, and persuaded Hong Kong businessmen to advertise, condemning the violence. Cathay Pacific, whose employees participated in the protests, was issued a 'significant aviation safety risk warning', causing a sharp drop in its shares. Reports of the People's Armed Police and People's Liberation Army conducting manoeuvres outside neighbouring Shenzhen implied a hint of military action.
Beijing's position has visibly hardened in recent weeks. Prompted by its apprehension of the past couple of years of the West's intentions, further accentuated by the US-China trade war, China quickly labelled the protests as inspired by foreign forces and part of the West's efforts to provoke a 'colour revolution' — a term used to describe the movements to topple governments in Eastern Europe and Egypt, but not often used in China since 1990-91 till January this year by Xi Jinping. Yang Guang, spokesman for the State Council's Hong Kong and Macao Affairs Office, said on September 3 that the protests had 'clear features of a colour revolution', and the goal is to paralyse the Hong Kong government, seize power for governing the Special Administrative Region (SAR) and make 'one country, two systems' an empty concept. Separately, Zhang Dinghuai, a professor of Hong Kong and Macao Studies at Shenzhen University, listed the elements of colour revolutions, adding that the protests include many of these features and defy China's constitution.
Speaking at his pro-government Our Hong Kong Foundation on July 31, former Hong Kong Chief Executive Tung Chee-hwa said: 'Looking at the political storm closely — its severity, scale, and organisation — it's reasonable to believe that it's fanned by someone from behind. Various signs are pointing at Taiwan and the US.' Claiming that foreign politicians and anti-China forces have tried to incite fear of the CCP and turn Hong Kong into a base to resist the central government, he asserted that 'a small number of people' were trying 'to damage the relationship between the central government and the SAR', and such acts were unacceptable.
In the backdrop of continuous threats that Beijing will reunify Taiwan with the mainland, Taiwan is monitoring the developments carefully. The protests have boosted Taiwan President Tsai Ing-wen's popularity ahead of the January polls. Interesting was her response to media reports of Hong Kong protesters arriving in Taiwan. She said: 'These friends from Hong Kong will be treated in an appropriate way on humanitarian grounds.'
Other indications of Beijing's toughened stance include an article in the official Global Times, hinting that the 'leaders' of the movement would be punished. It listed seven individuals, indicating the charges against each. On August 21, Zang Tiewei, spokesman of the Legislative Affairs Commission of the Standing Committee of China's National People's Congress, dismissed the possibility of acceding to the demand for universal suffrage and reiterated that 'Recently, some illegal criminals in Hong Kong have openly attacked the legislature, violently attacked the police, and wilfully beat innocent people. These acts are serious crimes in any country under the rule of law and will be punished according to the law.'
The protests have damaged Hong Kong's economy. Large numbers of businessmen have moved their wealth out and the number of visitors to Hong Kong has fallen since June. Data released on August 16 showed that GDP growth for the second quarter dipped to 0.5% year on year, the lowest in over seven years, and the value of goods exported and imported via Hong Kong in the first half of 2019, fell 3.6% and 4.5% year-on-year, respectively. Officials assess that Hong Kong is on the verge of recession amid social unrest and the escalating trade war.
Xi Jinping cannot allow the protests to drag on without hurting his position. Though international opinion is important, Beijing will be more sensitive to the potential fallout of the protests inside China and on Taiwan. Beijing will probably use Hong Kong's forces to deter others and restore calm. China will not like to see its 70th founding anniversary celebrations on October 1 marred by disorder.
Top News
The accused ASI was nabbed by local people, who then handed ...
Two frontline combat aircraft of the IAF crashed during a tr...
Gandhi was accompanied by his sister and Congress general se...
PM Modi also appreciated people for eating food items made o...