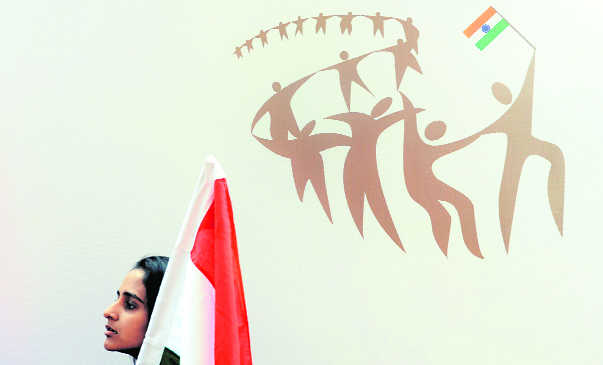 HISTORIANS across the globe may disagree on whether Mohandas Karamchand Gandhi did enough to save Bhagat Singh, who was once more popular than him in Punjab and other parts of northern India, from the gallows. But they converge on the point that the Father of the Indian nation had irreconcilable differences with Singh's Hindustan Socialist Republican Association (HSRA) on non-violence and that did not wish to be identified with the latter for the fear that this could negate his epistemology on non-violence.
Even Lord Irwin, the English Viceroy in India in 1931 when Bhagat Singh and his associates were executed, was surprised that "the apostle of non-violence should so earnestly be pleading the cause of a devotees of a creed fundamentally opposed to his own". The Congress Working Committee resolution at Karachi, after the execution, gave voice to Gandhi's predicament. "This Congress, while disassociating itself from and disapproving of political violence in any form, places on record its admiration for the bravery and sacrifice of the late Sardar Bhagat Singh and his comrades Sukhdev and Rajguru and mourns with the bereaved families the loss of their lives."
The Mahatma was equally unsparing on Netaji Subhas Chandra Bose when the latter asked him repeatedly in 1939 to launch a movement for "Purna Swaraj" (complete freedom). He told Bose, then President of the Congress, that the party "cannot offer civil disobedience worth the name" because it was beset with corruption and violence had increased in the country.
Surprisingly, Gandhi did not seem to be the same person after Bose escaped from India and put together the Indian National Army by enrolling ex-prisoners and Indian expatriates. He developed a soft corner for Bose and did not oppose the latter's guerrilla struggle the way he had stood against Bhagat Singh and his socialist comrades. Gandhi believed that Bose, in partnership with the axis powers, could succeed in winning freedom for the country. Abdul Kalam Azad, Congress President before Independence, could see the unmistakable signs of change in Gandhi's attitude towards Bose. Azad writes in his book, India Wins Freedom: The Complete Version, "Gandhiji did not express the opinion about the outcome of the war in clear terms but in discussion with him I felt that he was becoming more and more doubtful about an allied victory. I also saw that Bose's escape to Germany had made a great impression on Gandhiji. He had not formerly approved many of his actions, but now I found a change in his outlook. Many of his remarks convinced me that he admired the courage and resourcefulness Subhas Bose had displayed in making his escape from India. His admiration for Bose unconsciously coloured his view about the whole war situation."
Azad also notes in his book how after a news flash about Bose's death in an air crash, "deeply moved" Gandhiji "sent a message of condolence to Netaji's mother in which he spoke glowingly about her son's services to India." After this, Sir Stafford Cripps complained to Azad that "he had not expected a man like Gandhiji to speak in such glowing terms about Subhas Bose". It is not a coincidence that Gandhi launched the Quit India Movement in 1942, around the same time when Bose was in the process of forming the INA and gave a call for non-violent guerrilla struggle. Shridhar Charan Sahoo, author of Subhas Chandra Bose: Political Philosophy, notices remarkable synergy between the Gandhi-led Congress and Bose from the launch of Quit India Movement onwards. Sahu is of the view that the mood of the Mahatma acquired a revolutionary élan during the movement. He points to the use of idioms of a violent struggle like "rebellion", "revolt", "anarchy" and "uprising" by Gandhi which did not fit into the ethics of a non-violent stir. On August 9, 1942, Gandhi described the Quit India as an "open rebellion" and a "swift non-violent revolt". The Mahatma, notes Sahoo, urged the freedom fighters to "do or die" but gave no plan or programme of action.
Subhas welcomed the launch of the Quit India Movement by describing 1942 as "the year of Grace". Sahoo adds that Bose announced over the Azad Hind Radio in Germany, a programme of action called "non-violent guerrilla warfare" to be followed by the freedom fighters in the country. Sahoo is sure that Bose's concept of non-violent guerrilla warfare influenced the nature and course of the Quit India Movement to a considerable extent. He has no doubts that the "Quit India Movement brought Gandhi and Bose ideologically nearer to each other and marked the climax of Bose's attempt to radicalise the Congress organisation".
It looks to me that Gandhi's Quit India Movement and the Indian National Army's attack on the British army in the North-East had visible signs of collaboration. Bose even named the INA brigades after Gandhi and Nehru. This collaboration was evident when Sardar Patel secured a smuggled print on Netaji Subhas Bose and his INA at Bombay Port. The print was first secretly played at the Regal theatre in New Delhi and later, after adding messages of Congress leaders to it, was screened all over the country.
As in the case of untouchability, there were two Gandhis at play during his lifetime on non-violence too. Gandhi, initially a staunch backer of the varna ashram and opponent of inter-dining and intermarriages (he did not allow his son Mani Lal to marry Fatima, a Muslim girl in South Africa in 1926 and made Devdas wait for five years before marrying Lakshmi, daughter of C Rajagopalachari, a Brahmin). He later facilitated inter-religious marriages of Humayun Kabir and B K Nehru.The first Gandhi considered non-violence as his "absolute creed" and was even against India's participation in World War II as that could negate the basis of the country's non-violent struggle for freedom. The second Gandhi came around to accept the legitimacy of armed action for national defence and preferred to extend tacit support to Bose's non-violent guerrilla warfare.
The writer, a senior journalist, is exploring Mahatma Gandhi.