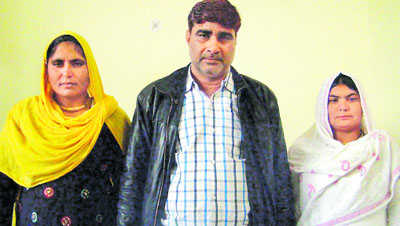 A headline in The Tribune recently stated: "587 seats to remain vacant, courtesy new poll criteria." Also, 15,825 candidates were elected unopposed. This information is indicative of how democracy is being throttled. The "new poll criteria" disqualifies persons who do not have certain educational qualifications and a functioning toilet at home from contesting elections to panchayats in Haryana. Evidently, there are no such candidates in 587 villages. This shows the practicality or otherwise of a law passed by the state assembly, which was upheld by Supreme Court.
The judgment of the Supreme Court has been faulted on a number of grounds and the filing of a curative petition has also been suggested. A couple of examples illustrate the need for a cure. In providing a justification for prescribing minimum qualifications for contesting the elections which, according to the calculations made in the judgment itself, will disqualify 68 per cent of the Scheduled Caste women of the state from contesting the election, the judgment makes a sweeping generalisation: "It is only education which gives a human being the power to discriminate between right and wrong, good and bad." It is very hard to imagine that the learned judges of the highest court believe, by implication, that there was no discrimination between "right and wrong, good and bad" in India before its people started getting "education" as initiated by the colonists! Similarly startling opinions are expressed about the availability or otherwise of toilets. In an indulgent-sounding commentary on the "unhealthy practice of defecating in public," the Hon'ble Court says: "It is unfortunate that almost a hundred years after Gandhiji started such a movement, India is still not completely rid of such practice. The reasons are many. Poverty is one of them. However, this unhealthy practice is not exclusive to poorer sections of rural India." It then goes on to describe its understanding of the reality on the ground, "the State has evolved schemes to provide financial assistance to those who are economically not in a position to construct a toilet." In a touching acknowledgement of the efficacy of the State to implement its scheme most efficiently, it goes on to say, "As rightly pointed by the respondents, if people still do not have a toilet it is not because of their poverty but because of their lacking the requisite will" (italics added). And of course, the most efficacious way of generating "the requisite will" is to disqualify them from contesting elections to the panchayat!
The electoral system that results from the Supreme Court judgment has been described by political scientist, Suhas Palshikar, as "transgress(ing) constitutional morality" which "undercuts democratic logic."
That 15,825 candidates that were declared elected unopposed shows up two objectionable facets. One, depriving citizens or voters of their right to vote, and two, the subversion of democracy by inappropriate use of public money. The first, depriving citizens or voters of their right to vote, has been explained very well by the Supreme Court in what is popularly called the NOTA judgment. The judgment, in its conclusion, says: "Democracy is all about choice. This choice can be better expressed by giving the voters an opportunity to verbalise themselves unreservedly and by imposing least restrictionson on their ability to make such a choice." The Court goes on to clarify that "if right not to vote effectively is denied", it will be a violation of "the fundamental right (to freedom of speech and expression) under Article 19(1) (a) read with statutory right under Section 79 (d) of the RP Act." Declaring candidates elected unopposed directly means that the voter is denied the right to vote and also the right not to vote. The only way to ensure this right is to hold an election even with one candidate but with the provision of a NOTA button so the voter can have access to both, the right to vote and the right not to vote. With NOTA having been made mandatory, the concept of an uncontested election does not survive. As so-called unopposed or unanimous election could even be the outcome of malpractices such as horse-trading and collusion among candidates or even political parties. Shades of such malpractices are also indicated in the Chhattisgarh Tapes that recently surfaced. NOTA provided an interesting clue to possible wrong-doing even in Chhattisgarh. NOTA polled the second-highest number of votes at 13,506, while the only other physical candidate got 12,086 votes, with the winner getting 63,616 votes. Thus, in addition to providing voters a real choice, NOTA might even have a diagnostic value.
In such situations, a unanimous election could even be the very antithesis and negation of democracy as it deprives the citizen of the most fundamental choice which, according to the judgment "Democracy is all about." The other issue is of the State directly and deliberately encouraging unanimous elections by offering cash incentives. According to a newspaper report, last year, Chief Minister Manohar Lal Khattar approved a proposal to award Rs 11-lakh development grant to a panchayat elected unanimously. He also approved an incentive of Rs 5 lakh to a zila parishad elected unanimously and Rs 2 lakh to a panchayat samiti. For a sarpanch elected unanimously, Rs 5 lakh was to be awarded and Rs 50,000 was for panch elected unanimously. This phenomenon of "encouraging" unanimous elections by offering cash incentives first surfaced in Gujarat under the label Sabras panchayats many years ago. It came up again in the recent local body elections there when even a PIL was filed in the High Court "challenging uncontested winners".
From the perspective of the Supreme Court's NOTA judgment and the importance of choice in a democracy, encouraging unanimous elections that deprive voters of any choice and offering public money as incentive, is a subversion of democracy. Ironically, money collected from the people in a seemingly democratic way is being used to throttle democracy!
The writer is a former Professor, Dean and Director in charge of IIM, Ahmedabad. Views are personal
Top News
Developed primarily for mountain warfare
Pilot seeks landing in Delhi | Refuses to land in Jaipur or ...
According to a statement by Jammu ADGP Mukesh Singh, the CCT...
Rakesh Tikait attends akhand path organised by farm unions, ...
Pritpal Singh took Tinu in his private car to his official r...