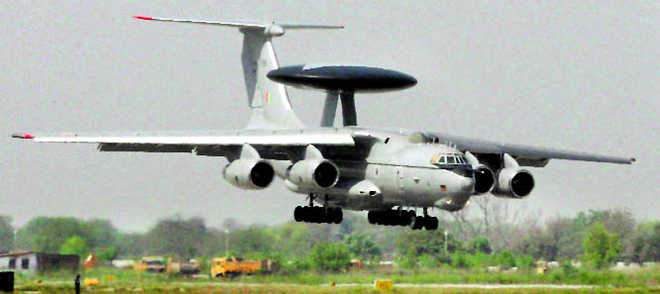 The fighter squadron strength of the Indian Air Force (IAF), the world's fourth largest, has fallen to 33, nine short of the sanctioned strength of 42.Translated in numbers, the shortfall works out to 144 aircraft; 162 if the trainer version is included.
This declining strength has understandably led the IAF to publicly acknowledge that fighting a "two-front collusive war" (with China and Pakistan) has resultantly become difficult. Ideally, the IAF would like to expand its fighter fleet to 45 squadrons to be able to fight a two-front war. Instead, the worst is yet to come with the projected decline expected to touch a low of 25 squadrons by 2022, which is just six years away. Reason: the retirement pace of the IAF's ageing aircraft fleet is fast exceeding the replacement rate.
And yet ironically, at the same time, the IAF's fighter pilot-to-cockpit ratio has declined to less than one pilot per aircraft (0.84) against a sanctioned strength of 1.25 in contrast to 2.5 of the Pakistani Air Force. Thus the IAF is afflicted by both lesser fighter aircraft and a pilot shortfall. But the story does not end here. The IAF remains plagued by a long list of ailments reflective mainly of bad planning and mismanagement.
The IAF's most modern aircraft is the Russian-origin Sukhoi-30 multi-role fighter first inducted almost 20 years ago in June, 1997 with all other fighter aircraft being 26 to over 40 years old. Of the 272 Su-30s contracted for raising 13 squadrons, the IAF until March 2015 had inducted 204 of these aircraft. Despite it being the most recent induction, the current 10 squadrons continue to be hit by low serviceability, shortfalls in performance and deficiency in manpower. For example, for over two years between 2007 and November 2009, 31 Su-30s remained grounded due to frequent snags in its fly-by-wire system. The serviceability record ranged between 55 and 60 per cent and the shortfall in flying effort between 31 and 43 per cent from 2005 to 2010.
Earlier, in January 1995, following delays in the development of the Tejas, the light combat aircraft (LCA) under indigenous development since 1983, India contracted upgrading 125 Soviet-origin MiG-21 Bis fighters. Although these were upgraded and re-inducted between 1998-99 and 2007-08, the harsh reality is that the upgrade is neither completely successful nor comprehensive. Serviceability remains low with a high percentage of aircraft grounded due to non-serviceability of spares. Even the on board radar's performance remains unsatisfactory. Only 43 per cent of the aircraft have self-protection jammers, leaving the remainder aircraft vulnerable to enemy radars and electronic warfare threats. Between 2004-05 and 2008-09, the serviceability ranged between 41 and 51 per cent, while 23 and 37 per cent aircraft remained grounded.
A bizarre example of bad planning and carelessness pertains to the highly sophisticated and expensive airborne warning and control system (AWACS) aircraft bought at a cost of Rs 5,042 crore and inducted between September 2009 and February 2012. Shockingly, for two years these aircraft were parked in the open despite the risk of degradation of radar performance and an adverse impact on the radome's surface smoothness. Reason: the hangars had not been built in time despite the contract being signed almost six years earlier in March 2004. And so, in May 2010 disaster struck with all four engines of one of the AWACS getting damaged in a gale storm rendering it unserviceable for almost four months (May 7 to August 25, 2010). Miraculously, the sophisticated Israeli radome did not get damaged.
The AWACS, which functions as an "eye in the sky", is a major force multiplier and strategic asset. Seven years since its induction, the AWACS continue to have a record of low serviceability and under-utilisation due to restrictions on take-off weight due to limited runway length, unavailability of fighter aircraft to accompany it, periodic unserviceability of sub systems and a 50 per cent pilot shortage who in turn are untrained for air-to-air refuelling (AAR) despite specially fitted AAR pods costing Rs 654 crore to enhance the aircraft's range and flying endurance. In 2013, 61 of the current 103 Soviet-origin vintage An-32 transport aircraft were grounded because facilities for extending the technical life and overhauling of the aircraft could not be established in time. Serviceability of the seven types of Soviet-origin Mi helicopters that constitute 60 per cent of the helicopter fleet fluctuated between 45 and 75 per cent, while shortfalls in achievement of flying tasks ranged between 47 and 67 per cent between 2003 and 2009. About 80 percent of the IAF's two Mi-25/35 attack helicopter squadrons have already completed their prescribed life.
The IAF hopes to make up for the shortfall by inducting the "indigenous" Tejas, purchasing 126 multi-role combat aircraft (MRCA) and co-developing a fifth generation fighter (FGFA) with Russia. But once again, the reality is hardly encouraging. The Tejas, running over a decade behind schedule, is still awaiting final operational clearance even though it is already heavily compromised following as many as 53 permanent waivers and concessions that have markedly reduced its operational capability. There are serious deficiencies in its electronic warfare capability and, as such, the Tejas in its current form does not meet the IAF's requirements.
As for the MRCA, the government for now has decided to settle for just 36 French Rafale fighters which is 90 short of the IAF's requirement, while the FGFA still remains in the discussion stage. Unless the government takes serious notice, it is evident a reversal of the grim situation is unlikely in the near future. Shortfalls in squadrons apart, the government is unable to efficiently manage even what it has. India's air power remains compromised.
dkumar@tribunemail.com