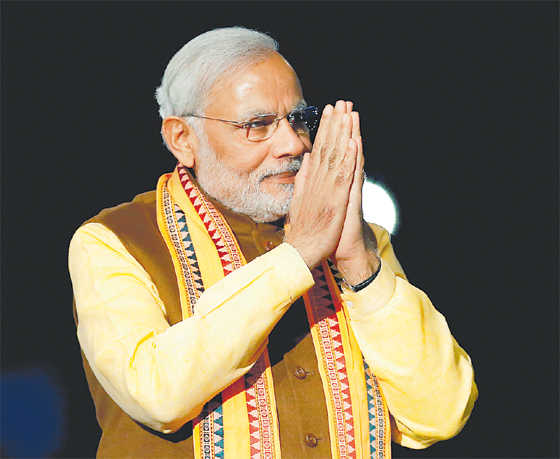 The news is out that Prime Minister Narendra Modi is going to be the mascot of Incredible India. This apparently, is being done, because Union Tourism Minister, Mahesh Sharma believes, Modi is the "best face" to promote India.
One wonders if any head of government in any country has been made a tourism mascot ever. It sounds an astonishingly ludicrous idea. How much more official and governmental can we get, if even to attract tourists to our country, we can think of nothing better than to use the PM as the magnet? Seriously, not a sportsperson, a film personality or a culture icon, but a reigning political leader.
Does it even make any aesthetic sense? According to news reports, it is being claimed that apparently after Modi's visits to the US, Germany, Fiji, Brazil, Australia, the UK, Canada and Myanmar, the tourist inflow to India from these countries has witnessed a significant jump. Assuming this is true do we have such a paucity of national icons that every aspect of Brand India has to be made synonymous with Brand Modi? Will tourists come in droves only when they have the Prime Minister of India serenading them with his presence and voice in "Incredible India campaigns"?
Just consider, as tourists, do we go abroad, because some political worthy in the country we are visiting, entices us to that place? Moreover how many of us even know the names of the prime ministers or presidents of the countries we holiday in, except in the case of a handful of Western nations? Is it even relevant to our travels to be aware who is the presiding leader in which country or the popularity which he or she enjoys? Almost certainly not, except in case of politically volatile destinations or dictatorships.
So why is our Tourism Ministry being so obtuse as to think that it would matter to tourists visiting India? Indeed, what exactly would the Prime Minister bring to an Incredible India campaign that some of India's other internationally recognised faces might not? Will you visit Germany, because Angela Merkel exhorts you to visit the Black Forest or Rhine Falls or Zugspitze? Will you be inspired to tour China simply because Xi Jinping invites you to visit the Great Wall of China? Will you rush off to see Canada, only because you see their young and personable Premier, Justin Trudeau traipsing through its gorgeous landscape?
Then why does Mahesh Sharma think that foreign tourists will make a beeline for Goa, Kerala, Rajasthan, the Himalayas, Taj Mahal, Khajuraho, Gir and the many, many other incredible travel destinations in India, the moment they see the Indian Prime Minister in the same frame as these places? Most tourists come to India for fascinating or exotic sightseeing, a spiritual, cultural or travel experience that is very different from the milieu in their countries. An Amitabh Bachchan, a Priyanka Chopra, a Shah Rukh Khan, a Sachin Tendulkar, an A.R. Rehman, a Zubin Mehta or I daresay (with great reservations and reluctance) even a Baba Ramdev or Sri Sri Ravishankar might have added huge value as mascots to sell Incredible India to tourists, on account of their international popularity.
But to make the Prime Minister the mascot, is incredibly daft, unless the Tourism Ministry plans to offer every foreign tourist a personal glimpse or handshake with Modi as part of some Incredible India travel package. Not the least also because the choice of the PM severely restricts the range of creative treatment and tenor that any potential Incredible India campaign can be given, in view of his status as head of state. For instance, can you think of an advertisement, depicting the delectable Kamasutra iconography of the Khajuraho temples, juxtaposed with our PM inviting tourists to visit these erotic creations? Wouldn't there be a massive mismatch? Or take the recent photos that trended on Twitter showing the PM taking snaps of a caged tiger. All that it evoked was mirth and never-ending wisecracks. Hardly the kind of effect a tourism mascot should be inspiring. Also, how credible would it be for a person who prides himself on taking no vacation, to promote tourism?
Therefore, whether sycophancy prompted the Tourism Minister to make the Prime Minister as mascot or the all-pervasive atmosphere of aggressively promoting the cult of the leader, the curious question is why has the Prime Minster allowed himself to be thus persuaded?
Can he not see the perils of monopolising and personalising the perception of India to the coat-tails of his own image? Make-in India, Digital India, Swachch Bharat and so on and now even Incredible India? Simply put, is this not self-aggrandisement, in the guise of promoting India? Would he really have Indians and foreigners believe that India is just about him and nothing else? Even more importantly, will it really benefit India? Absolutely not! No politician, however popular in his own country, is interesting enough for foreigners to be persuaded by, to come calling as tourists. In fact, the Prime Minster of a country as a tourism ambassador is a terribly boring prospect, even as a concept.
And so, one can only hope, the Prime Minster himself has second thoughts and sees through the ill-advised flattery that positions him as the "best face" to promote Indian tourism.
The writer is a Pune-based author and film-maker.
Top News
Delhi Police to withdraw FIRs filed against wrestlers on May...
The highest increase is in moong MSP, which will be Rs 8,558...
Gurnam Singh Charuni and several other union leaders were ar...
Jeeva, an alleged aide of gangster-politican Mukhtar Ansari,...
Chanda Kochhar and her husband Deepak Kochhar were arrested ...