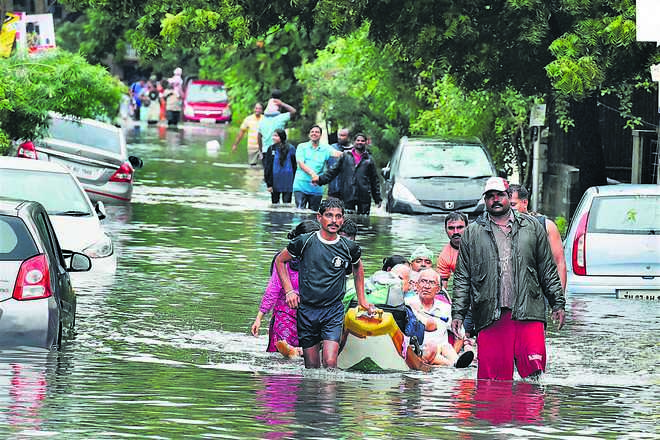 The Earth provides enough to satisfy every man's needs, but not every man's greed." — Mahatma Gandhi
The unprecedented rain that eclipsed the last 100 years' record virtually submerged Chennai. In the last decade India has witnessed a host of other such natural calamities, such as the floods in Jammu and Kashmir (2014), Uttarakhand landslide (2015 and 2011) and Kedarnath floods (2013), floods in Bihar (2008), Assam floods and earthquakes. The magnitude of Chennai's calamity rightly took away everyone's attention from the parleys in the Paris Climate Change Conference. Amidst this, how many of us took note of the issue raised by the critically acclaimed Indian writer Amitav Ghosh who said, "We need to be more worried over the climatic changes vis-à-vis the issue of intolerance in India". It makes one wonder, are we genuinely thinking and working to protect our environment?
Consequent to the first satellite image of the earth in the early 1960s the world seriously started thinking of environmental protection. The first UN Earth Summit was held at Stockholm in 1972, leading to the formation of the United Nations Environment Programme — UNEP. Around that time, the Indian population was pegged at 400 million. Today, our population has grown to 1.2 billion. We are the youngest nation with approximately 45 per cent of our population between the ages of 15 and 29 years. It is a great demographic advantage. The youth bulge is expected to make India's economy grow at a much faster pace than before.
The flip side of this is that it has added tremendous pressure on our natural resources, land, water and infrastructure. Looking at the world land mass population statistics of 2014, India has 2045 sq metre per capita land mass, which is one of the lowest in the world. A study undertaken by an independent body in the 1990s had revealed that over the last century when our population quadrupled, there was a depletion of 26 million hectares of forest areas and 20 million hectares of grasslands/ scrubland. In contrast, the built-up area increased five-fold. There has been an unmitigated encroachment of water bodies, lakes and river flood pans. It is a direct derivative of our flip-flop policies, lack of implementation and inherent corruption. The encroachment of Okhla Bird Sanctuary's protected zone of 10-km radius by big builders is one such example. With the public outcry, these projects were stalled for some time. Dramatically, the restriction has now been reduced to as low as 100 metres. Is it not a mockery of our system and a direct failing to protect our ecologically sensitive zones?
The importance of a strong infrastructure for the economic development of a nation is imperative. At the same time it is vital to ensure that the trees and grasslands which constitute the lungs of a nation and keep the carbon emissions in check are not washed away in the rush of development. Today, while driving along most of our national highways, one only sees concrete jungles on either side. The thick treeline of the 1960s-70s is a thing of the past. Who is responsible for this?
Our cities and towns lack the requisite public transport system and infrastructure to meet the challenges posed by the exponential growth of population. The pollution testing stations are more of a farce. The existing transport system is poorly managed. No attention is paid to their timely running, proper maintenance and optimal utility during the peak traffic hours. The bus-stops are ill-designed and the drivers ill-trained. Improper parking and stopping at an unauthorised place or red lights often leads to choking of traffic. Our autorickshaws/ e-rickshaws and even cars or taxis stop at will, with utter disregard to traffic rules or public safety. It often leads to traffic jams and contributes to air pollution. The non-implementation of norms by the construction industry, the lack of drinking water supply (increasing dependence on ROs) and an inept garbage-disposal system are other contributing factors in India's environmental degradation. Construction material and garbage piled on the roads gets blown into the atmosphere by prevailing winds.
Many banned polluting industries continue to flourish in various colonies of Delhi. A similar situation prevails in other cities of India. Our administration remains blissfully oblivious of their existence. There are officials on the government rolls whose job is to ensure that garbage and construction waste are cleared regularly, but no one questions them and holds them accountable. Ironically, we continue to indulge in political gimmickry at the cost of our environment.
The occurrence of excessive as well as untimely rain (e.g. Chennai), floods and global warming is directly linked to the emission of greenhouse gases. The constant emission of these by the developed nations over a prolonged period in the past has depleted the ozone layer leading to global warming and environmental changes. Today, the leading emitters of greenhouse gases are China with 28 per cent of the world's overall emission followed by the USA 16 per cent, EU 10 per cent, Russian Federations and India with 6 per cent, respectively. The developing nations are demanding a major contribution from the developed nations in cutting carbon footprints owing to their excessive emission in the past. The outcome of the Paris Conference notwithstanding, it will remain a matter of conflict between developed and developing nations.
India needs to learn from the developed nations how they have managed clean air and potable water supply in their cities. Most of our cities are facing air pollution with more than 200 PM2.5 and even going as high as beyond 400 PM2.5 — that puts the air quality between "very unhealthy" and "hazardous". We need to act with speed and alacrity to prevent this level of highly polluted air and environmental degradation before our youth bulge becomes a victim of respiratory and other diseases and our advantage turns into a huge disadvantage.
Top Stories