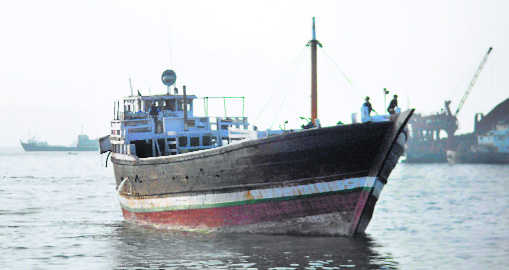 THE Indian Ocean Rim Association (IORA) is a pan-Indian Ocean Economic grouping that brings together countries from three continents viz Africa, Asia and Australia, which in recent times has begun to look at maritime security issues in the Indian Ocean as a whole. However, the South and South-West Indian Ocean (SSWIO), comprising India's extended neighbourhood, deserves special attention.
Terrorism in the seas
The primary maritime security challenges in the SSWIO include piracy at sea, narcotics and small arms/light weapons trafficking, people trafficking and, increasingly, maritime terrorism is becoming a distinct threat. The multiple sources of insecurity in the SSWIO region affect the sea lines of communications (SLOCs), both for strategic and trading purposes. From India's point of view it is important to ensure that these SLOCs are kept free for navigation by our merchant ships and oil tankers as also our naval vessels.
It may be recalled that before the opening of the Suez Canal between the 17th century and 1869, European and North American shipping traffic took the Western and South-Western Indian Ocean route and at that time Madagascar, Mauritius, Comoros, Seychelles and, to a lesser extent, Maldives, were important way stations for international shipping but post the opening of the Suez Canal, their importance diminished.
However, going by current trends, as traffic in the "choke point" Suez Canal reaches saturation or in the worst-case scenario of the Suez Canal being blocked by inimical states or controlled by terrorist or criminal elements, this earlier route in the SSWIO would once again become an important alternative route. Hence, its potential importance cannot be denied.
It is observed that a number of extra regional powers have an established naval presence in the SSWIO region.
The US has a base in Diego Garcia; the UK reportedly has deployed its ships in the region; France has a naval base/posts in its overseas departments/territories of Reunion Island, Mayotte and in some of the scattered islands in the SSWIO; the EU has been participating in the Atlanta operations to counter piracy in the region.
Chinese footprint
China is increasing its footprint in the SSWIO countries through its private and state-owned companies which are building/managing maritime infrastructure in SSWIO countries, including in Madagascar, Sri Lanka, Pakistan, etc. The Chinese companies have leased ports (after either building new ones or upgrading existing ones) from the local governments or are managing the ports in these countries and appear to have exclusive use and access to these ports, currently for commercial purposes.
These could in the future provide a strategic option for Chinese naval ships to move in the region, as happened recently in Sri Lanka. Some analysts feel that the Chinese navy has had no historical tradition of projecting naval power beyond its coastal waters, but whether this still holds true today is a moot point. The "String-of-Pearls" theory, with reference to China encircling India through setting up, upgrading or managing ports in India's neighbourhood, has been a cause of concern for India and many in the Indian security community do not see this as a legitimate reflection of Chinese commercial interests in the region or its strategic interest in protecting its SLOCs. While India need not be paranoid, the "String-of- Pearls" theory should not be dismissed out of hand. Though India has expanded its own power-projection capabilities and strengthened its security relationships in the SSWIO region much remains to be done.
Security cooperation
Currently, India has security cooperation with Mauritius, with India playing a special role in Mauritian maritime security, including training of the Mauritian Coast Guard personnel; since 2003, the Indian Navy has been involved in regular patrolling in Mauritian waters, including anti-piracy. Reportedly, the two governments have discussed the long-term lease of the Agalega Islands to India, ostensibly for tourism purposes, amidst speculation that the Agalega airstrip would be upgraded by India for surveillance aircraft. But talks seem to have stalled apparently due to sensitivities of the local populace.
The Indian Navy provides training to the Seychelles security forces and assists the maritime security in the Seychelles Exclusive Economic Zone (EEZ), including anti-piracy patrolling. Unconfirmed reports suggest that the Indian Navy had set up an electronic monitoring facility in Northern Madagascar in 2007 (near the Mozambique channel) and that the Indian Navy had been given limited berthing rights for its vessels. There are regular goodwill visits by Indian naval vessels to ports in Madagascar and the SSWIO countries.
The Indian Navy provides maritime security to Mozambique and the Defence Cooperation Agreement of 2006 provides for joint maritime patrolling, supply of military equipment, training and technology transfer, etc. India has maritime cooperation with France and South Africa, with annual joint naval exercises with the French Navy in Reunion Island and trilateral naval exercises between India, Brazil and South Africa off the Cape of Good Hope. As investments by Indian companies rise in, and two-way trade with, the SSWIO countries increases, unhindered maritime traffic and access to berthing/port facilities are essential, without being subject to the possible whims of Chinese companies who have either full or part control of various ports in the region, currently for purely commercial activity but with the potential to be used for strategic purposes.
Maritime Silk Route
The recent Chinese proposal for establishing a Maritime Silk Route, with an economic and development agenda, initially targeting ASEAN countries but expanded westwards to include Sri Lanka, Maldives, Pakistan,India etc. has been taken note of in India. According to some analysts, the aim is to give a peaceful and economic angle to the "String of Pearls" port facilities set up in India's neighbourhood which had led to concerns that the Chinese action had a strategic intent.
For India to retain it's dominant position in the SSWIO region and safeguard it's commercial and strategic interests, it is time that India turned its strategic vision towards the SSWIO region. Amongst other steps, India needs to encourage the companies investing in the region to set up or upgrade port infrastructure in Sri Lanka, Maldives, Mauritius, Madagascar, Comoros, Mozambique, South Africa and Seychelles.
India needs to further stengthen its security relations with the SSWIO countries, continue to enhance its defence capabilities and take proactive steps to build and install marine infrastructure, provide patrol ships, contribute to capacity building and assist in patrolling to protect the SSWIO region against traditional and non-traditional maritime threats. India needs to take forward the negotiations with Mauritius to lease the Agalega Islands and set up a naval listening post in Northern Madagascar; in addition it could set up small posts in Mozambique and Comoros.
Strategic tripartite cooperation, for security and safety of the SLOCs and to counter traditional and non-traditional seaborne threats, is required with Mauritius and Madagascar, in addition to the one established with Sri Lanka and Maldives, and quadrilateral cooperation with Seychelles, Comoros and Mozambique. Maritime collaboration with France and US should be further strengthened in the SSWIO.
India's strategic vision has regrettably been somewhat limited, reactive and even meek when it comes to any area beyond its immediate shores. A strategic vision encompassing the next 50 years for ensuring maritime security in the SSWIO, needs to be formulated after taking cognisance of all possible scenarios, including shifts in global centres of power.
India's maritime interests could be compromised in the future if the SLOCs in the SSWIO are blocked or hindered in any way, especially given past historical instances of power rivalries in the Indian Ocean region in general and in the SSWIO region in particular.
With the major global powers already having a naval presence in the region and China increasing its footprint in a well-thought out strategic context, India cannot afford to remain a passive bystander, as its supremacy in the SSWIO region is slowly and invisibly dented. Early pre-emptive steps to include the SSWIO region in its security grid would be in India's interest and in the interest of the SSWIO region.
The writer is a former Indian Ambassador to Madagascar