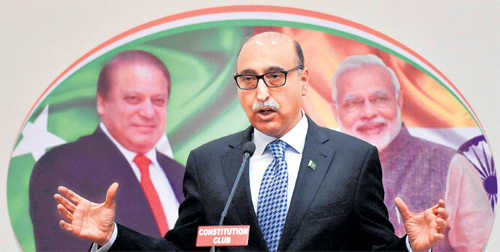 India seems to be desperately searching for an option to adequately respond to Pakistan in the aftermath of the attack on the security forces in Uri in Jammu and Kashmir by the Pakistani-sponsored terrorist group Jaish-e-Mohammad. This time the search for options against Pakistan is intense because the Bharatiya Janata Party (BJP) now in power has been talking of tough action against Pakistan to prevent the recurrence of such incidents. The real options, however, still seem elusive.
Talking to Pakistan pacifies that country temporarily but it is not a permanent solution. It has been noticed in the past that while such peace initiatives have been going on, a section in that country always tries to scuttle such endeavours. Pakistan raises the temperature at regular intervals by launching terror attacks and during the Kargil conflict even went for a mini war.
India has to realise that we are faced with a rogue state in our neighbourhood. What is worse, this rogue state considers India as an existential threat. India may not have hostile intentions towards Pakistan but this is what Pakistan believes in. It still believes in bleeding India through a thousand cuts. If Pakistan considers India as an existential threat, then there is no point talking to it.
It will not lead to the solution of any of the bilateral problems, and this is what has been happening. Pakistan uses issues like Kashmir to rationalise its hostile behaviour. Kashmir became an issue simply because the Indian State has not handled it properly. On the other hand, countries like China successfully turned critical issues like Tibet into a non-issue. Even Pakistan plans to incorporate Pakistan Occupied Kashmir (PoK) by going for the China-Pakistan Economic Corridor (CPEC). However, Pakistan has managed to keep the pot boiling in the Kashmir Valley and to bring undue international attention. India does not seem to have a plan to deal with the Kashmir turmoil. The very rational of Pakistan army, the most important functioning institution of Pakistan, is to wage war against India. Often, it is suggested that this army does not want amicable relations between these two countries. If relations between these two countries become normal then how would Pakistan army justify its existence and the massive resources it corners in Pakistan? The Pakistan army at present decides all important foreign policy issues, including towards India. It's hardly surprising that this policy is full of hostility. Of late, democracy in Pakistan has been on the backfoot and the control of Pakistan army is increasing. In fact, some Pakistani scholars go as far as to suggest that Pakistan has actually never seen democracy. It has only seen military rule of various kinds and extent.
The way the Pakistani State is structured at present and the way it functions, it is impossible to expect any responsible behaviour from them. The presence of nuclear weapons in the hand of this rogue state has further complicated the situation. In the past, it was suggested by some that if India responds militarily then it would be walking into the trap laid by Pakistan. The fear of war escalating into nuclear conflict is also cited. But then it would mean that India should prepare itself to take terror blows from Pakistan at regular intervals. This would be a policy of pusillanimity.
A section in India has argued that India should do much more for its neighbours, without expecting any reciprocation. Possibly, following this policy India gave the one-way most-favoured nation (MFN_ status to Pakistan. Unfortunately, Pakistan construed it India's desperation to buy peace. In Pakistan, the debate is still on about how it can give the MFN status to India, a preferred enemy state.
India on its part has still not decided whether Pakistan is an enemy state or not. In fact, one of the Indian Prime Ministers is known to have weakened the covert capability of the country against Pakistan. It's quite clear that the country has no consistent policy towards Pakistan. We look for options when attacked but start yearning for peace after a few days. But it seems Pakistan has decided that it will not let us live in peace.
No knee-jerk reaction is warranted in the aftermath of the Uri attack, but a well-thought-out reaction is needed to tell Pakistan that its proxy war would no longer be tolerated. It's quite ironical that the Rafale agreement that has been hanging fire for 16 years was finalised after the Uri attack. Similarly, this attack should also act as a trigger to expedite Modi's Make in India programme in modern weapon systems.
It has been argued that India is no Israel or the US to take action in such cases. However, both these countries are able to act against their adversaries because they enjoy overwhelming military superiority. Hence, now onwards India should also work to create this overwhelming conventional military superiority vis-à-vis Pakistan, if not China. Only this will deter Pakistan from its regular terror incursions and not so-called "diplomatic isolation". Diplomacy often gives only legal cover to military actions and this is where India needs to improve its capability.
The much-talked-about manipulation of the Indus Water Treaty also seems to be no option at present in the absence of suitable infrastructure to control the water flow. However, this is also one area where India can start doing the needful so that it can tighten screws as and when required.
Last but not the least, India should also be ready with a post-Pakistan strategy in case this happens either because of the domestic situation in that country or because of a war.
It's foolish to think that a long-standing problem like Pakistan would have a quick-fix just because a BJP-led government is in power. India will have to create overwhelming asymmetry in conventional power, use the Indus Water Treaty as a pressure point and keep a post-Pakistan plan ready for effective solution of Pakistan-engendered security problems. It may take some time, but the Indian government should start working towards it and there should be a consensus on this issue across the political divide. It should not necessarily be the agenda only of any one political party.
The writer is an Associate Fellow, Institute for Defence Studies & Analyses, New Delhi
Top News
Resignation sent to Governor Banwari Lal Purohit for final a...
The attack comes days ahead of the celebration of the 75th I...
Abdul Rauf Azhar, born in 1974 in Pakistan, was sanctioned b...
Four people, including two women, arrested