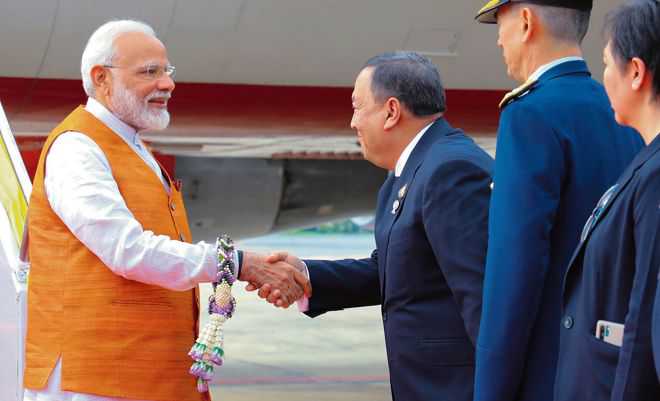 Shyam Saran
Former foreign secretary and senior fellow at centre for policy research
The term Indo-Pacific as an interconnected space has become current only within the last decade. Hitherto, the Indian and the Pacific Oceans were considered as separate categories, each with its own characteristics and challenges. With the emergence of East Asia, South East Asia and later China, as dynamic economies and trading powers, the Asian littoral of the Pacific Ocean gathered greater salience and the term Asia-Pacific reflected this. India, though an Asian power, was not included in the definition of Asia Pacific. When Asia Pacific Economic Conference (APEC) came into being, India did not find a place in it. The term Indo-Pacific reflects the growing salience of India's economic and security profile, extending beyond the Indian Ocean into the western Pacific. The most dynamic component of India's external economic relations is the East and South East Asia. India's security partnerships with countries in this region, including the US, Japan, Australia and several ASEAN countries, have also expanded significantly. If China is said to becoming an Indian Ocean power, India is becoming a Pacific power. It is the inclusion of India which provides the rationale for the use of the term Indo-Pacific but there is still no general acceptance of this term. It remains contested. There are also certain lingering ambiguities relating to it.
While the inclusion of India in what was earlier known as Asia-Pacific is accepted, there is still no consensus over the geographical scope of Indo-Pacific. The US describes it as stretching from 'Bollywood to Hollywood', which means that it does not stretch beyond the western shores of India. This is also the area which falls under the responsibility of the US Pacific Command. Beyond this to the west, from Pakistan onwards, is the responsibility of the US Central Command. This is also the definition adopted by Australia, which sees Indo-Pacific as the geopolitical space book-ended by itself and India. India and Japan have put forward a more expansive view of Indo-Pacific, stretching from the Pacific Ocean littoral to the eastern shores of Africa. This may suggest a more inclusive definition but is devoid of real operational significance. In practice, India, too, acts as if, at least for the present, it is the more limited version of the platform which is relevant. India's insistence that Indo-Pacific must acknowledge 'ASEAN centrality' and be taken forward through ASEAN-led institutions and processes must be understood as mostly rhetorical. In taking this stand, India was responding to concerns within ASEAN that the Indo-Pacific concept may end up marginalising its economic and security role in the region.
China and Russia have reacted negatively to the new terminology because they perceive it as directed towards containing their presence and influence in the western Pacific. They link Indo-Pacific with the emergence of 'Quad', which is constituted by India, Japan, Australia and the US to undertake consultations on security issues in the region and to promote closer cooperation. According to them, Quad is emerging as an 'Asian NATO' aimed at containment of China and Russia. As with the concept of Indo-Pacific, Quad constitutes a new element in the regional security architecture only because of India's inclusion. The other three partners are already allies of the US and participate in the military alliance led by it. India has so far resisted the institutionalisation of Quad, arguing that it is a consultative forum no different from others it is a part of, such as the India-China-Russia trilateral, BRICS or even the Shanghai Cooperation Organisation (SCO). In fact, the SCO has an explicit security agenda which Quad has avoided so far. There is no doubt that for each of the Quad countries, it is China which constitutes the key challenge and the group coming together is a countervailing coalition aimed at constraining the expansion of Chinese power.
While India has close security arrangements bilaterally with each of its Quad partners, these have not been multilateralised. They proceed on parallel tracks and not on an integrated track, as would be the case in a full-fledged military alliance. The Malabar maritime exercises are an exception since India, the US and Japan participate in them to develop operational coordination among their naval forces. Australia has so far not been invited to these exercises. When it does, it will signal a deliberate upgrade of Quad. India has been shy of conveying that Quad is an essential component of its Indo-Pacific strategy but one cannot see how this may be camouflaged. As Chinese presence and naval activity in the Indian Ocean expands, India may have no option but to upgrade Quad. By participating in a recent Quad meeting at the ministerial level for the first time, India is acknowledging that its own economic and naval capabilities are not sufficient to match Chinese power. It needs powerful partners.
India has to balance this objective with its declared Act East policy which has relations with ASEAN at its centre. ASEAN members have a dense economic and commercial relationship with China. They are also fearful of China's growing power. They do not wish to be caught in a cross-fire between China and the US or China and India. It is for this reason that India has pursued a policy which may seem ambiguous and even contradictory at times. Deeper partnership with ASEAN makes sense because this strengthens ASEAN's room for manoeuvre vis-à-vis China, and this suits our interests. Projecting Quad as only a consultative mechanism without any intent to downgrade the role of ASEAN is also aimed at dispelling the perception that it is likely to embroil its members in a growing confrontation between the US and China and India and China. As the power of China grows, however, Quad is likely to figure more prominently in Indian strategic calculations.
Top News
After a wait of over two years, India will have a full-fledg...
The petitioner contends that the automatic disqualification ...
Paid price for raising Adani issue: Congress | 'Anti-OBC, fe...
Gandhi, representing Wayanad parliamentary constituency in K...