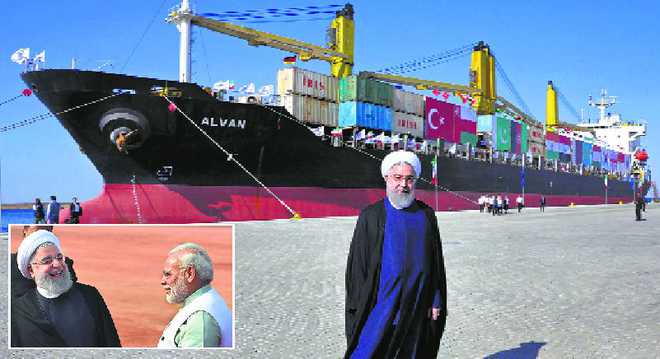 Anita Inder Singh
Founding Professor, Centre for Peace and Conflict Resolution in New Delhi
WHAT New Delhi says and does can be two different things, especially when it comes to confronting Donald Trump's threat to penalise countries importing oil from Iran. When he announced sanctions against Iran last May, Foreign Minister Sushma Swaraj declared that India only followed UN sanctions, and would not follow unilateral American sanctions on Iran. But only a few days later, the State Bank of India warned Indian companies to reduce imports from Iran and told refiners it could not support Iranian purchases as long as sanctions lasted. Then, after Trump slammed Iran in his speech to the UN General Assembly on September 25, Swaraj told Iran's Foreign Minister, Mohammad Javad Zarif, that India would continue importing oil from Iran.
India has told the US that it would not cut oil imports from Iran. With good reason. India imports 83 per cent of its oil, and Iranian oil is cheaper than that from some other countries. Iran is India's third biggest oil supplier. But India's biggest oil-buyers have not booked any cargoes from Iran for November, potentially cutting oil imports to zero.
No quick fix
Washington, however, will not exempt India from penalities if it continues to import oil from Iran.
There is no quick fix for India. And there is more to Indo-Iranian ties than oil imports. But what will India's friends do to help it to shore up its economic interests in Iran? India secured Iran's agreement to develop the strategically important Chabahar port and has invested $500 million in it. For India, Chabahar, situated in the Sistan-Balochistan province of Iran and lying outside the Persian Gulf, could become a gateway for trade with Afghanistan and Central Asian countries.
For nearly two years, Japanese participation in the development of Chabahar was welcome to India. It would have speeded up implementation of the project and enhanced its political clout. But Japan was always cautious about investing in Chabahar and withdrew from the project in November 2017. At that time it also started cutting oil imports from Iran. It could afford to do that. Japan relies heavily on oil imports from the Middle East, though Iranian crude accounted for just 5.3 per cent of its total imports last year. At another level, an indication of Japan's changed stance on Chabahar came when the project failed to find a mention in the India-Japan joint statement issued after talks between Japanese Prime Minister Shinzo Abe and Prime Minister Narendra Modi in September. One outstanding fact may explain Tokyo's change of mind. As a military ally of the US, Japan has to think in terms of US pressure on sanctions against Iran.
Chabahar may slip away
If India's ties with Iran suffer because it goes along with American sanctions, the country that will gain the most is China. With Japan out of the picture, India could lose the chance to develop the southern Iranian port of Chabahar. China has an interest in Chabahar. Last March, Teheran announced that it had offered China and Pakistan participation in the Chabahar project. China has already developed the Gwadar port in southwest Pakistan as a key link in its ambitious Belt and Road Initiative. Just over 100 miles separate Gwadar from Chabahar. So China would gain a major vantage point in the area around the strategically vital Strait of Hormuz and Arabian Sea if it were to develop Chabahar as well.
China plays with several cards simultaneously. Already the biggest buyer of Iranian oil, it is not expected to heed US demands. In fact, as part of Trump's trade war, an independent Chinese refiner has suspended crude oil purchases from the US and has turned to Iran for oil supplies.
For Iran, China is the one country that matters most to its oil economy. China, the world's top crude-oil buyer, imports more than a quarter of Iran's oil exports. China's position on Iranian oil sanctions has been consistent over the years. It has usually defied US sanctions with the intent of advancing its own business interests: cooperation with the US has been a secondary priority.
Sino-Iran rail ties
Economic ties between China and Iran are also growing. Soon after the Trump administration announced that it would reinstate sanctions, Teheran and Beijing. announced the launch of a new rail link between Bayannur, in China's Inner Mongolian Autonomous Region, and Iran. The line will speed up cargo shipments to China, as a part of Beijing's $ 124 billion Belt and Road Initiative. It could also be one of the first steps taken by China to finance billions of dollars' worth of projects in Iran to build railways, roads, ports and power plants.
Trump's sanctions can only push Iran and China closer together. The Chinese have invested in Iran for the past 30 years and have made themselves appear indispensable to the Iranians. Washington fails to appreciate the strength and scope of the Sino-Iranian tie. China is one of Iran's leading trading partners. Twelve per cent of Iran's imports come from China, 2.3 per cent from India. Seventeen per cent of Iran's exports go to China, 8.4 per cent to India. Bolstered by the flow of Iranian oil, Chinese-Iranian trade jumped by 20 per cent in 2017 to $37 billion.
New Delhi, which enjoys a close economic and military partnership with Washington, must contend with the capacity of the US to intervene in Iran in a way that does not suit India. Will India endanger its good ties with the US for Iranian oil? Or will it be able to persuade the US that only their common rival — China — would benefit from American sanctions on Iran? With India dependent on the US, the question is whether New Delhi will be able to persuade Trump to exempt India from buying Iranian oil or bow to Washington's tough and unreasonable demands.
Top News
Suicide bomber blows himself up in mosque packed with worshi...
AIADMK leads demand for passage of Women's Reservation Bill ...
The bench takes note of the submissions by lawyer ML Sharma ...
VB sleuths started assessment of Soni's farmhouse at D R Enc...
Hindenburg stands by its last week's report that said its in...