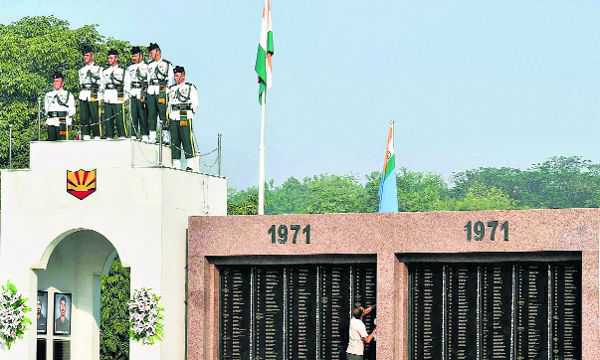 Chander Suta Dogra
Senior Journalist & Author
India's armed forces just marked the annual anniversary of the 1971 Indo-Pak war with 'Vijay Divas' celebrations which are held each December in countless cantonments across the country. Now, greetings also float on veteran WhatsApp groups.
It was undoubtedly Independent India's finest moment when arch enemy Pakistan was forced into a humiliating surrender, sealed and signed on December 16, 1971, amidst scenes of joy in Dhaka (then Dacca). Awards and accolades are recalled and veterans relive those thrilling operations on the Eastern and Western fronts when the dogs of war were let loose with devastating effect.
Inevitably, the conversations turn to what is now a 47-year-old refrain: Why did our government give up 92,753 Pakistani prisoners of war (POWs) — a great bargaining chip — in such haste? And, why were they repatriated without ensuring that all our POWs have been returned?
No defence view at Shimla summit
There is justifiable bitterness that no one from the defence establishment was consulted prior to taking the decision to repatriate these men. It was a purely political call. "No military officer or expert was included in the Indian team (at the Shimla summit on July 2, 1972) which many felt led to inadequate weightage given to strategic considerations in the negotiations", acknowledges the unpublished Official History of the war, for restricted use.
India's military, traditionally insulated from strategic decision-making in the higher echelons of government, has for the most part failed to appreciate that for the then political leadership, securing its political objectives was far more important than a bunch of prisoners or a few thousand kilometres of captured territory, which it subsequently returned to Pakistan. Both these have been sore points for India's military since then. India took 92,208 prisoners from the Eastern front and 545 on the Western front. Pakistan declared that it had 616 Indian POWs, but quietly held back a few.
B'desh recognition was India's focus
Pakistan wanted its men back. For India, a far greater urgency, however, was to get the world to recognise Bangladesh as a separate nation. Along with that, it was imperative that Shiekh Mujibur Rehman, who was then awaiting the gallows in Pakistan's Mianwali jail for treason, be returned to Bangladesh to take charge of the newly created country. The political goal — liberation of Bangladesh — for which Prime Minister Indira Gandhi had decided to fight a costly war with Pakistan in the first place was in danger of slipping away unless Bangladesh got its leader back and took its place in the international community as a sovereign nation.
So, the 92,753 POWs were, indeed, used as a bargaining chip, except that the deal was not in exchange for a lasting settlement on Kashmir, as everyone was hoping for, but for the release of Rehman. By the time the two countries signed the historic Shimla Agreement on July 2, 1972, Indira Gandhi had achieved both objectives. Rehman had been released by Pakistan's new Chief Martial Law Administrator Zulfikar Ali Bhutto, and 76 nations, excluding Pakistan and China, had recognised the new nation.
India's military seethed at being made to release of all Pakistani POWs because no one shared with them the details of the back-channel deal struck as early as January 1972, between Bhutto and Indira Gandhi. It is another thing that the repatriation of the POWs was delayed by two years as it got linked with the refusal of Pakistan to recognise Bangladesh. Bhutto knew that sooner or later, the 92,753 POWs would return. His real concern was limited to 195 officers whom Bangladesh wanted to put on trial for war crimes. Pakistan was worried that India would hand over these POWs, mostly senior officers, to Bangladesh who had declared that these men should be held accountable for their 'actions of genocide' and subjected to a Nuremberg-type trial.
India's predicament was that since the POWs had surrendered to the Joint Command of Indian and Bangladesh forces, the latter, which was now an independent nation, had to be taken on board while repatriating them. Bangladesh refused to talk to Pakistan unless the latter accepted it as a sovereign country. In retaliation, Pakistan began to treat the Bengalis stranded in West Pakistan as hostages and in July 1973, declared that if its 195 POWs were made to face trials, then it would try 203 Bengali officers in its custody for treason and sabotage.
It is reasonable to assume that in anticipation of such an eventuality, Pakistan had quietly held back some Indian soldiers as bargaining chips or hostages, if India did actually move to transfer the 195 Pakistani officers to Bangladesh for trials. The need for a swap, however, never arose because a subsequent agreement between the three countries in August 1973 led to the repatriation of all POWs. The second deal was the recognition of Bangladesh by Pakistan in exchange for its 195 POWs wanted for war crimes. The Indian 'bargaining chips' lost their value and are believed to be languishing in Pakistani detention centres and jails since then.
India's missing soldiers
It was only by 1974-end, when the issue of repatriation of POWs from all three sides had been closed, that the Indian Government realised that some of its men had been detained, when information began trickling in about their presence in Pakistani prisons. It was in December 1978, seven years after the war, that the Indian Government first acknowledged that 40 Indian soldiers missing since the war ended, are actually believed to be in Pakistan's custody. The number went up to 54 when more evidence filtered in during the eighties. It includes 22 pilots of the Air Force. In 2010, the list tabled in Parliament was expanded to 74 by including the names of soldiers captured during peace time from near the LOC and the IB.
It is now known that Pakistan held these missing soldiers under the category of 'security prisoners', an euphemism for spies. Such a re-categorisation freed Pakistan from the charge of violating the Geneva Convention, according to which all POWs have to be declared and repatriated after the end of hostilities between warring countries. Pakistan has consistently denied keeping these men and India has done little more than wring its hands in helplessness. As for the military, it has given up these men as 'killed in action' and treats them as martyrs. They were given posthumous bravery awards, their units built memorials for them and everyone has moved on.
It is worth remembering that for the handful of families of these missing soldiers, the war continues — in their heads. They don't know who to believe: the political establishment which tables the names of their loved ones in Parliament as missing defence personnel; or, the military, in whose records they are believed to be killed. The pain of living through this absurdity is especially felt on Vijay Divas each year. It is an unfinished business of the war, for which there is no closure even after all these years.