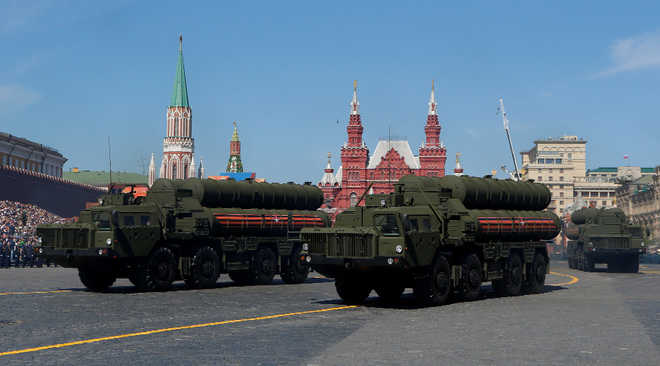 Anita Inder Singh
Professor at Centre for Peace and Conflict Resolution, New Delhi
THE S-400 deal reflects India's understandable wish to uphold its sovereignty in foreign policy and to modernise its air force in defiance of the US sanctions on Russia. Reports that India delayed the signing of the deal because it hoped to get America's approval suggest that sanctions or no sanctions, the wish for close ties with America will hang over India's ties with the US and Russia like a cloud for a long time to come.
For Russia, the $ 5 billion sale represents one of the biggest arms deals made with one of its best customers since 1971. The agreement reflects Russia's traditional focus on arms exports and its ability to confront stiff competition from the US and European countries in India.
India's defiance of the threat of US sanctions highlights the rapidly changing geopolitical landscape of Asia.
Over the last decade, the strengthening of Indo-US ties against China have run parallel to the expansion of Russia's ties with India's foes, Pakistan and China. In 2014, Russia broke a 40-year-old arms embargo on Pakistan. Moscow told an unpleasantly surprised New Delhi that if India could buy American arms, there was no reason why Pakistan could not buy Russian weapons. The next year, China became the first country to be offered the S-400 by Russia. Beijing lost no time in accepting a good offer and Russia started delivering the missile system to China earlier this year.
On September 23, 2016, Russia carried out its first joint military exercise (Friendship 2016) with Pakistan. The drills were held less than a week after terrorists — allegedly trained by Pakistan — killed 18 Indian soldiers in the military base of Uri in Kashmir. Moreover, they took place in Gilgit-Baltistan, which is located in Pakistan's northernmost territory on the border with Pakistani (Azad) Kashmir, but which is claimed by India. This was despite assurances from Russia that the drills would not take place on contested turf. New Delhi angrily asked Moscow to choose between Pakistan and India.
At the BRICS summit in 2016, Russia spoke in two voices. It condemned the cross-border terror attack on Uri. But, at the same time, Russia did not support India's call for condemning Pakistan's 'state-sponsored terrorism' in the final BRICS declaration. Instead, Russia went along with China, which used its influence to exclude any reference to Jaish-e-Mohammad, which had allegedly mounted the assault on Uri. India came away from the summit looking empty-handed in its anti-terrorist campaign.
Seen through Moscow's anti-US lens, the arms deal with Pakistan, a former US ally, and its silence about Pakistani-trained terrorists trying to oust the US from Afghanistan, represented a symbolic victory for Russia.
All the more so — at a time when the US was declaring its 'pivot' to Asia. Between 2014 and 2016, India's ties with Russia appeared to be fraying as they were at variance over the role of the US in Asia. In 2014, India joined the US for the first time in naming the contested South China Sea as an area in which maritime freedom should be preserved.
America's pivot to Asia could never suit Beijing and Moscow. Russia and China wish to curb its influence in Asia generally and view the US as a destabilising force in the South China Sea. That was why Russia supported China's rejection of the July, 2016 ruling of the Permanent Court of Arbitration, which did not recognise China's claim to strategic islands in the South China Sea. In contrast, India (like Japan) asked China to respect the court's judgement. Sino-Russian naval exercises, which included "island seizing", followed in early September. Sounding the alarm in China's neighbourhood and in Washington, the exercises reflected the desire of Moscow and Beijing to challenge the US influence in Asia.
The fact remains that China's expansionist tendencies are one of India's main concerns as the two share a disputed border. And the US is the only country that can contain China in Asia.
Indeed, implicit in India's 'Act East' policy is the assumption that America's continuing primacy in Asia is necessary to counter an expansionist China. Launched at the East Asia Summit in Myanmar in November, 2014, the 'Act East' policy hailed America's pivot to Asia. In January, 2015, Prime Minister Modi stated that 'when I look towards the East, I see the Western shores of the United States.'
Especially since Modi became PM, India has sought and benefited from extensive US economic and technological investment. This has been used to push its rise as a major Asian power and to retain its maritime edge in the Indian Ocean area. Most of the $14 billion worth of arms and technology that India has bought from the US over the last decade increased its capacity to deter China from snatching its north-eastern territory and in the Indian Ocean. As recently as last month, India and the US signed the Communications Compatibility and Security Agreement (COMCASA) which would allow American manufacturers to sell high-tech equipment such as armed surveillance drones to the Indian market. The drones would help India's navy to monitor Chinese activity in the Indian Ocean. Earlier, the Logistics Exchange Memorandum of Agreement, signed on August 30, 2016, aimed at enhancing interoperability by allowing American aircraft and ships to land at Indian ports. India, in turn, could repair military hardware at American bases in the Indian Ocean.
Whether or not India has to pay the price of sanctions for acquiring the S-400 from Russia, it cannot boast about its democratic partnership with the US. The S-400 deal places India in the uncomfortable company of its rivals, China and Pakistan, who are all-weather friends, and of the authoritarian China and Russia, who, unlike India, want to see the US out of Asia. The Russian anti-missile system will undoubtedly shore up India's defences. But there will be no free lunches for India, in Moscow or in Washington.
Top News
27 outfits attend all-party meeting | Flag 14 discussion poi...
Hindenburg sticks to 'fraud' charge | Share prices slide fur...