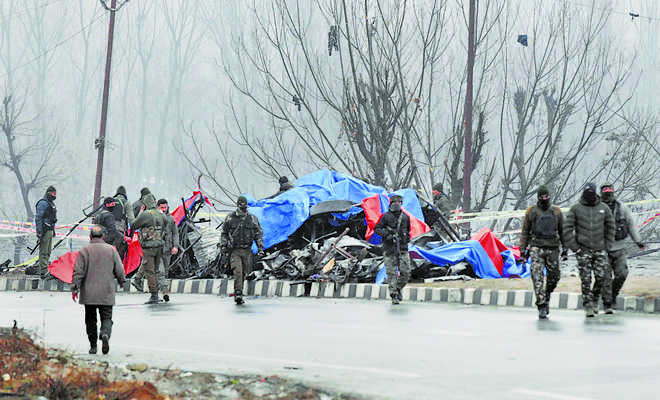 Vappala Balachandran
Ex-Special Secy, Cabinet Secretariat
INTELLIGENCE professionals are always puzzled when charges of intelligence failure are hurled at them even when they had already reported broad trends of subversive activities to the executive branches. A day after the Pulwama attack, Jammu and Kashmir Governor Satya Pal Malik said there was no intelligence "about any of them (the youth) being trained as a suicide bomber". The Governor's adviser, K Vijay Kumar, also told the media that "there was no specific intelligence input" (about the suicide car bomb attack).
Exact and timely alerts are rare. The 9/11 Commission found that the CIA had sent 40 highly sensitive President's Daily Briefs (PDB) between January 20 and September 10, 2001, to then US President George W Bush on Osama bin Laden's terror preparations. The June 12, 2001, alert even mentioned Khalid Sheikh Mohammed recruiting people to travel to the US to meet colleagues. It was only known later that he was the chief 9/11 conspirator. Similarly, there were about 16 alerts from 2006 onwards on the possibility of a major attack on Mumbai, some of these mentioning sea-borne route and targets. Yet these attacks could not be prevented due to different reasons, including what the 9/11 Commission had called 'failure of imagination' on the part of the executive departments which did not convert 'trends' into local preventive measures. While airline security was neglected in the US, coastal protection measures were ignored in India.
Things are more difficult in prolonged insurgency situations such as in Kashmir that are sustained with foreign help; the battle of attrition comes in waves, interspersed with periods of calm. One of the reasons for the impression of intelligence failure is the inability of the ground action groups to convert national or tactical intelligence inputs into local action. This is aggravated by the practice of segmenting terrorists or groups by ground action units or even by analysis branches, pigeonholing them on the basis of features of past terrorist acts.
Intelligence analysts and supervisory officers should not have pre-determined assessments based only on past experience. For example, a retired DGP (J&K) was quoted as saying that Kashmiris were not known to prefer suicide bombing, like what Adil Ahmad Dar had done, due to their religious orientation. He should have known that the emergence of Islamic State (IS) altered the game all over the world. He should also have known that the IS or its ideology was eyeing the Kashmir Valley as a ripe place to enter. Another report said that the authorities were surprised that Dar used a car-borne improvised explosive device (IED), which was discontinued by Hizbul Mujahideen after 2005 due to civilian casualties.
All these impressions were unwarranted had the local authorities studied global terrorist trends. This writer had concluded his article on the Islamic State (The Tribune, January 7, 2019) by mentioning an incident that took place on December 28, 2018, when some Kashmiri youths had hoisted the IS flag on the pulpit of the 14th-century Jama Masjid, indicating their intent to jump on the IS bandwagon. I had also mentioned how IS had influenced three Indonesian families to sacrifice their children in a church suicide bombing in Surabaya on May 13, 2018. In Indonesia, too, this was shocking as local terror outfit Jemaah Islamiyah had permitted only men to carry out suicide bombing.
A report from Mumbai, quoting the Intelligence Bureau, said Dar was detained six times between September 2016 and March 2018, but was not charged. This indicates that we are entering a phase experienced by Western agencies. Sixteen terrorists responsible for seven vehicle-mowing incidents — from Nice (France) on July 14, 2016, to New York on November 1, 2017, killing 140 — had been on the radar of local law enforcement agencies. The perpetrators of the January 2015 Charlie Hebdo killings and the November 2015 Paris killings were on the police radar. In the UK, information on Khalid Masood (Westminster Bridge incident), Salman Abedi (Manchester Arena), Khuram Butt & Youssef Zaghba (London Bridge) was available with the police. Yet these incidents could not be prevented.
How then do we meet the challenge? Human intelligence has always been an issue in J&K. We try to resolve it with technical methods. In my lecture to the Singapore Police officers on November 7, 2017, I had quoted the European experience that 'bulk'interception was not producing results as analysis was not catching up with the huge volume of information due to a shortage of analysts. Speculation that Artificial Intelligence (AI) would solve the problem of the technical information glut has not yet been proved correct. It is still at a nascent stage. On the other hand, experts such as John Chirhart, federal technical director of US security firm Tenable, quoted by The Guardian, had warned that the human touch should never be underestimated when assessing intelligence: "Humans are still a vital part of the process because they provide something computers can't."
Tragically, this is ruled out in J&K due to the alienation of the youth after the NDA assumed power in 2014, treating protesters throwing stones as Pakistani terrorists. Former NDA minister Yashwant Sinha, who led the Concerned Citizens Group (CCG) to the Valley a number of times, has been talking about the 'dismay and despondency' growing among the public. "Even people who used to talk reasonably earlier were using the language of the militants and separatists... The proximate reasons for this not only seemed to be lack of dialogue with Kashmiris, but also because tourism had plummeted, the hotel business was in dire straits, there was flight of capital and an overall economic downturn leading to greater unemployment," he said. In the process, Kashmir became a classic case of home-grown insurgency when the public started obstructing security forces during their operations, facilitating easier access to foreign-based jihadi groups.
One recalls how in 1947 our army was greatly helped by the local people, including National Conference cadres, who lent their manpower and vehicles to chase away the Pakistani invaders.
The writer was a member of the 26/11 terror attack inquiry committee