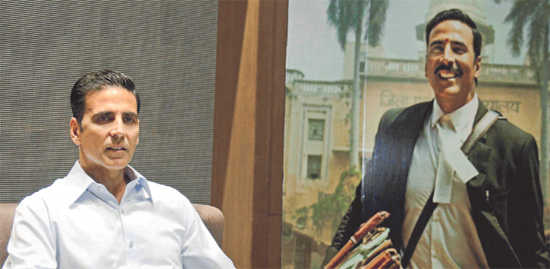 JUST as one was lamenting the trend of vigilante groups attacking creative freedom through physical coercion, like the Karni Sena displayed against film-maker Sanjay Leela Bhansali last month, another alarming instance of infringing upon artistic liberty has reared its head.
In what can only be termed as a perplexing development, the Bombay High Court ordered the makers of the film Jolly LLB 2, to delete four shots / scenes, which apparently ridicule the legal fraternity and show lawyers and courts in unflattering light. The film-makers, who had moved the Supreme Court against the Bombay High Court order withdrew their appeal and agreed to the cuts in order to ensure that the film is released on February 10, as scheduled. What is astonishing is that the Bombay High Court firstly agreed to entertain a plea by a Nanded-based advocate against the film, claiming that Jolly LLB 2 portrayed the Indian legal system adversely. The court set up a three-member committee to review the film, even after it had received the CBFC certificate. Based on the recommendations of this Committee, ordered the film-makers to delete the four shots/scenes perceived as offensive towards lawyers and courts. The most ominous concern is that is India now going to permit just about anyone to become a super censor — using legal or extra-legal means? By this logic, what is to now stop other professions, groupings or communities from claiming that a film or a book or any piece of art portrays them negatively? Doctors, policemen, politicians, chartered accountants, government servants, waiters, vegetable vendors, shop-keepers, journalists, bar-dancers, eunuchs, teachers, drivers, corporate executives, spiritual gurus, take your pick. Which film does not have characters, scenes, situations that don't ridicule or attach negativity to a profession? In 2009, the barber and hairdressers' community led by the Salon and Beauty Parlours Association protested against a Shah Rukh Khan-Irrfan Khan starrer, forcing the producers to change the title of the movie from Billu Barber to Billu, apparently because they found the reference objectionable. The matter was mutually settled between the film-makers and the association, without the use of any violence or the legal route. The precedent set was clearly wrong but it did not have the force of the law behind it. The Jolly LLB 2 matter, however, has now created a legal precedent, and might have legitimised the pursuit of such frivolous objections. Scenes/shots that have been ordered to be removed: a) Shots from a scene in which a judge, played by actor Saurabh Shukla, ducks and crouches behind his chair. b) Shots from a scene where a shoe is actually thrown at the judge c) Shots in a scene in which a lawyer signals his client to throw a shoe at the judge and d) Modification of dialogues during an argument in court which are satirically derogatory towards lawyers. Which of these scenes or shots are so derogatory that they should invite charges of contempt of court or of undermining the majesty of the law or judiciary? Given that the film is a fictional story, why should it not have complete liberty in the kind of scenes, characters and dialogues it chooses to depict, so long as it is within guidelines of the CBFC, the official body to oversee film certification? Since the overall tone of the film seems to be comic (if the trailers and the prequel, Jolly LLB are anything to go by), why should lawyers be thin-skinned and object to humorous depictions of members of their tribe? If it is a film with realistic overtones, why should they claim exemption from negative portrayal of lawyers and judiciary, if that is the demand of the story? Are courtrooms and the law completely free of black sheep, miscarriage of justice and extraordinary incidents or situations? Why should a mere entertainer be considered as lowering the dignity of the profession and legal systems, when we read of several true-life cases in which the courts and lawyers have not exactly covered themselves with glory? Why should it be treated as a profession that is any different from other respectable occupations or exalt its status that it needs to be protected from assaults of popular fiction?
The courts, which have hitherto played a sterling role in protecting creative freedom, in a single stroke might have made the creative fraternity vulnerable to harassment by an over-sensitive person offended by a perceived slight. If the grounds of dishonour to any profession are sustainable legally, we could be looking at sniper attacks on artistic liberty like never before. The legal fraternity should take a lesson from two most-reviled professions — politicians and policemen. Indeed corrupt netas and bad cops are mercilessly lampooned. Yet, very rarely do you hear members of these two professions targeting film-makers legally, claiming defamation. Today, when even the need of contempt laws is being debated, it is ironical that a fictional film has been forced to cut scenes to appease lawyers. Surely, contempt of creativity.
The writer is a Pune-based film-maker
Top News
Harried passengers take to social media to vent their ire at...
Lapid had stirred a massive controversy by terming Vivek Agn...
Final turnout to be higher as voting process continued at po...
DigiYatra will provide seamless entry and embarkation proces...
His song 'Mahakaal' removed from YouTube after 19 hours