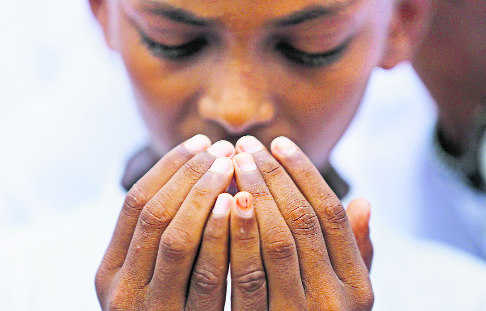 Avijit Pathak
Professor of Sociology at JNU
What does it mean if a veteran filmmaker like Adoor Gopalakrishnan is asked by a BJP leader in Kerala to go to the moon, if he is not comfortable with the chanting of Jai Shri Ram? Or, for that matter, when Irfan Ansari — a Congress MLA from Jharkhand — is reminded by a BJP minister that his roots are in the legacy of Ram, not in the tradition of Ghori and Ghazni, and hence he must chant Jai Shri Ram? Of course, this is the new normal; almost every day in some part of the country the act of chanting Jai Shri Ram is reducing itself into an act of coercion and violence — an attempt to humiliate the minorities, silence the dissenters, and show them their 'location'.
Have these self-proclaimed protectors of Hinduism ever bothered to look at the Upanishads (the poetry of the illuminating Self) and the epics (the nuanced narrative of human emotions and longing — love and war, devotion and power, sacrifice and selfishness, conjugality and brotherhood, and dharma and samsara); reflect on the spiritual traditions developed by the likes of Meera, Nanak, Kabir and Ramakrishna? Have they practised the intricacy of what a profound spiritual journey is all about — mindfulness and inner contentment as the Buddhist monk Thich Nhat Hanh talked about, love and compassion as Jesus embodied, or the ability to feel as Swami Vivekananda articulated in the Chicago Religious Conference, deeper meaning of the rivers with distinctive names merging into the ocean, and becoming the infinite?
Hindutva, or for that matter any fundamentalist doctrine, is against the spirit of religiosity or spirituality — the ecstasy of oneness amid the abundance of the infinite. Instead, religion becomes loud and vulgar — a hyper-masculine assertion of identity, and the resultant psychic insecurity or fear of 'others' (recall Islamic fundamentalist Ayatollah Khomeini with horror). What further adds to this cultural pollution is the arrogance of power. Power makes you afraid (social psychologists would tell you that all authoritarian leaders — from Stalin to Hitler to even Indira Gandhi — tend to be lonely, suspicious and fearful) of losing what you hold; paradoxically, it makes you more and more insecure. Hence, what we are witnessing in contemporary India is the ultimate irony — the might of majoritarianism; yet, the fear of the minorities. Silence Mahua Moitra in Parliament; or force people to chant Jai Shri Ram; or pamper yet another group of intellectuals to condemn the likes of Ramachandra Guha, Aparna Sen and Ashis Nandy for their dissenting voices. Why is it that the ruling regime with such mind-boggling electoral victory is so insecure?
What is further worrisome is that with a systematic cultural/spiritual decay in our society, we have begun to internalise this falsehood and violence. There is nothing wrong in using the metaphor of Ram to describe something that symbolises the spirit of devotion and sacrifice and well-being of people. Simple/ordinary people often greet one another by using the metaphor of Ram; and even Gandhi spoke of 'Ram rajya' as some sort of a vision for a decentralised, eco-sensitive egalitarian society based on love and austerity. But then, the proponents of Hindutva have nothing to do with the beauty and poetry of this expression. Instead, for them, the obsessive Jai Shri Ram is an act of coercion, or a brute demonstration of 'faith' —almost like a piece of loud music that, far from illumining your soul (the way Meera's bhajan does), makes you gross and toxic.
If you are truly spiritual, or if you engage with the Ramayana, and see multiple possibilities in all the epic characters, you would never be loud; you would never be hyper-dramatic to prove that you are religious. Religiosity manifests itself in silence, not noise; in love, not hatred; in the rhythm of existence, not aggression of an identity-marker; and in simple/ordinary things — enjoying a cup of tea with absolute mindfulness, meeting a neighbour suffering from cancer, and touching his forehead, and seeing an amazing sunset with your five-year-old daughter. As Zen masters would say, there is no other enlightenment; it is here — at this moment!
In the age of loudness, propaganda machinery, falsehood and arrogance of power, everything loses its meaning. Hence, as we are led to believe, lynching is patriotism, the reduction of the act of chanting Jai Shri Ram into a sword of hatred is the tradition of Hinduism, vulgarity is aesthetics, sin is salvation, mass killing is prayer, and democracy is majoritarianism.
There seems to be no easy way out from this collective decadence. Is it that in the representatives we elect we find ourselves? Is it that the violence in the name of religion was hidden in our blood, and now it has got the right environment to manifest itself with all its ugliness? Is it that we refused to learn anything from Gandhi's pilgrimage to Noakhali, Manto's heart-breaking narratives depicting the implications of communal violence, and the danger of religious nationalism (with simultaneous authoritarianism combined with the militarisation of the consciousness) as the story of Pakistan demonstrates so clearly?
Face it. It is a sick society. Acknowledge it. And then, we can find a path.
Top News
The voting in the five states was held between November 7 an...
Defence acquisition projects include procurement of 97 Tejas...
India has constituted a probe team to investigate allegation...
Nikhil Gupta, 52, has been charged with murder-for-hire in c...
GDP expanded by 6.2 per cent in July-September quarter of 20...