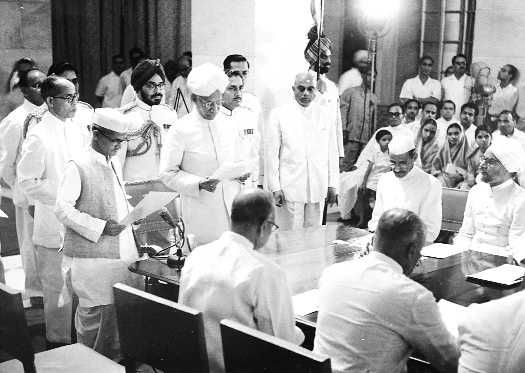 IN early 1965, before the war that year with Pakistan and well before Tashkent, I obtained an appointment with Prime Minister Lal Bahadur Shastri. It was wintertime, and the Prime Minister was receiving callers under the sun, in the open. While he listened to someone, others waited for their turn. No screen blocked the Prime Minister from those waiting. As his conversation with those ahead of me extended beyond the time given to me, I did something I should not have done. I fidgeted.
Though Shastriji was absorbed with callers several yards away, he noticed my restiveness and signalled that my turn would come soon. There was no need for him to notice my impatience. But Lal Bahadur Shastri was a sensitive Prime Minister, sensitive to the feelings of fellow-citizens, sensitive even to the reaction of a 29-year-old who should have conducted himself more maturely.
Vision for India
Is it any wonder that the people of India found in him a Prime Minister attentive to their situation? Mohandas Karamchand Gandhi and Lal Bahadur Shastri did not merely share a birthday; they shared a vision for India.
They saw an India where Hindus, Sikhs, Muslims and other communities have equal rights, where different communities love each other if possible, respect each other if possible, and forgive each other if possible. If love, respect and forgiveness are difficult, at least — in the vision of Gandhi and Shastri — they co-exist peacefully with each other and accept each other's freedom of thought and belief.
A man close to the Pakistani power centre told me in Lahore three years ago that the state there was willing to confront its extremists operationally but not ideologically. It would oppose terrorism and violence, but not the ideology of radical Islam. No wonder radical Islam continues to flourish there. Pakistan's example prods us to confront extremism in India both ideologically and operationally.
Two things must be uncompromisingly rejected by society and the state. One is the idea that because of its size or supposed superiority one religious group should get the upper hand over other groups. The other is the idea that people can or should be compelled to alter their beliefs. Pakistan has often surrendered to these notions. It is a mistake the people of India must never make. India cannot accept coercion or zabardasti by anyone in any direction. Rejection of inequality and coercion is the cornerstone of the philosophy with which we must confront the ideologies of racial, religious or caste supremacy.
We must also frontally reject any idea that one or two individuals may be above the requirements of democracy — that India will flourish under one person's strong rule, free from the scrutiny or advice of ministerial colleagues, Parliament, the media and the judiciary. We must reject that idea even when presented in the name of the poor and the honest. A great majority of Indians, whether nationalists, patriots, secularists, liberals or Marxists, accept the core principle of manavta or insaniyat, the recognition that at bottom human beings, whatever their external labels, are the same. But insaniyat needs a practical component. Lal Bahadur Shastri, creator of the inspired concept, "Jai Jawan, Jai Kisan," would ask us, "Are you bothered about your next-door neighbour?"
How can India be happy, united or strong if neighbours do not care for one another, communities do not bother about neighbouring communities, states don't bother about neighboring states, Karnataka and Tamil Nadu do not show concern for each other, and Punjab and Haryana likewise?
Today, Shastriji would say, "Jai Kisan, Jai Jawan, and Jai Insaan"! Remember Gandhi's famous talisman, offered in August 1947? If, he said, you are in a dilemma on the next step to take, think of how your step would affect the neediest person who have known. When you focus on that person, your dilemma, your self-concern, would vanish.
We may not be able always to go that far. But promoting mutual care for one another, neighbour to neighbour, is a practical yet powerful component of the ideology of insaniyat, an ideology which will stand up to, and God willing overcome, the ideology of polarisation, hate and authoritarianism. Love of country is demonstrated not when you demand that your neighbour rises instantly to his full height when the anthem is played; it is demonstrated when you encourage citizens to care for one another and when you get the government to protect the people — all the people, none excluded. Lal Bahadur Shastri would tell us that the highest patriotism is to unite your people, to heal wounds, build bridges, inspire people to be mutually caring.
I have been a student of history. Looking at our country's story, whether in a remote or recent past, whether in old undivided Punjab or in southern India, I have found in general that we the people of India have opinions about neighbours, at times sharply negative opinions, but not knowledge about them.
Clever politicians know what to say to the people, but democracy demands that a leader listens, learns, takes questions, and answers them. When the people are polarised, they too must take to listening to one another, to members of another community or another persuasion, so that knowledge is gained and opinion is corrected.
I can hear Lal Bahadur Shastri saying to today's politicians: Go to the people, listen to them, take instructions from them. They are your masters. If they are angry with you or their neighbours, talking out freely will help them overcome their angers and disappointments.
Citizens not subjects
Leaders too must be spoken to, Shastri would tell us. The Indian people are citizens of a republic, not subjects of a monarch. Central to insaniyat is individual liberty. As long as I am not acting violently, as long as I am not inciting hate between communities, I must have the full freedom to express my views and advocate my views, in words, in song, in plays, in films, on the media.
Without liberty there is no creativity, without creativity life is a skeleton, without liberty and creativity society is merely a heap of bones and flesh. This mass may march in formation; it may shout slogans in unison; but it will be soul-less; it will be a machine. India's people may seem chaotic at times. Yet their freedom to sing and dance their own disorderly course forward is what gives India its standing in the world.
(Adapted from the 23rd Lal Bahadur Shastri Memorial Lecture on "Society, the State and Democratic Rights: Questions before the People of India.", delivered by the writer in Delhi on January 9.)
The writer is a historian dividing his time between India and the United States.
Top News
Jammu and Kashmir Lieutenant Governor Manoj Sinha and politi...
Cops say case cracked within three days with the arrest of a...
Indonesia football association suspends league to investigat...
Samajwadi Party patron is under treatment in Gurugram hospit...
DGP dismisses Mansa CIA Incharge, FIR registered against err...