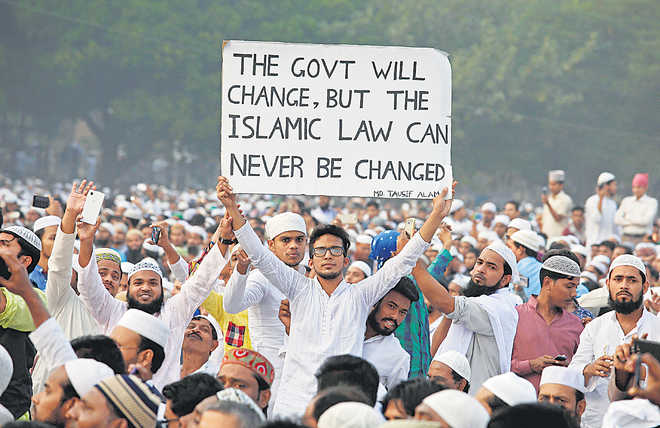 Faizan Mustafa
Vice-Chancellor NALSAR University of Law, Hyderabad, and Visiting Professor at Tel Aviv University
India and Israel are celebrating the silver jubilee of their diplomatic ties. India's relationship with Israel has not been extremely cordial under the long Congress rule as Nehru and Indira had absolute commitment to an independent Palestinian state. Under the rightist BJP, Prime Minister Modi has taken this relationship to new heights. Modi was the first Prime Minister to visit Israel last year and now Israeli Prime Minister Benjamin Netanyahu is in India. This is just the second such visit. Prime Minister Sharon was the first PM to visit, under the first NDA government headed by Vajpayee.
India now has close ties with Israel and we are learning from Israel in counter-terrorism measures, intelligence-gathering and border-surveillance. But for the last two years, the issue of personal law reforms has dominated our public discourse. Since the BJP does favour a uniform civil code, India must closely study the fantastic Israeli model of legal pluralism. Those who favour the idea of 'one nation, one law' and who see Israel as a model must see how Israel manages its legal diversity.
Unlike India, Israel is theocratic state with Judaism as the state religion. The absence of a formal constitution is a distinctive feature of the Israeli legal system. Israel has not adopted the French and American models of secularism, ie erecting a 'wall of separation' between the state and the church. It has preferred the 'jurisdiction' model of England where the state does have a religion of majority as the state's religion, yet it gives substantial rights and autonomy to its religious minorities.
I recently taught a religion and law course at Tel Aviv University and was amazed to see the legal pluralism of Israel and the way it protects cultural and religious identity of religious communities. To be fair to the Israeli government, it did give huge importance to the collective Arab sensitivity in matters dealing with the personal life of Muslims. Israel has not disturbed some fundamental features of the traditional Ottoman Empire's Millet system which guarantee substantial cultural autonomy in personal matters.
The state law does regulate the election/appointment of central and local Rabbinical bodies and other administrative and judicial religious institutions. The state does finance these religious bodies. Those who desire that India become a Hindu rashtra should realise that this integration of the Israeli state with Judaism has exacted a rather high price in terms of Judaism's independence vis-a-vis Israeli state. The Hindu right is unhappy with the word 'secularism' and considers it as a dirty word. One BJP legislator recently claimed that India would be a Hindu rashtra by 2024. But the extreme right must realise that secularism may or may not be good for the country but it is certainly the best bet for the religion. In a theocratic state, religion loses its autonomy and independence as a state with its enormous powers subjects religion to its control. This has been the experience of both Christian as well as Islamic states. Secularism indeed saves religion from state domination.
Unlike our Special Marriage Act which permits inter-faith marriages, civil marriages are not allowed in Israel and a Jew cannot marry a non-Jew. Hindu right may study this as a way out to tackle the so-called 'love jihad' syndrome. But then it may be shocked to know that a Muslim male can marry a Christian or Jewish girl.
The Palestinian Order-in-Council of 1922, which still remains the law, lays down that in matters governing personal status, the religious law of the respective communities shall be applicable. The law thus provides for jurisdiction of Shariah courts, Christian courts and Druze courts. Section 53 dealing with Rabbinical courts was replaced by the Rabbinical Court Jurisdiction (Marriage & Divorce) Law, 1953, restricting Jewish religious courts' jurisdiction to just two matters: marriage and divorce.
Many of us cannot believe it, but amongst all religious courts, Shariah courts enjoy the widest jurisdiction. These courts have jurisdiction on all Muslims and in all matters governing personal status. Rabbinical courts have exclusive jurisdiction over matters of only marriage and divorce of Jews who are either Israeli citizens or permanent residents. Rabbinical courts decide when a husband should hand over bill of divorce (get) and when a wife ought to accept it. In a few situations, the wife may be forced to accept divorce through imprisonment (Zada v. Attorney General). Christian courts have exclusive jurisdiction over matters of marriage, divorce, alimony of Christians, except foreign national Christians who would be governed by the law of their nationality. In other matters of personal status, ie guardianship, maintenance, legitimisation of minors etc, all religious courts have only concurrent jurisdiction with regular civil courts. But strangely, Shariah courts have been given exclusive jurisdiction about all Muslims in these matters. Thus, Shariah courts have the highest autonomy and no civil court can hear matters of personal law of Muslims. But no one in Israel ever called it appeasement of Muslim minority whose extra-territorial loyalties are too well known. Will the Hindu right agree to recognition of such powers for the Shariah courts in India if we were to become a Hindu rashtra? The Supreme Court did refuse to hold Shariah courts as unconstitutional as in India, these courts are nothing more than mere arbitration councils and their judgments have no legal value. On the contrary, in Israel, religious courts' judgments are binding and executed like judgments of the regular civil courts.
Section 15(c) of Israeli Basic Law says that regular civil courts will have jurisdiction only in matters which are not within the jurisdiction of any other court. (beitmishpat) Under Section 1 of Execution Law of 1967, a person in whose favour judgment has been given by any religious court may apply to execution officer to carry out the judgment. But the Supreme Court of Israel may review such judgments on appeal. Religious courts in Israel have even been given power of contempt of court by the Religious Courts (Summons) Law of 1981.
Let the Law Commission study the Israeli model of legal pluralism before it submits its report. Uniformity of law should not be the goal, justness of law should. We need a Just Code.
Ayodhya vs Temple Mount
In Ayodhya, we demolished a historic mosque and have not permitted Muslim namaz for 69 years while prayers to Lord Rama are very much on. Let us see what the situation is in Israel. Temple Mount is the holiest place for Jews and is the site of their first and second temple, yet the Jews cannot pray anywhere in the sacred site, except at the Wailing Wall. The Israeli Supreme Court upheld the order of the local police which prohibited public prayer by Jews on the premises of Temple Mountain. One hopes that the Indian Supreme Court would demonstrate absolute neutrality while deciding the ownership dispute of the Babri mosque.
Top News
The Khalistan sympathiser said if the state government had t...
'Let us not be selective,' Solicitor General said while insi...
Counting of votes will take place on May 13
Deplores attempts by Rahul Gandhi to draw parallels between ...
Petitioner sought more time from the court for producing evi...