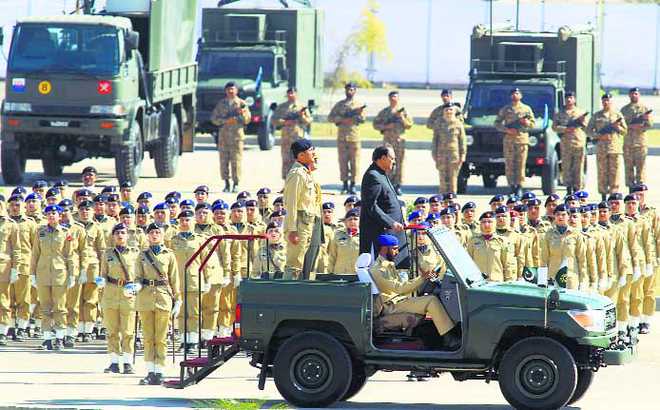 AMIDST talk of the MQM's imminent demise, judicial commissions and the unending fight against "terrorism", the 75th anniversary of the Lahore Resolution was observed recently. A great deal of effort was expended by officialdom — and our uniformed guardians in particular — to put on a grand "Pakistan Day" parade in Islamabad. Nationalist slogans were raised, tanks and planes were paraded and we were all reminded of just how fortunate we are to be members of the Pakistani "nation".
Serious students of history know that the historical document signed on March 23, 1940, had no mention of "Pakistan", let alone the Pakistani "nation". In fact, it designated the Muslim-majority provinces of British India "independent states", implying distinct national identities for all. That this formulation morphed first into the "two-nation theory" and then later into the "ideology of Pakistan" has not, as "official" historians would claim, been the key to our "successes", but instead explains many of our failures.
Needless to say, it is imperative that we recover genuine historical facts from the controlled manipulations of state ideologues, if we are at all serious about coming to terms with right-wing militancy (of both the religious and secular variety), not to mention the host of other economic, political and cultural challenges we face.
Given the military-centric manner in which the March 23 "celebration" was organised, and the related fact of our uniformed guardians acquiring more power in the wake of Peshawar, there is no obvious reason to believe that any serious revision of official history — and policy — is on the cards.
It may appear a tired theme, but Pakistan's malaise remains directly tied to the men in khaki, who, in their own words, remain the guardians of the country's physical and ideological frontiers. These uniformed guardians will never tire of depicting themselves as our saviours, which is why a critical mass of Pakistan's people, particularly in the Punjabi heartland, must take on the challenge of taking on the dominant narrative.
Unfortunately, many educated Pakistanis instead continue to reinforce the dominant narrative, and thereby the military institution. Over the years I have heard many armchair critics — particularly amongst the relatively affluent segments of the diaspora — lament that Pakistan's lack of strong and principled leadership has been what has cost us dear. It is this yearning for "strong leadership" that has led many to support military rulers or, as in the present scenario, accede to the idea that only the military can solve intractable phenomena such as "terrorism".
Growing up as part of the Pakistani diaspora in Singapore, I regularly heard members of the Pakistani community wish out aloud for a Lee Kuan Yew to be bequeathed to Pakistan. The man that Singaporeans called LKY was the founding father of modern Singapore, and remained prime minister of that country from its creation in 1959 until 1990. He died, coincidentally, on the morning of March 23.
Credited with transforming Singapore from a third-world colonial outpost to a first-world metropolis, LKY built up a reputation as a strong-man that could actually deliver results. He presided over rapid economic development and the establishment of relative social peace in a multi-racial context that was potentially explosive — Chinese, Malays and Tamils are all part of the Singaporean make-up.
That LKY effectively ran Singapore as a one-party state with little tolerance for political dissent is downplayed by most observers on account of otherwise impressive development successes. And while his achievements make him one of the 20th century's most prominent statesmen, the debate over LKY's legacy is one to which Pakistanis with a penchant for "strong-men" should pay attention.
Let us not forget that well into the late 1960s, Ayub Khan was lauded across much of the Western world for his "model" development initiatives — at that point Pakistan was considered as much a third-world success story as Singapore (and further ahead of South Korea). Had Ayub Khan's regime not suffered a meltdown and its development "successes" not morphed into failures, would the world be singing his praises? Even Musharraf was widely lauded in his early years for presiding over high growth rates and "good governance". We know how that story ended.
Why was China under Mao a reviled country, but China since Deng Xiaoping a citadel of 21st century modernity? Israel is a first-world island amidst Arab squalor — so does that make its apartheid state one to be looked up to?
Long before LKY's death, younger Singaporeans had started to voice unhappiness about their democracy (or lack thereof). The lesson would appear to be that human freedom cannot be traded for the so-called "good life". Or should we just all forego the quest for liberty and be content to acquire a plot in a defence housing scheme?
The writer teaches at Quaid-i-Azam University, Islamabad. By arrangement with the Dawn
Top News
Survivors cried out for help from within mountains of debris...
PM Modi expressed his heartfelt condolences to the bereaved ...
On May 12, 2008, a magnitude 7.9 quake strikes eastern Sichu...
The opposition party alleges that the government is making '...
The students complain of stomach ache, vomiting and diarrhoe...